The past year has been very exciting, but also a very trying time for the Technology Station in Electronics. Our facility is dedicated to supporting businesses and individuals with product development and low-volume manufacturing, but we have seen a large need for training individuals that would under normal circumstances not be able to afford training. Programmes specifically aimed at developing skills that could lead to employment as a soldering operator within the electronics sector were piloted in Atlantis (Western Cape) and Soshanguve (north of Pretoria) and were positively received by the community.
For readers that do not know about us it is sometimes surprising to discover that we exist and what we have to offer to both companies and individuals wishing to enter the product space. Our programme was started in 2002 by the Department of Science and Technology under the Thumisano Trust (integrated into the Technology Innovation Agency in 2010) and placed at the Tshwane University of Technology.

Startups and small businesses usually do not have the necessary skills to develop the products themselves and a facility that could support them with expertise and technology platforms was needed. Starting small with only two staff members, we established an electronics manufacturing facility that focused on reducing the time of prototyping and low-volume manufacturing, while using the same manufacturing processes and equipment found at larger firms.
The advantage was that the station was partially subsidised and could focus more energy into assisting companies to optimise their product for manufacturing rather than pushing for large volumes to keep the facility profitable. Services at the facility later expanded to include a range of design services that include electronic design, printed circuit layouts, and today also offering 3D and mechanical design.
Because of our close links with the university and the work conducted directly with companies, training became the next logical leap. The station became the development ground for students completing their practical training and gaining the experience needed to function in their future work environments. Skills such as project management, the process of design, electronics manufacturing and other soft and technical skills were taught to the students while they worked with senior staff at the station on small scale projects. Students became a very important support structure to expand the station's staff capability in delivering services to customers. Customers, however, did not have to fear that being a facility at a university meant that students would be delivering the projects, since the station always had its own staff skilled in the various services on offer.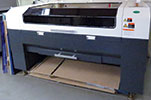 The past year, 2016, was a challenging one: student protests disrupted activities and the station was not just at risk of losing a number of its existing clients, but was unable to assist new clients who were eager to access the station's services. There was also the normal business pressure of achieving the numbers the funders required to ensure that the impact of other services that follow ours would not be too badly affected. Even with this pressure the station continued with staff working from home, or into the night when protesters went home. We viewed it as a good time to build networks and seek new clients while access to our facilities was limited.
The year wasn't all doom and gloom. At the end of 2015 the station was given grant funding from TIA to upgrade its ageing prototyping platform with new, more advanced equipment. This allowed us to add a Samsung SM482 pick-and-place machine and a Mycronic MY600 jet printer that allowed the station to drastically cut costs that would usually be used to procure stencils for printing. It also enables the station to assist clients with smaller component placement requirements and more complex assemblies.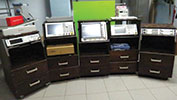 In the design space, equipment that could be used for pre-certification testing was added to allow the station to move closer to its ultimate goal of being a facility where clients can receive assistance on electromagnetic compliance (EMC) testing to root out any problems in their designs before submitting the product to be certified to the required standards. Other rapid prototyping equipment such as a laser cutter and large CNC router were also added to the concept development facility where metal or plastic enclosure development could be done.
Training remained a major contributor to what the station achieved in the latter half of the year. Our training activities reached all the way from Soshanguve in the north of Pretoria to Atlantis in the Western Cape where the focus was on training individuals in a set of skills such as introducing them to the electronics manufacturing environment and teaching them soldering skills that would allow them to stand out from the group of hopeful applicants during an interview process. It also benefits potential employers, where fundamental training was already conducted and the organisation can now focus on building on these fundamentals to get the new employee into a productive environment faster.
The station hopes to use its training programmes to secure funding to expand outreach in 2017 as part of its social economic development activities within communities where poverty and unemployment are high. Being linked to the university will always allow the station to be involved in students' development in the fields of electronics, industrial design and mechatronics, which forms a crucial part of their preparation to complete their qualification.
The station is planning to move its technology platforms to its new facility in building 14D within the CSIR in Pretoria to bring its services closer to other facilities within the National System of Innovation and to expand access to new and existing clients who require technical services and expertise. If all goes to plan the facility should be ready and open for business on the new premises at the end of February.
For more information contact Kobus Vorster, Technology Station in Electronics, +27 (0)12 382 5039, vorsterk1@tut.ac.za