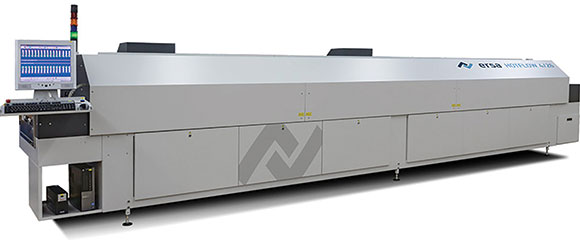 The Ersa Hotflow 4/26 reflow soldering system is of robust design and manufactured entirely from steel, welded air-tight, powder coated and with interior electrical cabinet and a PC operating terminal. Features include a motorised hood opening, quick-change convection heater cassettes, multi-level process gas cleaning and a powerful, high-performance cooling zone.
The conveyor system can be configured with up to 4 tracks (1 fixed, 3 variable). Conveyor width and centre supports feature motorised adjustment, and the centre supports are thermally invisible. The machine has individually controllable process zones via energy-optimised motors, and performs multi-level controlled cooling and multi-level process gas cleaning with pyrolysis.
Hotflow 4/26 supports operation with either ambient air or nitrogen, and its cooling zone can be equipped with an integrated cooling system and an external cooling aggregate. Ersa Process Control (EPC) software is used to control the system and generate temperature profiles.