ECD is celebrating its recent Service Excellence Award win, which marks the second consecutive such accolade for the thermal profiling and dry storage technology pioneer. The awards contest, sponsored by Circuits Assembly magazine, is voted on by customers and evaluates participants in the key areas of dependability, value, quality, responsiveness and technology. ECD won the soldering equipment category for the second year in a row, underscoring the effectiveness of the company's M.O.L.E. thermal profiling systems and its robust service mindset.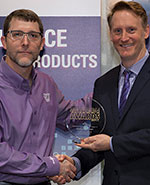 ECD president and CEO, Todd Clifton (pictured right), accepts the Service Excellence Award from Circuits Assembly magazine editor-in-chief, Mike Buetow.
"Being regarded as the best by our customers within these critical metrics is quite humbling and extraordinarily gratifying," commented ECD president and CEO, Todd Clifton. "The ECD team is united in our aim to wow customers in all areas, regardless of the interaction, and it is rewarding to have earned such high marks from the people we value most – our loyal customers."
As part of the award evaluation process, several customers were asked to rank ECD on various components of the product and service experience and, in addition to assigning a ranked numerical value, most customers shared their candid comments.