Tektronix introduced a new arbitrary waveform generator (AWG) that offers high signal fidelity and scalability at an affordable price point to meet demanding signal generation needs in advanced research, electronic test, and radar and electronic warfare (EW) system design and test.
The new AWG5200 series offers a 10 GSps sample rate, 16-bit resolution and up to eight channels per unit along with support for multiple unit synchronisation. It includes a flexible waveform generation plug-in suite with comprehensive coverage for a wide variety of standards and digital modulation techniques.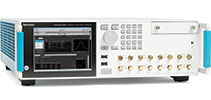 "Signal generation has been a major problem for RF designers and researchers for some time now, and it is only getting worse as their needs have grown more complex. The high-performance AWGs that potentially could meet their needs are expensive and inflexible, and in many cases still fall short of meeting fidelity and scalability requirements," said Jim McGillivary, general manager of RF and component solutions at Tektronix. "The AWG5200 is the first signal generator to solve these challenges with superior signal generation fidelity, built-in scalability and much lower overall cost compared to having to literally acquire dozens of individual AWGs and attempting to get them to work together."
At the heart of the AWG5200 series instruments are new high-performance digital-to-analog converters (DACs) that offer a mix of speed and resolution within a fully integrated product package. With its powerful DAC cores, the AWG can directly generate highly detailed RF/EW signals or the complex pulse trains used in advanced research.