Viavi Solutions recently announced enhancements to its InterferenceAdvisor solution that will further simplify the process of interference hunting, especially for LTE-TDD networks. The updates will also make it even more cost effective for service providers to troubleshoot interference issues with fewer resources.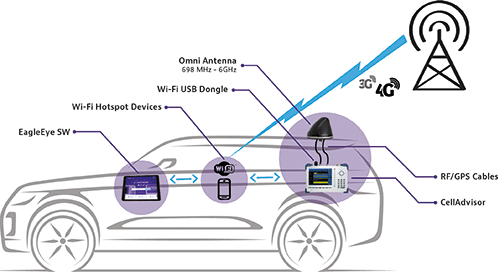 Uplink interference detection in LTE-TDD can be difficult due to its bursty spectrum response. With the new gated sweep control and display feature, technicians can easily identify uplink interference issues. As LTE deployment expands into new RF bands, so does the need for troubleshooting interference on those bands. By expanding the support on new bands for bandpass filters, InterferenceAdvisor allows service providers to easily identify interference on those new bands.
Additional connectivity options between the Android tablet and Viavi CellAdvisor, such as a standard USB Type A to Type B cable and an on-the-go (OTG) cable, along with the existing Wi-Fi capability, mean that technicians will no longer need to have a stable RF test environment for continuous spectrum measurements. With the new flexible licensing option, one Android tablet running EagleEye software can connect to different Viavi CellAdvisor units, allowing service provider field teams to share the Android tablet between multiple technicians.
InterferenceAdvisor is easy to set up, and allows one engineer to quickly and easily identify interference sources, even in an urban environment. Due to its simple setup, there is a low training cost, which significantly reduces total cost of ownership.
For more information contact Tshiamo Mogakwe, Concilium Technologies, +27 (0)12 678 9200, info@concilium.co.za, www.concilium.co.za