The X-NUCLEO-NFC04A1 from STMicroelectronics helps developers easily embed in their designs a dual-interface ST25DV tag IC with both NFC/RFID contactless interface and a wired I²C connection.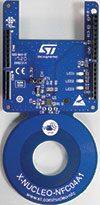 Offering a 4 Kbit EEPROM, a fast transfer mode with a 256 byte buffer, as well as energy-harvesting capabilities, it is suited for both IoT and industrial applications, by enabling zero-power applications, convenient contactless data-log diagnostics and in-application programming at the point of use.
The expansion board is based on the ST25DV04K NFC Type V/RFID tag IC and can be powered by the pins of an Arduino connector or directly by the received carrier electromagnetic field. The board is compatible with the Arduino UNO R3 connector pin assignment and can be plugged onto any STM32 Nucleo board. Various expansion boards can also be stacked to evaluate different devices operating together with the dynamic NFC tag. The board also features an antenna with a 54 mm ISO 24.2 diameter, single layer, copper etched on PCB.
For more information contact Robin Scholes, Arrow Altech Distribution, +27 (0)11 923 9600, rscholes@arrow.altech.co.za, www.arrow.altech.co.za