For the second year running, Arrow Altech Distribution (AAD) has won the prestigious Most Improved Company award within the Altron Group at the annual 'One Altron' awards ceremony that was held at the Inanda Club in Johannesburg on 9 November 2017.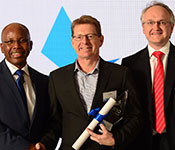 From left to right: Mteto Nyati, Altron Group CEO; Peter Griffiths, AAD managing director; and Alex Smith, Altron Group CFO.
AAD, a leading distributor of electronic components and IoT computing products to the sub-Saharan Africa market, achieved this award by delivering results in an increasingly competitive and price sensitive market place, according to managing director, Peter Griffiths. To achieve this, he says AAD adapted its approach by adding to its core product offering, where components are provided on a 'quote-and-sell' basis, to include a core capability supply chain solution offering that is aimed at assisting customers to reduce internal procurement complexity. "Our objective through end to end supply chain offerings with our core product offering is to assist our customers to reduce organisational management complexity, freeing up time for core business activities such as instrument IP creation, industrialisation and manufacturing," he elaborates.
This shift in business focus has paid off and contributed to a 44% growth in revenue over the prior year. In addition to this, Griffiths attributes AAD's success to its management and workforce commitment to the 'One Altron' vision articulated by Altron Group CEO Mteto Nyati, wherein AAD needs to transform its customers' experience. "Altron is a formidable group of companies, which makes winning this award two years running quite an extraordinary achievement of which we are immensely proud," says Griffiths.
Looking ahead, Griffiths says, "AAD will continue to adapt its market offering to be a better fit within the distributor market space while at the same time shaping offerings that build value to our customers through the 'One Altron' Group of companies so that our customers can venture into IoT solutions drawing upon the various service offerings the Altron Group offers in that market place."
For more information contact Arrow Altech Distribution, +27 (0)11 923 9600, info@arrow.altech.co.za, www.arrow.altech.co.za