National Instruments has announced a new PXI FlexRIO architecture that integrates mezzanine I/O modules with Xilinx Kintex UltraScale FPGAs. The first wave of products based on this new architecture includes two high-resolution PXI FlexRIO digitisers, three dedicated PXI FlexRIO coprocessor modules and a module development kit that helps with custom front-end development.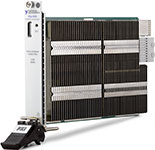 The FlexRIO product line combines customisable I/O and user-programmable FPGAs into high-performance, reconfigurable instruments users can program with the LabVIEW FPGA module. With Kintex UltraScale FPGAs, the new FlexRIO architecture offers more programmable resources than previous Kintex-7-based FlexRIO modules. In addition, the new mezzanine architecture fits both the I/O module and the FPGA back end within a single, integrated 3U PXI module. For high-speed communication with other modules in the chassis, these new FlexRIO modules feature PCI Express Gen 3 x8 connectivity for up to 7 GBps of streaming bandwidth.
The new modules take advantage of the highest-performance FPGA and A/D converter technology, which makes them ideal for applications that require advanced capabilities like remote sensing, signals intelligence, communications and particle physics.
For more information contact National Instruments, 0800 203 199, sales@natinst.co.za, http://southafrica.ni.com