The World Semiconductor Trade Statistics (WSTS) organisation's latest global semiconductor sales forecast projects the industry's worldwide sales will be $408,7 billion in 2017. This would mark the industry's highest ever annual sales, its first time topping $400 billion, and a 20,6% increase from the 2016 sales total. WSTS projects double-digit year-to-year increases across all regional markets for 2017: the Americas (31,9%), Asia Pacific (18,9%), Europe (16,3%), and Japan (12,6%). Beyond 2017, growth in the semiconductor market is expected to moderate across all regions.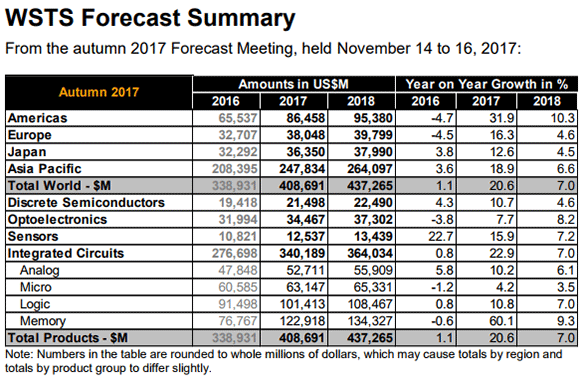 The Semiconductor Industry Association (SIA) also announced worldwide sales of semiconductors reached $37,1 billion for the month of October 2017, an increase of 21,9% from the October 2016 total and 3,2% more than the previous month's total. October marked the global industry's largest ever monthly sales total.
Regionally, year-to-year sales increased in the Americas (40,9%), Europe (19,5%), China (19,1%), Asia Pacific/All Other (16,3%), and Japan (10,7%). Compared with last month, sales were up more modestly across all regions: the Americas (6,8%), China (2,6%), Europe (2,6%), Japan (1,8%), and Asia Pacific/All Other (1,5%).
For more information visit www.semiconductors.org