Analog Devices, which recently acquired Linear Technology, introduced the LTC4091, a complete lithium-ion battery backup management system for 3,45 V to 4,45 V supply rails that must be kept active during a long duration main power failure. The LTC4091 employs a 36 V monolithic buck converter with adaptive output control to provide power to a system load and enable high-efficiency battery charging from the buck output.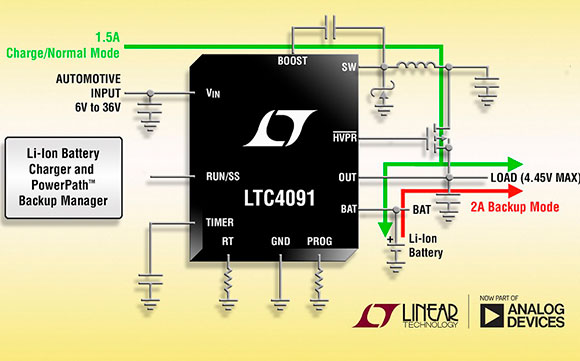 When external power is available, the device can provide up to 2,5 A of total output current and up to 1,5 A of charge current for single-cell 4,1 V or 4,2 V Li-Ion batteries. If the primary input source fails and can no longer power the load, the LTC4091 provides up to 4 A to the system output load from the backup Li-Ion battery via an internal ideal diode, and unlimited current if an external ideal diode transistor is used.
To protect sensitive downstream loads, the maximum output load voltage is 4,45 V. The device's PowerPath control provides a seamless switchover between input power and backup power during a power fail event, and enables reverse blocking with a shorted input. Typical applications include fleet and asset tracking, automotive GPS data loggers and telematics systems, security systems, communications and industrial backup systems.
The LTC4091 includes 60 V absolute maximum input over-voltage protection, making the IC immune to high input voltage transients. The LTC4091's battery charger provides two pin-selectable charge voltages optimised for Li-Ion battery backup applications: the standard 4,2 V, and a 4,1 V option that trades off battery run time for increased charge/discharge cycle life.
Other features include soft start and frequency foldback to control output current during startup and overload, as well as trickle charge, automatic recharge, low battery precharge, charge timer termination, thermal regulation and a thermistor pin for temperature-qualified charging.
The LTC4091 is housed in a low profile (0,75 mm) 22-pin, 3 mm x 6 mm DFN package with a backside metal pad for excellent thermal performance. The device operates from –40°C to 125°C in both E and I grades.
For more information contact Conrad Coetzee, Arrow Altech Distribution, +27 (0)11 923 9600, ccoetzee@arrow.altech.co.za, www.arrow.altech.co.za