Phoenix Contact recently held the official opening of its newly upgraded premises in Bellville, in the Western Cape.
According to national sales and marketing manager, Dereck Styane, the upgrade is in line with the philosophy and growth strategy of continually investing in buildings and people throughout the world. "We at Phoenix Contact ZA continue to do this in our own market. On the back of continued growth in the Western Cape over the last few years we felt it was well overdue to expand our operation and to revamp the facilities," he stated.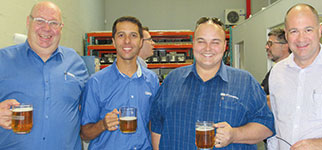 "We are very proud of our new offices which boast a state-of-the-art boardroom and training facility, and an enlarged logistics area to accommodate our increased stock inventory. Added to this is a workshop/testing facility as we can now offer increased engineering advice and capabilities through our recently appointed applications engineer.
"It also shows our commitment to the Western Cape region in developing and growing our business in the region. We are looking forward to many good things in the Cape, one of which we pray is the much-needed rains."
For more information contact Sheree Britz, Phoenix Contact, +27 (0)11 801 8200, sbritz@phoenixcontact.co.za, www.phoenixcontact.co.za