It is with sadness and regret that we inform readers of the sad passing of Philip du Preez, managing director of Arrow Altech Distribution (AAD), and offer our condolences and best wishes to his family, friends and colleagues. He passed away on the 1st of June after waging a lengthy battle against cancer.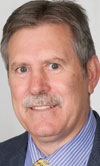 Du Preez devoted nearly 40 years of his professional life to the Altech Group, dating back to his appointment as a materials controller at STC in 1974. He then became the sales manager at Liberty Electronics in 1980, following which he was appointed as marketing manager and then managing director of African Capacitors. He joined AAD as managing director in 1998.
At various times, Du Preez also served as the chairman of the Electronic Component Manufacturing Association, was a SEIFSA executive council member and was on the Executive Committee of the Association of Distributors for Electronic Components (ADEC).
Du Preez's colleagues remember him best for his unwavering positivity and the strength he showed during his illness. He leaves behind his wife Beth, their son and daughter-in-law, and a grandson and granddaughter.