As part of its portfolio of corporate social responsibility (CSR) initiatives, Korean electronics giant Samsung has established a trio of African academies aimed at addressing the critical technical and engineering skills shortage on the continent.
Kea Modimoeng, corporate citizenship manager at Samsung Africa, met with me at the local academy in Boksburg on Johannesburg's East Rand to show me around and explain what it is all about.
The Samsung Electronics Engineering Academy was launched in South Africa in 2011, followed by Kenya and Nigeria the following year (with more African countries to be added in the near future), as part of the company's broader goal to develop 10 000 service technicians and electronic engineers across the continent by 2015. The South African iteration enjoys the distinction of being the very first of its kind in the world to be launched by Samsung.
The academy provides free hands-on, vocational skills training for students in Grades 10 through 12. Upon graduating, these students find gainful employment in Samsung's local knockdown assembly plants, technical call centres and service partners, where their hands-on product knowledge gives them the edge over those employees who are sourced from outside of the programme.
Students are taken in from technical high schools (currently eight) and Further Education and Training (FET) colleges (four) with which the academy has established partnerships in the East Rand area. Through its partnership with the National Economic Education Trust (NEET), it also opens its doors to out-of-school youth who matriculated with good maths and science grades but have been unable to find suitable jobs.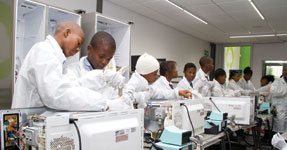 The academy's training schedule is meticulously structured to align with each learning institution's curriculum in such a way that it reinforces and builds on what the students are learning at their school or college at that point in time. It also provides supplementary theory material where required, as well as vital hands-on access to state-of-the-art devices to enhance learners' understanding of modern technologies and their applications.
Outstanding performers stand an opportunity to participate in a year-long learnership opportunity at Samsung headquarters in South Korea as part of the 100 African Young Leaders Programme.
To date, 320 Grade 10–12 students have graduated from the academy – 120 in 2012 and 200 this year including 80 from the FET pilot programme with Ekurhuleni East College. Every single one of the Grade 12 graduates who was available for employment after graduation has subsequently been placed in positions at Samsung's service centre, knockdown plant and call centre partners in Gauteng.
Each of the graduates received a certificate of completion, and those who achieved over 80% received a certificate of achievement. The top three students in each grade walked away with various Samsung gadgets. The overall top achiever with the highest marks of all the students attending the academy in 2012 was Refilwe Machaba, who achieved the same feat in 2011 – see 'Over-achiever' below.
To further its accreditation and endorsement objectives, the academy is also establishing strong ties with the University of Johannesburg (UJ), as evidenced by the fact that its 2012 and 2013 graduation ceremonies were keynoted by UJ's Prof. Bhekisipho Twala (Professor of Robotics and Electronics) and Prof. Tshilidzi Marwala (Dean of the Faculty of Engineering) respectively.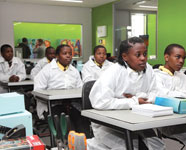 The academy hopes to leverage its relationships with the various learning institutions it partners with, in order to establish itself as a two-way bridge via which those students whose studies are more theory-based can gain hands-on training, while at the same time offering those with a more hands-on background a route of progression towards a career in electronic design engineering.
Trainers at the academy are full-time Samsung employees with university level academic backgrounds in light-current electronics and computer systems, and equipped with Assessor accreditation. Being owned by of one of the planet's hottest technology brands means that these trainers can take advantage of cutting-edge electronic teaching aids in their lessons.
These include large-screen, touch-enabled monitors as well as a soon-to-be-installed interactive LCD display E-board system that will allow instructors to not only push information to each student's wirelessly connected tablet computer screen, but also to pull data from any of the tablets to e.g. show the rest of the class what one particular student is working on.
Although he asserted that Samsung has no firm plans to start a South African manufacturing operation, Modimoeng did hint that such a possibility is not out of the question: "It is important as a market-leading global technology organisation that Samsung strives to align its CSR policy with its business objectives," he said.
"For this reason, it is vital for us to have a pool of skilled workers for our technical call centres and knockdown assembly plants. This also serves our long-term vision of perhaps one day having local manufacturing capabilities; we see a need to invest now to keep ahead of the curve, so that when the time comes we have the practical skills necessary," he concluded.
Over-achiever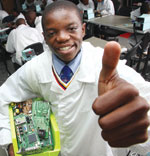 Refilwe Machaba.
For the last two years, Refilwe Machaba has been the Samsung Electronics Engineering Academy's top achiever. Currently in Matric at Katlehong Technical Secondary School, he lives with his unemployed mother and two younger sisters in Katlehong Dikole. At school, he excels in physics and maths and, as has been shown by his performance at the academy, he clearly has an aptitude for electronics as well. "I was thinking of studying actuarial science and becoming a financial advisor at Samsung," he says. "But now I am torn, because I am fascinated with electronics as well."
Machaba says that the biggest challenge presented by the academy is balancing the commitment with the rest of his studies, but he says that this is good practice for his university studies. "It is very important to me to study further," he says. "I want to be able to stand on my own two feet and to look after my family. I hope my sisters look up to me."
In recognition of his achievements, Machaba was awarded a television at the 2011 academy graduation, and at the 2012 graduation he received a washing machine. "It has been really cool – I am starting to fill the house with furniture," he says. "I am not even working yet and I can already show my family how I will provide for them."
Samsung's African CSR projects at a glance
In addition to the Electronics Engineering Academy, Samsung has a number of other initiatives under its CSR umbrella:
Solar-powered Internet school
Launched in October 2011, this world-first is an exclusively solar-powered, mobile and completely independent classroom geared at increasing accessibility to education and connectivity across Africa. It is designed particularly for use in remote rural areas with limited or no access to electricity.
Housed in a repurposed shipping container and capable of operating for 9 hours a day, the school accommodates 21 learners and is equipped with notebooks, netbooks and tablets with Internet access.
Solar-powered health centre
Launched in March 2013, this is a mobile solution that provides a range of eye, ear, blood and dental medical services to people in rural areas. Samsung believes that this initiative complements its work in the education sector because healthcare plays such an important role in ensuring children perform at their best in the classroom. The company has set itself the goal of reaching one million people through its solar-powered health centres by 2015.
Solar-powered generator
This aims to provide an affordable and reliable power solution to classrooms that do not have access to a stable supply of electricity. Each generator can provide a classroom with enough power for 30 laptops, an E-board, a multifunction printer, lab LED lights, an IP camera and other peripheral devices. The solar panels that are used on the generator cannot be affected by humidity or hail.
E-learning centres and Samsung Smart Schools
Samsung has equipped several schools across Africa with a range of products to transform classrooms into world-class E-learning centres, and have rolled out eight Samsung Smart Schools in Africa, ensuring that students have the tools to become players in driving Africa's competitiveness.