Overseas
Companies
• Apple dealt a blow to Imagination Technologies, and to its share prices, by announcing that it will no longer use Imagination's intellectual property in its new products in 15 months to 2 years' time, and as such will not be eligible for royalty payments under the current licence and royalty agreement. Imagination countered with a statement saying that "Apple has not presented any evidence to substantiate its assertion that it will no longer require Imagination's technology, without violating Imagination's patents, intellectual property and confidential information. This evidence has been requested by Imagination but Apple has declined to provide it." Imagination's share price dropped more than 60% on the day Apple's decision was made public.
• Shareholders have approved the sale of Toshiba's chip business in a move to ameliorate the expected annual loss of 1 trillion yen ($9 billion) the company is expected to book for this business year. The IC business unit, which is the world's second largest producer of NAND chips, is reportedly being courted by as many as 10 potential bidders, but the details of who and for how much are only likely to become clear during the ensuing bidding war.
• Analog Devices announced the acquisition of OneTree Microdevices, a privately-held company with a GaAs and GaN amplifier portfolio offering best-in-class linearity, output power and efficiency. As a result, Analog Devices now supports the complete signal chain for next-generation cable access networks. Financial terms of the transaction were not disclosed.
• MaxLinear has entered into a definitive agreement to acquire Exar for $13,00 per share in cash, or a total value of approximately $700 million. The transaction will be conducted by means of a tender offer and is expected to close in the second quarter of 2017, subject to customary closing conditions and US regulatory approvals.
• Peregrine Semiconductor, a Murata company, announced the acquisition of Arctic Sand Technologies, an MIT spin-off that designs and manufactures low-power semiconductors for use in DC-DC power conversion applications. Through this acquisition, Arctic Sand's low-power semiconductors will be added to Murata's existing product lineup in order to enhance and expand its power module business in not just the telecommunications market, but also the data communications and industrial electrical markets. Financial terms of the deal were not disclosed.
• Intel announced an agreement to acquire Mobileye, the world's leader of computer vision chips and algorithms for advanced driver assistance systems and autonomous driving. Under the terms of the agreement, a subsidiary of Intel will commence a tender offer to acquire all of the issued and outstanding ordinary shares of Mobileye for $63,54 per share in cash, representing a fully-diluted equity value of approximately $15,3 billion and an enterprise value of $14,7 billion.
Industry
• According to the Semiconductor Industry Association (SIA), worldwide sales of semiconductors reached $30,4 billion for the month of February 2017, an increase of 16,5% compared to the February 2016 total. Global sales in February were 0,8% lower than the January 2017 total, exceeding normal seasonal market performance. February marked the global market's largest year-to-year growth since October 2010.
• IC Insights has raised its worldwide IC market growth forecast for 2017 to 11% – more than twice its original 5% outlook – due to a substantial upgrade to the 2017 growth rates forecast for the DRAM and NAND Flash memory markets. At $57,3 billion, the DRAM market is forecast to be by far the largest IC product category in 2017, exceeding the expected MPU market for standard PCs and servers ($47,1 billion) by $10,2 billion this year. The accompanying graph shows that the DRAM market has been both a significant tailwind and headwind on total worldwide IC market growth in three out of the past four years.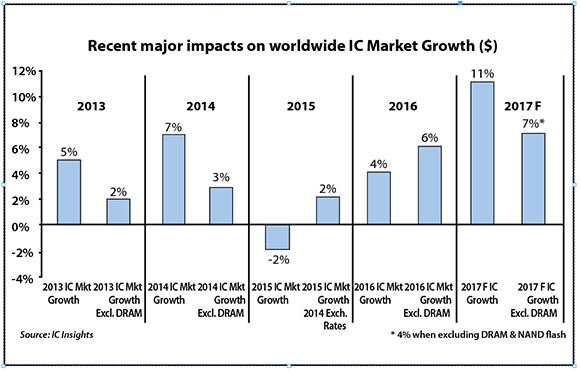 • Chinese largest semiconductor company, Tsinghua Unigroup, has secured access to 150 billion yuan ($21,8 billion) for acquisitions and new development, supporting its ambition of building a major Chinese microchip company. This follows recent assertions by Tsinghua that it plans to invest $54 billion to build two huge memory chip plants in China, and comes in the wake of the Chinese government announcing its intention to pour $161 billion into its domestic semi-conductor industry over the next 10 years.
Technology
• Researchers at the Stanford University School of Medicine have developed a way to produce a cheap and reusable diagnostic 'lab on a chip' with the help of an ordinary inkjet printer. At a production cost of as little as 1 cent US per chip, the new technology has the potential to enhance diagnostic capabilities around the world, especially in developing countries.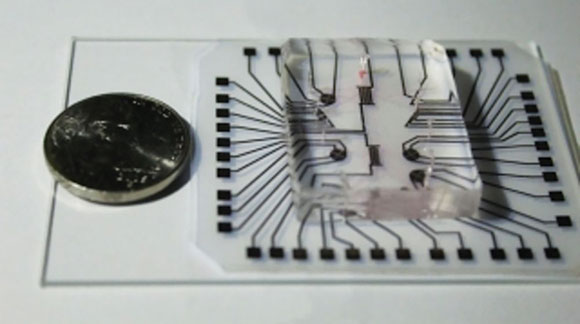 Stanford University's lab on a chip comprises a clear silicone microfluidic chamber for housing cells and a reusable electronic strip – a flexible sheet of polyester with commercially available conductive nanoparticle ink.
The chip separates cells based on their intrinsic electrical properties: when an electric potential is applied across the inkjet-printed strip, cells loaded into a microfluidic chamber get pulled in different directions depending on their 'polarisability' in a process called dielectrophoresis.