South Africa
• ICASA councillor and acting chairperson, Rubben Mohlaloga, has ended his term on the communications regulator's council, following a more than one year stint in the acting chairperson role. He has been temporarily replaced by former chairman, Paris Mashile, until a permanent replacement is appointed.
• As part of his plan to restructure Altron as a purely ICT-centric organisation, new CEO Mteto Nyati announced that it will dispose of its Altech UEC set-top box manufacturing division, and electrical unit Powertech Transformers, by the end of February 2018. Since taking charge earlier this year, Nyati has made around 40% of positions at the company's head office redundant, saving it roughly R60 million per year.
Overseas
Business
• Analog Devices announced financial results for its third quarter of fiscal year 2017, which ended 29 July. Revenue of $1,43 billion was 25%better than the previous quarter, while net income was lower at $68,9 million, or $0,18 per diluted share. The company has forecast fourth quarter revenue of $1,45 billion to $1,55 billion and earnings per share (EPS) of $0,84 to $0,98.
• Revenues for ON Semiconductor's second quarter of 2017 were $1,34 billion, up approximately 52% compared to the same quarter last year. Second quarter revenue was down approximately 7% as compared to first quarter revenue, which included a one-time benefit of approximately $155 million from change in revenue recognition to a 'sell-in' method from a 'sell-through' method.
• Intel has won a victory in its battle against a 1,06 billion Euro fine imposed against it in 2009 for anti-competitive practices. The fine was based on an initial decision by European antitrust regulators that Intel had offered inappropriate rebates for customers to choose its products over those of its rival AMD's. While not entirely exonerating the company, the European Union appeals court referred the decision back to a lower tribunal, criticising judges for failing to properly analyse the economic aspects of the case in its 2014 decision to reject Intel's challenge against the fine.
Companies
• Circuit protection specialist Littelfuse has entered into an agreement to acquire IXYS, a power semiconductor and IC company. The transaction represents an equity value of approximately $750 million and enterprise value of $655 million, and the combined company is expected to have annual revenues of approximately $1,5 billion.
• A proposed acquisition of American FPGA maker Lattice Semiconductor by the Canyon Bridge investment group which is backed by the Chinese government, has been blocked by US President Donald Trump. Following advice from a federal panel that reviews foreign investment in the US for possible security threats, Trump issued an executive order for the companies to "take all steps necessary to fully and permanently abandon the proposed transaction" within 30 days.
• Reuters news agency reported that US semiconductor foundry GlobalFoundries has accused rival Taiwan Semiconductor Manufacturing Company (TSMC) of unfair competition, and asked European antitrust regulators to investigate. GlobalFoundries reportedly alleges that TSMC has for several years been unfairly using loyalty rebates, exclusivity clauses, bundled rebates and penalties to discourage customers from switching to rivals.
• Toshiba has accelerated efforts to sell off its lucrative semiconductor business, by announcing it has made a non-binding agreement with a consortium of bidders led by private equity firm Bain Capital. The memorandum of understanding signed by Toshiba leaves the door open to continued negotiations with other consortia led by Western Digital and Foxconn.
Industry
• The Semiconductor Industry Association (SIA) announced worldwide sales of semiconductors reached $33,6 billion for the month of July 2017, an increase of 24,0% compared to the July 2016 total of $27,1 billion and 3,1% more than the June 2017 total of $32,6 billion. All major regional markets posted both year-to-year and month-to-month increases in July, and the Americas market led the way with growth of 36,1% year-to-year and 5,4% month-to-month. Year-to-year sales increased in the Americas (36,1%), China (24,1%), Asia Pacific/All Other (20,5%), Europe (18,9%) and Japan (16,7%).
• RS Components has been selected by Bulgin as 'Distributor of the Year' for 2016/17. Delivering strong support for new Bulgin product launches over the past four years, RS has grown its global sales team and built up stock to meet growing customer demand, which has resulted in it gaining a distribution market share of almost 30% in the EMEA region for Bulgin components.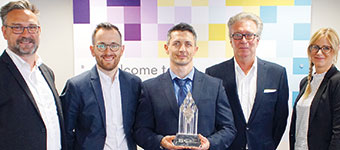 RS Components received a 2016/17 distribution award from Bulgin.
• A former Volkswagen engineer has been sentenced by a US court to 40 months in prison and a $200 000 fine for his role in the fraud surrounding the company's diesel engine emissions scandal. Another VW employee will be sentenced on 6 December, and a further seven executives have been charged. VW has agreed to spend $25 billion to settle US claims and has offered to buy back half a million vehicles after pleading guilty to deceiving regulators from 2006 to 2015.
• Since the 2009 semiconductor downturn and strong 2010 recovery year, power transistor sales have been rocked by market volatility, falling in three of the last five years because of inventory corrections and drawdowns by systems makers worried about ongoing economic weakness and price
erosion in some product categories. After recovering from a 7% drop in 2015, power transistor sales grew 5% in 2016 to $12,9 billion and are forecast to set a new record high this year with worldwide revenues rising 6% to $13,6 billion, according to IC Insights. All power transistor technology categories are expected to register sales growth in 2017 with MOS field effect transistor (FET) products increasing 6% to nearly $7,7 billion, insulated-gate bipolar transistor (IGBT) products also rising 6% to $4,1 billion, and bipolar junction transistor products growing 4% to about $875 million.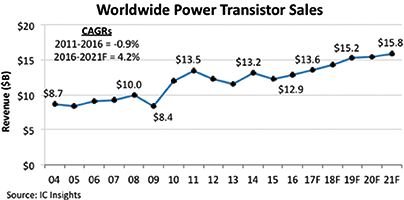 • According to market research firm Counterpoint, Chinese smartphone maker Huawei has surpassed Apple in global smartphone sales consistently for June and July, with August sales continuing to look strong. A report by the firm found that Chinese brands are successfully restricting the growth prospects for leading global brands such as Samsung and Apple in key markets such as China, Europe, Asia and Latin America. These Chinese brands, which also include the likes of Oppo, Vivo and Xiaomi, are growing swiftly thanks not only to smartphone design, manufacturing capability and rich feature sets, but also by outsmarting and outspending rivals in sales channels, go-to-market and marketing promotion strategies.
Technology
• EEMBC has expanded its benchmarking system for ultra-low-power microcontrollers (MCUs) to cover peripherals. The new ULPMark-PeripheralProfile (ULPMark-PP) tool measures the energy efficiency of microcontrollers and their commonly used, programmable peripherals, and reveals how efficiently each MCU vendor has designed and implemented its integrated peripherals. EEMBC has published the first results from ULPMark-PP, for MCUs from the likes of STMicroelectronics, Silicon Labs, Texas Instruments, Ambiq, Microchip Technology, Analog Devices and NXP Semiconductors.
• STMicroelectronics has begun integrating its contactless NFC (near field communication) technology with MediaTek's mobile platforms, in order
to create a complete solution for handset developers to design next-generation smartphones capable of supporting tightly integrated NFC mobile services. While ST has for years been providing its own NFC and RFID technology to customers, the new ST21NFCD is the first device to integrate the market-proven booster technology it recently acquired.