Electronics contract manufacturer Microtronix, and Centurion Systems, South Africa's premier producer of gate automation and access control systems, both recently placed orders for Yamaha YV 100X pick-&-place machines with Hawker Richardson South Africa.
Microtronix has ordered two more Yamaha YV 100X machines that are to be delivered in September, bringing the total number of Yamahas in the Microtronix factory to six.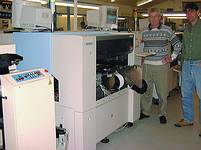 Chris Serafini, director, Hawker Richardson South Africa and Mike Goodyer, managing director of Microtronix with the Yamaha YV100XTg machine that can place up to 22 000 cph
Microtronix is one of South Africa's top SMT assembly companies doing contract work for customers locally and as far afield as Japan. Customer service, commitment to quality and choice of assembly machines, are amongst the reasons given for Microtronix' exceptional growth.

Chris Serafini, director of Hawker Richardson South Africa and Ian Tingle, director of Centurion Systems at the installation of Centurion's second Yamaha pick-&-place machine
Centurion Systems purchased a second Yamaha YV 100X machine to increase production to satisfy an increase in global demand for its products. Centurion Systems manufactures its world-class products at a state-of-the-art factory in Kya-Sands, Johannesburg, and its products can be found in many countries.
For more information contact Chris Serafini, Hawker Richardson SA, 011 792 2766.