There is no doubt that the number of electronic contract manufacturers in South Africa are on the increase and one of the more successful of these is Production Logix (Prologix), based in Durban.
The company was established in 1997 by John Goncalves who had previously spent 15 years with Conlog in the industrial, automotive and pre-payment electricity meter business. Although established initially as a small contract facility aimed at providing prototype services and small volume hand-soldered PCB assemblies, business grew rapidly and John was joined in 2001 by Dave Elston who had been a previous colleague at Conlog before leaving to run Reutech Industrial Electronics (R.I.E.) which was part of the Reunert group. R.I.E. provided a contract electronics manufacturing (CEM) service by outsourcing its spare capacity. In 1998 Zaptronix acquired the company with the objective of having its own products manufactured cost-effectively. In effect, lack of sales by Zaptronix meant that CEM work on its own was not enough to pay for their extensive R&D overhead and the Pinetown manufacturing facility was closed down.
Dave recognised that there was a need in KwaZulu-Natal for a CEM and in 2001 he entered into partnership with John Goncalves and together, the two funded the purchase of two second-hand Suzuki 1250 pick-and-place machines, immediately establishing the critical automated SMD capability. Between them, John and Dave have more than 40 years experience in electronic manufacturing and from an initial staff complement of two people in 1997 this has grown to some 66 people in 2005. The existing customer base (which covers several major players) includes more than 80 local companies and Prologix operates across the electronics market spectrum supplying products for the consumer, commercial, military, automotive, security and tracking systems markets.
Today, the company covers the complete needs of the local industry with volumes of PCBs ranging from a one-off prototype up to more than 10 000 units. Prototyping is usually carried out manually whilst small volume low technology requirements are serviced with the two Suzuki 1250 machines. An increase in medium volume production necessitated the purchase of a new Suzuki 1000V pick-and-place machine, along with a lead-free capable SMT reflow oven in 2003. In 2004 the demand for high technology products led to the installation of a Juki KE2060L and understandably, factory space became an issue.
The increase in high volume high technology demand instigated the opening in January 2005 of a new built-for-purpose 1300 m² factory in Westmead, Pinetown. This provided the space required for more equipment and a Fuji line with in-line printer was installed and commissioned in March this year. The operating capacity of the new facility is now some 50 000 SMD components per hour. Another major capital expenditure was the purchase of a Marantz automatic optical inspection unit which, with its high efficiency, has enabled Prologix to maintain a very high level of confidence in the delivered quality levels at increased production volumes.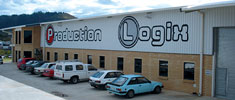 The brand-new Production Logix factory in Pinetown was officially launched at a function on 6 May 2005
An experienced technical team gives exceptional production engineering support and has already successfully carried out lead-free soldering in terms of the new European directives.
The company also offers wave soldering, test, conformal coating and mechanical integration of electronic sub-assemblies. A facility exists to manufacture wiring looms which can be integrated with the PCBs into enclosures or cabinets as required by the customer. An automated epoxy dispensing machine caters for the full range of product encapsulation using specifically designed moulds and jigs.
Although Prologix does not have its own in-house design engineers, the company has built up a network of highly competent engineers and their services can be contract-managed on behalf of a customer. While in many instances, the customer will supply complete kits, including PCBs and components, Prologix itself has established sound relationships with all the major local component distributors and can offer procurement of components as a competitive value-added service.
The development of Prologix from a small electronics contract facility to become the leading contract manufacturer in KwaZulu-Natal, is nothing short of phenomenal. Since 1997 staff complement has increased from two to 66, factory space from 200 m² to 1700 m² and from a hand-soldering beginning, some 50 000 components per hour can now be automatically placed.
Prologix attributes much of its success to the establishment of a sound and professional relationship with its customers, driving the awareness that the contribution provided is an extension of their own businesses. Prologix also realises that flexibility is paramount to its customers and that they always expect quick turnarounds. In this regard Prologix guarantees a two week lead time from the receipt of all materials.
Quality is paramount to the company's business and all products are manufactured according to a quality management system that conforms to the ISO 9001 norms. The company expects to be certified to ISO 9001:2000 by July this year.
Prologix is continually expanding its capability and welcomes enquiries from any sector in the electronics industry with its complete range of services from PCB population, to complete system manufacture, including enclosures and internal wiring.
For more information contact Dave Elston, Production Logix, +27 (0)31 700 4718, dave@prologix.co.za