Much like the overall electronic components market, capacitor manufacturers have experienced a surge in demand thanks to global consumer demand. Unfortunately, reports iSuppli, this demand has been tempered by long lead times, rising prices and a shortage of parts in the semiconductor industry.
Despite their tiny size and minuscule price, capacitors serve as a bellwether for demand trends in technology. This is because they are extensively used in nearly all electronic products. For example, Apple's iPad contains 702 capacitors, while the iPhone 4 has 469.
While demand for aluminium capacitors remains very high, so do lead times and high prices. Lead times are in the 18-week range – well beyond the normal 10 to 12 weeks expected for these parts. Unfortunately, the long lead times (and the resulting increased prices) will not show any significant improvement until late in the fourth quarter of 2010 or even into the first quarter of 2011, iSuppli market research shows. Making matters worse is that aluminium foil, used as the conductor in capacitors, is in short supply, adding fuel to the fire of increased prices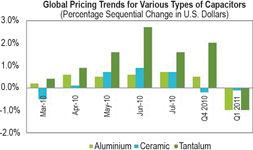 According to electronics market forecasts, ceramic capacitors are also averaging 18 week lead times, with some products being put on allocation in view of sustained consumer demand. The hardest-hit ceramic capacitors include high-capacitance components and high-voltage parts, which will take the longest to recover, as they require more capacity to build because of their longer cycle times.
However, unlike tantalum capacitors, a diverse supply base exists for ceramic capacitors, and iSuppli is seeing manufacturers commit capital in order to expand their capabilities due to high demand. As a result of the increased capacity, combined with a slowing of consumer demand for ceramic capacitors, the segment should come back into balance by late fourth quarter.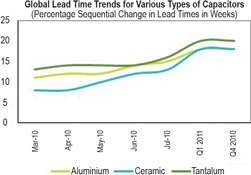 Nonetheless, iSuppli sees the potential for spot shortages here and there, and specialty products will continue to have long lead times even though overall supply will improve significantly.
For more information visit www.isuppli.com