printer friendly version
MIPI RFFE protocol decoding software
10 July 2013
Test & Measurement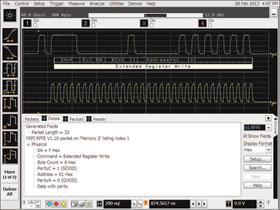 Agilent Technologies has introduced what is believed to be the industry's first software for decoding MIPI Radio Frequency Front-End (RFFE) protocol packets on oscilloscopes.
The new protocol decoder provides design and validation engineers with a fast, easy way to validate and debug their RFFE interfaces.
RFFE is a specification that offers a common method for controlling RF front-end devices, namely power amplifiers, switches, power management modules, antenna tuners and sensors. RFFE provides point-to-multipoint connectivity for control of the RF front-end and is able to scale to dozens of slave devices, which are connected to a single master device.
Many radio applications need accurate timing control. To address this challenge, RFFE uses a relatively high bus-clock frequency of 26 MHz and introduces accurate triggering mechanisms to allow control of timing-critical functions in multiple devices.
Agilent's N8824A MIPI RFFE protocol decoder is designed to run on Infiniium 9000A and 9000 H-Series oscilloscopes as well as the 90000A, 90000 X- and 90000 Q-Series. It decodes protocol packets for the MIPI RFFE v1.10 specification.
R&D design and validation teams can use the software to address their startup debugging and to examine the traffic between RF front-end devices. Using the decoder with an oscilloscope also allows engineers to meet accurate timing requirements associated with the RFFE packets.
When engineers use the Agilent N8824A MIPI RFFE protocol decoder on the Infiniium 9000 H-Series oscilloscopes (ideal for this kind of work), they get 12-bit vertical resolution and up to three times less noise than traditional oscilloscopes produce.
Credit(s)
Further reading:
Tektronix reimagines performance and portability in oscilloscopes
RS Components (SA) Test & Measurement
The new 2 series of oscilloscope can move from the bench to the field and back, enabling workflows previously not possible.
Read more...
---
Modbus probes gain support for parity options
RF Design Test & Measurement
The marquee feature of firmware version 1.06 facilitates the use of odd, even, mark or space parity modes when communicating with bus probes.
Read more...
---
Embrace the full power of J-Link debug probes
CST Electronics Test & Measurement
J-Link is supported by all major IDEs, from free Eclipse-based ones up to commercial-grade ones like Segger Embedded Studio.
Read more...
---
40 GHz RF power sensor
Conical Technologies Test & Measurement
Mini-Circuits' PWR-40PW-RC is a USB/Ethernet-controlled power sensor capable of making many different measurements.
Read more...
---
Power device analyser
Concilium Technologies Test & Measurement Power Electronics / Power Management
Keysight's new PD1550A is an advanced double-pulse tester that enables customers to test entire power modules quickly and easily.
Read more...
---
Evaluation board for MEMS devices
Altron Arrow Test & Measurement
The STEVAL-MKI220V1 is an adaptor board designed to facilitate the evaluation of MEMS devices in the LPS27HHTW product family.
Read more...
---
USB-attachable vector network analyser
Conical Technologies Test & Measurement
Mini-Circuits announced the release of its new eVNA-63, a high-quality and affordable test instrument with a bandwidth from 300 kHz to 6 GHz. The unit has a typical dynamic range of 132 dB, a trace noise 
...
Read more...
---
Dedicated logger for energy surveys and load studies
Comtest Test & Measurement
Designed for energy-conscious consumers of electricity, the Fluke 1730 three-phase electrical energy logger simplifies the task of discovering sources of wasted energy. Its ability to profile energy usage 
...
Read more...
---
Compact test fixtures for small PCB volumes
Electronic Industry Supplies Test & Measurement
In order to offer the market a space-saving option, Ingun's manual test fixtures MA 350/F, MA 360/F, MA 260/F and MA 160/F were designed for testing small volumes of printed circuit boards (PCB). These 
...
Read more...
---
Precision current loop calibrators
Comtest Test & Measurement
The Fluke 709 and 709H mA loop calibrators are built around a user-friendly interface with a quick-set rotary encoder knob.
Read more...
---