printer friendly version
Arduino board ups performance ante
17 September 2014
Computer/Embedded Technology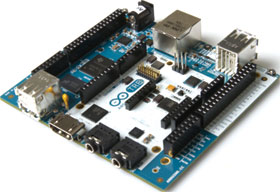 RS Components announced it is shipping the latest and most powerful Arduino board released to date. The new Arduino TRE is essentially two Arduino boards in one: it combines a Texas Instruments 1 GHz Sitara AM335x processor and an Atmel 16 MHz ATmega32u4 AVR microcontroller to deliver the best performing board currently available for the Arduino developer community, while also leveraging the simplicity of the Arduino software experience.
Integration of the 1 GHz Sitara AM335x ARM Cortex-A8 based processor in the TRE means developers can obtain up to 100 times more performance than with the Leonardo or Uno, for example. This level of performance opens up new possibilities, including the ability to develop advanced Linux-powered applications such as high-performance desktop applications, processing-intensive algorithms or high-speed communications.
The integration of the AVR Arduino also enables developers to use the existing Shield ecosystem to expand the TRE for a wide range of high-performance applications such as 3D printers and gateways for building and lighting automation, or telemetry hubs that collect data wirelessly from nearby sensors and other connected applications that require host control plus real-time operation.
Based on collaboration between Arduino and the BeagleBoard.org Foundation, the TRE builds upon the experience and combines the benefits of both of these open-hardware, community-based board pioneers. The TRE will also be the first Arduino board to be manufactured in the US.
Specifications of the Arduino Sitara Linux processor include 512 MB of DDR3L SRAM, 12 digital I/O pins and four PWM channels (3,3 V logic). Also integrated are connectivity options such as Ethernet 10/100, a USB 2.0 device port and four USB 2.0 host ports, plus high-definition HDMI audio/video output, LCD expansion connector and a MicroSD card. Features of the Arduino AVR include 32 KB of on-chip Flash memory and a further 14 digital I/O pins, seven PWM channels (5 V logic) and six analogue input channels.
Please note that RS Components has indicated that, owing to high levels of demand, this item is currently unavailable to the South African market, but that stock will become available in the very near future.
For more information contact RS Components, +27 (0)11 691 9300, sales.za@rs-components.com, www.rsonline.co.za
Credit(s)
Further reading:
RS to showcase IoT and Food Safe products at NAMPO Harvest Day
RS Components (SA) News
Following a two-year hiatus, this year's event will take place over five days as opposed to four, to accommodate Covid-19 restrictions.
Read more...
---
EBV signs up AI chipmaker Hailo
EBV Electrolink Computer/Embedded Technology
Hailo offers a wide range of AI accelerators, including the innovative Hailo-8 AI processor and high-performance AI acceleration modules in M.2 and Mini PCIe formats.
Read more...
---
Powerful system-on-module development platform
Computer/Embedded Technology
A new system-on-module ecosystem has been released by SlidRun, an Israeli developer and manufacturer of high-performance system-on-module (SOM) solutions, single-board computers (SBC) and network edge 
...
Read more...
---
Computer-on-modules for modern HMI designs
Rugged Interconnect Technologies Computer/Embedded Technology
In building automation, more and more often-touch displays with integrated embedded computers can be found – from automated parking systems to elevators or home climate control. Most of the time, these 
...
Read more...
---
Standalone H.264 video streaming board
Rugged Interconnect Technologies Computer/Embedded Technology
The XStream-SD4 is an intelligent, standalone, ultra-low latency H.264 streaming solution that accepts 4x NTSC/PAL/RS-170 composite video sources and records and streams them over 100/1000 Mbps Ethernet. 
...
Read more...
---
Gen 3 PCIe board offers RF flexibility
Rugged Interconnect Technologies Computer/Embedded Technology
The Quartz Model 7053 is a high-performance, 8-channel A/D and D/A PCIe (PCI Express) board based on the Xilinx Zynq UltraScale+ RFSoC. The new Pentek board supports direct RF sampling using eight 5 GSps 
...
Read more...
---
Rugged, fanless computers in 19-inch rack housings
Rugged Interconnect Technologies Computer/Embedded Technology
The solution is ideal for railway, maritime, defence, medical or other applications that need to be supported for ten years or more.
Read more...
---
What can sport teach us about MRO procurement?
RS Components (SA) News
Just like triathlon transitions, if you don't respect the details and aren't supportive about making manufacturing flexible, as a supplier you aren't contributing to your customers' success.
Read more...
---
HD-SDI board for H.264-encoded video streaming
Rugged Interconnect Technologies Computer/Embedded Technology
The StreamCorder-HD-SDI is an intelligent, standalone, H.264 streaming solution that accepts an HD-SDI input at up to 1080p resolution and 30 frames per second and encodes and streams it over 100/1000 Mbps 
...
Read more...
---
High-performance PCIe XMC modules
TRX Electronics Computer/Embedded Technology
Mouser Electronics has signed a new distribution agreement with Interconnect Systems International (ISI), a Molex company and supplier of signal processing and data acquisition solutions. ISI's hardware, 
...
Read more...
---