printer friendly version
Tellumat joint venture off to a grand start
EMP Handbook 2016
News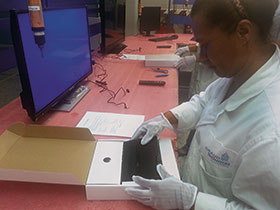 In August 2014, JSE-Listed and black-owned Grand Parade Investments (GPI) and Tellumat established a joint venture comprising stakes of 51% and 49%, respectively. Their new company – Grand Tellumat Manufacturing (GTM) – and its associated opportunities are fuelled not only by government's continued efforts to localise as much manufacturing as possible (in fact earlier in that month, Department of Trade and Industry (DTI) minister Rob Davies had re-iterated his commitment to government procuring 75% of its goods, including electronics, from local companies), but also by GPI's commitment to investing in companies that will not only deliver strong financial returns, but that create jobs too.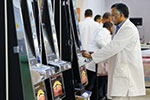 Andrew Connold, CEO of Tellumat, said at the time of the establishment of GTM that "The South African government's infrastructure build projects and localisation policies are a significant opportunity for Grand Tellumat Manufacturing. There is no need for South Africa to fully import or outsource the manufacture of high-tech electronic products to companies overseas," with Alan Keet, the CEO of Grand Parade Investments, adding that "For us the deal makes sense as we have determined the capability of Tellumat during our investigations into the manufacturing of gaming machines and it became apparent that there is a much greater contribution we can make as a combined entity in the existing environment."
GPI's majority black-owned status has secured a similar status for GTM, based on its majority shareholding, and as a result GTM is able to provide a suitably B-BBEE rated contract manufacturing solution to any number of local and international suppliers wishing to secure their current position in the South African market, grow in it, or enter it for the first time. This, added to the broad expertise that the Tellumat Group brings to the table, makes GTM a formidable localisation partner.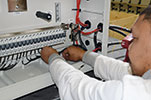 "The relationship between GPI and Tellumat dates back to late 2012," explains GTM's business development manager, Duncan Pollock, "when GPI signed an initial agreement to pursue a local joint venture with German slot machine manufacturer Merkur Gaming, and appointed Tellumat as the local assembler of Merkur Gaming's machines. Subsequent to the establishment of the GTM joint venture, this local slot manufacture has increased to include Slovenia manufacturer Gold Club and will soon include production for Africa of a recent Australian investment by GPI into Atlas Gaming of Melbourne."
At the inaugural Gambling Indaba held at the Cape Town International Convention Centre (CTICC) in November 2015, GTM showcased its local gaming machine contract manufacturing capabilities with the full endorsement of the Western Cape Minister of Economic Opportunities, Alan Winde, along with a large number of local gaming regulators. A key initiative of GPI chairman, Hassen Adams, is the expansion of Grand Tellumat's gaming machine manufacturing capabilities into the likes of sports betting terminals, lottery terminals, cash handling machines and the like.
Pollock believes that further opportunities for GTM reside in the food sector, where GPI owns in excess of 90% of the Burger King master franchise licence for South Africa and is a 10% shareholder in the Spur restaurant chain.

Set-top boxes made and delivered
The newest feather in Grand Tellumat Manufacturing's cap is a contract with Leratadima to manufacture set-top boxes (STB) for South Africa's migration to digital terrestrial television (DTT). Primarily a brand building company established in 2007, Leratadima was one of only three recipients of orders for the first phase of free STBs the government is donating to the country's poorest households.
"STBs have been a long time coming and we are extremely excited about our relationship with Leratadima, and as a result being afforded the opportunity to offer our contract manufacturing services to one of the first successful recipients of an STB order from the Universal Service Access Agency of South Africa (USAASA) under a mandate from the Department of Communications," enthuses Pollock. "What this STB opportunity has afforded us is the chance to offer additional employment opportunities to a significant number of people and in so doing support government's stated mandate. We trust that through our initial relationship with both Leratadima and USAASA there will be significant additional opportunities within and outside of South Africa, as the continent as a whole migrates to DTT."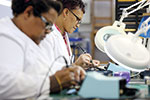 The South African Post Office commenced delivery of 2000 units in the Northern Cape in December last year, a healthy portion of which were made in GTM's plant. "We manufactured an initial 150 digital terrestrial television (DTT) set-top boxes (STB) in early December for testing and as primary samples," says Pollock. "Following the approval thereof, and their packaging, a further 1000 STBs were completed by the end of December, totalling 1150 manufactured to date."
GTM has the capacity to produce up to 100 000 set-top boxes a month, which would provide job opportunities for 100 to 150 new staff. Since government is still in the process of finalising manufacturing allocations, the company has not yet invested heavily in its STB production line until it has more clarity, as Pollock explains: "The investment has only been in labour, as we have managed to lease additional equipment and make use of a sub-contractor who will assist us with a small percentage of the SMT work in the short term. After that we will increase our own capacity to ensure all requirements can be met in-house."
Everything under one roof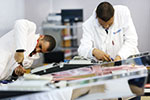 Grand Tellumat Manufacturing's 9000 m², ISO 9001:2008 certified electronics manufacturing facility in Retreat, Cape Town, provides complete system solutions from labour only to full turnkey, for all levels of complexity. In addition to its engineering capability, it assists international original equipment manufacturers (OEM) with the localisation, and where necessary the industrialisation, of their products so they are better able to access and service South African and African markets.
The company boasts a Level 3 B-BBEE rating, 110% procurement recognition, and is 79,4% black owned (14,19% black women).
For more information contact Duncan Pollock, Grand Tellumat Manufacturing, +27 (0)21 710 2400, dpollock@grandtellumat.com
Credit(s)
Further reading:
Plan your media strategy with Technews Publishing
23 October 2019, Technews Publishing , News
Dear Marketer, Have you ever looked back on a year and wondered how you survived it? For the majority of South Africans, 2019 started benignly enough, cosily wrapped in the blanket of Ramaphoria that 
...
Read more...
---
From the editor's desk: Getting charged up for the new year
25 November 2019, Technews Publishing , News
The Springboks' Rugby World Cup triumph in Japan couldn't have come at a better time for South Africa, as the country was in desperate need of a jolt of positive energy going into the festive season. 
...
Read more...
---
Battery Technologies Conference 2019
25 November 2019 , News, Editor's Choice
Batteries are a critical enabler of the Fourth Industrial Revolution, powering technology in products from laptops and handheld devices to electric vehicles and renewable energy storage.
Read more...
---
Boom, doom and gloom, or something completely different?
25 November 2019, Technews Publishing , News, Editor's Choice
As the end of 2019 looms, it's time to look ahead to what next year might have in store, and reflect on the year gone by. And what a year it's been.
Read more...
---
Actum Group remains resilient and optimistic for 2020
25 November 2019, Actum Electronics , News
Running a profitable business in South Africa is not for the fainthearted. With the national treasury downgrading this year's growth forecast from 1,5% to 0,5%, and state-owned entities like Eskom negotiating 
...
Read more...
---
Additional renewable energy development zones proposed
25 November 2019 , News
The second phase of the Strategic Environmental Assessment (SEA) for wind and solar photovoltaic (PV) energy in South Africa proposes three additional Renewable Energy Development Zones (REDZs) for wind 
...
Read more...
---
Locally developed electronic circuit builder for students
25 November 2019, K Measure , News, Editor's Choice
K Measure, creator of the award-winning Seebox engineering education solution, has created a new innovation to enable quick and easy electronic circuit-building. The SeeBlocks electronic circuit creator 
...
Read more...
---
Clearing the Static:Topic 9: Time to audit your ESD environment
25 November 2019, Actum Electronics , News
Now that we are nearing the end of the year, it is a good time to audit your existing static control products and procedures. The first line of defence should be your antistatic floor, since this is the 
...
Read more...
---
Winning hackathon entry curbs cell tower battery theft
25 November 2019 , News
The fourth annual TADHackJHB was held at MTN's head office in Fairland, Johannesburg, on 12 and 13 October, with a cell tower protection app emerging as the winner. The theme for the 2019 global TADHack 
...
Read more...
---
Products of the Year 2019
25 November 2019 , News
SmartServer IoT by Adesto
BAW-based chips for comms infrastructure
Cellular modules for LPWA applications
SoCs and software for smart home and IIoT
Secure element for IoT authentication
MPU for embedded 
...
Read more...
---