printer friendly version
Tellumat joint venture off to a grand start
EMP Handbook 2016
News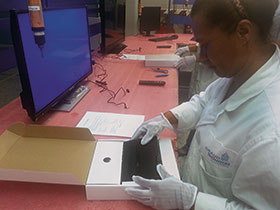 In August 2014, JSE-Listed and black-owned Grand Parade Investments (GPI) and Tellumat established a joint venture comprising stakes of 51% and 49%, respectively. Their new company – Grand Tellumat Manufacturing (GTM) – and its associated opportunities are fuelled not only by government's continued efforts to localise as much manufacturing as possible (in fact earlier in that month, Department of Trade and Industry (DTI) minister Rob Davies had re-iterated his commitment to government procuring 75% of its goods, including electronics, from local companies), but also by GPI's commitment to investing in companies that will not only deliver strong financial returns, but that create jobs too.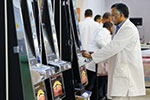 Andrew Connold, CEO of Tellumat, said at the time of the establishment of GTM that "The South African government's infrastructure build projects and localisation policies are a significant opportunity for Grand Tellumat Manufacturing. There is no need for South Africa to fully import or outsource the manufacture of high-tech electronic products to companies overseas," with Alan Keet, the CEO of Grand Parade Investments, adding that "For us the deal makes sense as we have determined the capability of Tellumat during our investigations into the manufacturing of gaming machines and it became apparent that there is a much greater contribution we can make as a combined entity in the existing environment."
GPI's majority black-owned status has secured a similar status for GTM, based on its majority shareholding, and as a result GTM is able to provide a suitably B-BBEE rated contract manufacturing solution to any number of local and international suppliers wishing to secure their current position in the South African market, grow in it, or enter it for the first time. This, added to the broad expertise that the Tellumat Group brings to the table, makes GTM a formidable localisation partner.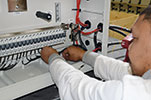 "The relationship between GPI and Tellumat dates back to late 2012," explains GTM's business development manager, Duncan Pollock, "when GPI signed an initial agreement to pursue a local joint venture with German slot machine manufacturer Merkur Gaming, and appointed Tellumat as the local assembler of Merkur Gaming's machines. Subsequent to the establishment of the GTM joint venture, this local slot manufacture has increased to include Slovenia manufacturer Gold Club and will soon include production for Africa of a recent Australian investment by GPI into Atlas Gaming of Melbourne."
At the inaugural Gambling Indaba held at the Cape Town International Convention Centre (CTICC) in November 2015, GTM showcased its local gaming machine contract manufacturing capabilities with the full endorsement of the Western Cape Minister of Economic Opportunities, Alan Winde, along with a large number of local gaming regulators. A key initiative of GPI chairman, Hassen Adams, is the expansion of Grand Tellumat's gaming machine manufacturing capabilities into the likes of sports betting terminals, lottery terminals, cash handling machines and the like.
Pollock believes that further opportunities for GTM reside in the food sector, where GPI owns in excess of 90% of the Burger King master franchise licence for South Africa and is a 10% shareholder in the Spur restaurant chain.

Set-top boxes made and delivered
The newest feather in Grand Tellumat Manufacturing's cap is a contract with Leratadima to manufacture set-top boxes (STB) for South Africa's migration to digital terrestrial television (DTT). Primarily a brand building company established in 2007, Leratadima was one of only three recipients of orders for the first phase of free STBs the government is donating to the country's poorest households.
"STBs have been a long time coming and we are extremely excited about our relationship with Leratadima, and as a result being afforded the opportunity to offer our contract manufacturing services to one of the first successful recipients of an STB order from the Universal Service Access Agency of South Africa (USAASA) under a mandate from the Department of Communications," enthuses Pollock. "What this STB opportunity has afforded us is the chance to offer additional employment opportunities to a significant number of people and in so doing support government's stated mandate. We trust that through our initial relationship with both Leratadima and USAASA there will be significant additional opportunities within and outside of South Africa, as the continent as a whole migrates to DTT."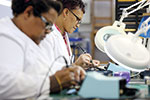 The South African Post Office commenced delivery of 2000 units in the Northern Cape in December last year, a healthy portion of which were made in GTM's plant. "We manufactured an initial 150 digital terrestrial television (DTT) set-top boxes (STB) in early December for testing and as primary samples," says Pollock. "Following the approval thereof, and their packaging, a further 1000 STBs were completed by the end of December, totalling 1150 manufactured to date."
GTM has the capacity to produce up to 100 000 set-top boxes a month, which would provide job opportunities for 100 to 150 new staff. Since government is still in the process of finalising manufacturing allocations, the company has not yet invested heavily in its STB production line until it has more clarity, as Pollock explains: "The investment has only been in labour, as we have managed to lease additional equipment and make use of a sub-contractor who will assist us with a small percentage of the SMT work in the short term. After that we will increase our own capacity to ensure all requirements can be met in-house."
Everything under one roof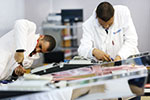 Grand Tellumat Manufacturing's 9000 m², ISO 9001:2008 certified electronics manufacturing facility in Retreat, Cape Town, provides complete system solutions from labour only to full turnkey, for all levels of complexity. In addition to its engineering capability, it assists international original equipment manufacturers (OEM) with the localisation, and where necessary the industrialisation, of their products so they are better able to access and service South African and African markets.
The company boasts a Level 3 B-BBEE rating, 110% procurement recognition, and is 79,4% black owned (14,19% black women).
For more information contact Duncan Pollock, Grand Tellumat Manufacturing, +27 (0)21 710 2400, dpollock@grandtellumat.com
Credit(s)
Further reading:
Personality profile: Jean Mearns
29 July 2020, WH Circuit , News
"No one works for me, they only work with me, for without each other our team will fail to exceed the expectations of our customers."
Read more...
---
Letter to the editor
29 July 2020 , News
I take exception to the article 'To fake or not to fake' published in the June edition of Dataweek that is clearly based on the principle 'guilty until proven innocent'. I am by no means an expert 
...
Read more...
---
Q&A with Brandon Kuhn and Steve Stafford
29 July 2020 , News
Q: What is the rationale behind the reorganisation? What impact will it have on Avnet's customers in South Africa?    A (Kuhn):
Since 2009, our shared front-end model in South Africa has differed from the 
...
Read more...
---
Avnet EMEA names two new leaders to SA operation
29 July 2020 , News
Avnet has named Steve Stafford and Brandon Kuhn as new leaders in South Africa following the completion of a reorganisation in the region.
Read more...
---
UCT chooses Tektronix instruments for training lab
29 July 2020, Comtest , News
Comtest, local partner to Tektronix, recently assisted the University of Cape Town (UCT) physics department in refurbishing its electrical training laboratory. All of the existing analog oscilloscopes 
...
Read more...
---
New electromagnetic solutions range from Accutronics
29 July 2020, Accutronics , News
Accutronics has been appointed as the reseller for the Electromagnetic Integrated Solutions (EIS) range of products from API Technologies. APITech offers a complete line of coaxial EMI solutions, 
...
Read more...
---
Fighting COVID-19 using TV white space spectrum
29 July 2020 , News
The CSIR has partnered with the Technology Innovation Agency (TIA) to enable local Internet service providers to deploy Television White Space (TVWS) networks, using the CSIR-developed Secondary Geo-Location 
...
Read more...
---
Clearing the Static: ESD wrist straps
29 July 2020, Actum Electronics , News
The human body is the primary source of electrostatic charge generation. In order to control and reduce static charge build-up and prevent electrostatic discharges (ESD), we use grounding systems to ensure 
...
Read more...
---
From the editor's desk: This too shall pass
29 July 2020, Technews Publishing , News
Things were tough enough for the South African electronics manufacturing industry before, but this year has thrown up unprecedented challenges that nobody could have foreseen and which are outside of 
...
Read more...
---
Electronics news digest
29 July 2020 , News
South Africa
• As part of the national data-driven approach to countering COVID-19, the CSIR has developed a platform that monitors human mobility to better understand movement patterns across specific 
...
Read more...
---