The world is rapidly changing. Up to 65% of children entering primary school today will be in occupations that do not exist yet (According to a WEF 2016 report entitled 'The future of jobs and skills'); even most current in-demand jobs didn't exist a decade ago.
Keeping up with this change is vital for our future, requiring investment and focus in getting science and technology into the hands of young students who will be the next generation of scientists and engineers. One such initiative is the Jaguar Primary School Challenge – South Africa, which is aimed at the emulation of a race team, just like engineers at Jaguar. The project promotes and supports a series of workshops and events that introduces primary school children to a range of business, technology, design and engineering skills. This initiative reaches schools of all socioeconomic backgrounds and secures funding through state and private sector benefactors to help the students learn and travel to the events.
Schools must form teams of four learners who are introduced to 2D CADCAM when they design and manufacture their miniature car. These cars are then tested against each other in controlled races that challenge the skills and work put in by the students who first compete in the regionals and then the national final.
The project has reached over 100 schools since its inception in April 2016, touching 5000 learners who are passionate about science and technology. "We've been running this programme in the UK for eight years to increase interest in STEM subjects and encourage more young people to pursue engineering careers, and hope it achieves the same impact in South Africa," said Les Ratcliffe, head of community relations, Jaguar Land Rover.
RS Components sponsored pi-top desktop computers as prizes for the five regional finals. "Driving education with innovation and technology builds a platform for young minds to learn, play and create for the future," said Mellisa Naidoo, head of marketing at RS Components South Africa. "We have been privileged to be part of initiatives such as this, which makes STEM education exciting and accessible to young students all across the country. These students are our next generation of scientists, engineers and business leaders who will shape the world of tomorrow."
"RS Components South Africa is aligned with our values for affecting positive change in education. We are proud to partner with this innovative brand," said Christopher Maxwell, national coordinator of the Jaguar Primary School Challenge – South Africa.
Regional finals were held in Port Elizabeth, Hillcrest, Pietermaritzburg, Cape Town and Johannesburg, with each winning team receiving a pi-top desktop bundle for their school powered by the Raspberry Pi computer board (a credit-card sized CPU). Unlike traditional desktop PCs, the pi-top was designed to teach students how to do computer programming and comes with software, resources and projects. Students can explore design, engineering and programming tracks, while also using the pi-top for regular tasks such as web browsing, creating documents and maybe even sneaking in a game or two when no one is looking. There is also an online community of support, software and tutorials to help teachers kick-start projects in their own classrooms at www.pi-top.com.
Regional winners of the pi-top desktop bundle were:
28 Feb 2017 – SciBono Discovery Centre, Gauteng, Team Golden Peregrine from Jong Leerling Akademie
3 March 2017 – Cape Town Science Centre, Western Cape, Team Illuminant from Kirstenhof Primary School
6 March 2017 – Jaguar Hillcrest, KZN, Team Fast Intelligence from Eden College Primary School
7 March 2017 – Jaguar Pietermaritzburg, KZN, Team Yolo from Cowan House
14 March 2017 – Bay West Mall, Eastern Cape, Team Cheetahs from Charles Duna Primary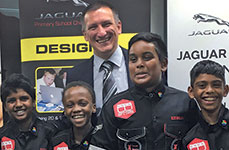 From left to right: Dipika Ramjugernath (11), Vongai Mubaiwa (9), Keshav Hurpaul (11), Syun Bhaga (11) and teacher Stefan Mack from Eden College.
The overall winners who took top honours at the national finals held on the 29th of March at Jaguar Land Rover Centurion were the X-Team Racers, a group of four Eden College learners from Durban. The X-Team Racers consisted of team leader, Syun Bhaga (11), design engineer, Keshav Hurpaul (11), manufacturing engineer, Vongai Mubaiwa (9), and graphic designer, Dipika Ramjugernath (11). X-Team's miniature race car is aptly named 'Umbani' which means lightning in isiZulu.
For more information contact RS Components, +27 (0)11 691 9300, sales.za@rs-components.com, www.za.rs-online.com