printer friendly version
Altair student day inspires STEM interest
16 August 2017
News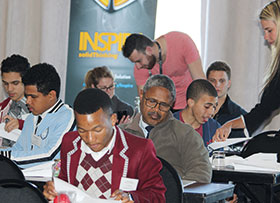 Altair South Africa recently hosted a group of potential engineering students as part of its STEM (Science, Technology, Engineering and Maths) initiative to expose them to the opportunities available in the engineering field.
The company offers software in five categories related to Computer Aided Engineering (CAE) and High Performance Computing (HPC).
"The main criterion to attend the day was obviously an interest in studying engineering. The project has grown exponentially since we started three years ago, with over 60 learners joining us this year," explains Gronum Smith, country manager of Altair SA.
The invitation was extended to all schools in the area including Malibu High, Oval Engineering School, Paul Roos Gymnasium, Kayamandi High, Cloetesville High and Rhenish Girls High in Stellenbosch, and Parel Vallei, Strand High and Hottentots Holland in the Somerset West area. "This year we tested their analytical skills with practical sessions, which they seemed to enjoy, along with all the presentations," said Gronum.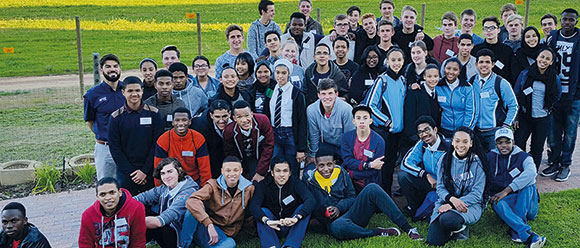 The keynote speaker was Christopher Maxwell from Bloodhound SSC, who spoke about the technology behind building a car to go faster than 1000 mph, which resulted in lots of questions from the audience. Other presentations, along with those from Altair, focused on each engineering discipline including aeronautical (SA National Space Agency), industrial (University of Stellenbosch), mechatronics (Greenchain Engineering), civil (By Design), chemical (Veolia) and electrical/software (Alphawave).
Feedback from the pupils was positive and many of them appreciated the value of such a day. The common thread throughout the day by all the presenters was to work hard, be passionate, take risks, be entrepreneurial and realise that learning never ends.
"One pupil's comment at the end of the day of 'I had never considered mechanical engineering but had decided during the mechanical engineering session that it is my chosen career and I just wanted to say thank you for that' definitely makes a day like this worthwhile," concludes Gronum.
For more information contact Altair South Africa, +27 (0)21 831 1500, frichardson@altair.co.za, www.altair.co.za
Further reading:
Coalition calls on European Commission to postpone SCIP deadline
30 September 2020 , News
A coalition of 40 industry organisations has written a letter to European Commission President Ursula von der Leyen calling for decisive action to solve implementation issues within the EU Waste Framework 
...
Read more...
---
Follow this engineering journey of a 3D-printed boat
30 September 2020, RS Components (SA) , News
RS Components is releasing a 10-episode documentary series – titled SeaQuest – featuring members of its DesignSpark engineering community who embarked on a first-of-its-kind challenge to design, test 
...
Read more...
---
Mouser revamps technical resource centre
30 September 2020, TRX Electronics , News
Mouser Electronics has redesigned its Technical Resource Centre, which contains the global distributor's ever-expanding collection of technical articles, blogs, eBooks, and Methods technology and solutions 
...
Read more...
---
From the editor's desk: Electric and autonomous vehicles driving full-speed ahead
28 October 2020, Technews Publishing , News
I still can't stop myself from doing a double-take when I hear that Tesla is rolling out a software update to add some sort of new functionality to its cars. Some of those updates are pointless show-off 
...
Read more...
---
Electronics news digest
28 October 2020 , News
South Africa
• The Department of Defence (DoD) has appointed a special team, called 'Save Denel' to investigate Denel's financial struggles, and the impact they might have on SA National Defence Force 
...
Read more...
---
Clearing the Static
28 October 2020, Actum Group , News
The Importance of ESD audits
An ESD audit is the first step in establishing an effective static control programme. Before you invest money in new ESD equipment, an ESD audit will help you identify vulnerable 
...
Read more...
---
TRX welcomes Hannes Taute as new MD
28 October 2020, TRX Electronics , Editor's Choice, News
We delve into his background, what his plans for TRX Electronics are, and how he envisions what the future of the local electronics industry will look like.
Read more...
---
CSIR marks 75th anniversary
28 October 2020 , News
The Minister of Higher Education, Science and Innovation, Dr Blade Nzimande, has congratulated the Council for Scientific and Industrial Research (CSIR) for its contribution in shaping the country's science, 
...
Read more...
---
Diamonds are a quantum scientist's best friend
28 October 2020 , News
Diamonds have a firm foothold in our lexicon. Their many properties often serve as superlatives for quality, clarity and hardiness. Aside from the popularity of this rare material in ornamental and decorative 
...
Read more...
---
Würth extends online service for IC reference designs
28 October 2020 , News
As one of the leading manufacturers of electronic and electromechanical components, Würth Elektronik has been working for years with top semiconductor companies, such as Analog Devices, Infineon Technologies, 
...
Read more...
---