Many of the most exciting and life-improving developments in electronics are happening on the biomedical and cybernetics fronts, but they also have the potential to be truly terrifying.
Consider the case of Neil Harbisson, an artist born with the unfortunate affliction of colour blindness – not one of the common types that cause people to confuse certain colours with others, but a much rarer condition called achromatopsia, meaning he can only see in black and white, with no colour perception at all. With help from engineers and surgeons, Harbisson has become the world's first 'eyeborg,' a clever name for an ingenious solution that has changed his life by giving him a way of perceiving colour.
The solution looks like a sort of antenna, with a camera on one end pointing in the direction he is facing and the other end implanted in the back of his skull. A circuit in the antenna converts the images captured by the camera into an audio signal whose frequency changes depending on what he is looking at. Much like a cochlear implant, this audio signal literally vibrates through his skull. Over the course of more than 10 years using the system, he has memorised the colours that correspond to different sounds, effectively augmenting his sight using sound.
After a while, incredibly, he even started to dream in colour. "When I started to dream in colour is when I felt that the software and my brain had united because in my dream it was my brain creating electronic sounds, it was not the software, and that's when I started to feel like a cyborg. It had become an extension of my senses," he said. A Wi-Fi interface has even been added to the antenna, allowing him to 'see'images sent directly from a mobile phone. Potentially this could even result in direct skull-to-skull communication with users of similar devices.
On the subject of brain-to-brain communication, researchers from the University of Washington created an experiment that allowed one participant to control the movement of another participant's finger. Person A wore an electroencephalography (EEG) cap while playing a video game, and when he saw an enemy he wanted to shoot he would think about pressing a button.
Across campus, person B had the same game playing but with the monitor behind him so he couldn't see what was going on. Wearing a transcranial magnetic stimulation coil (a device that can emit a focused electrical current) positioned directly over the part of the brain that controlled the movement of his finger, person B involuntarily twitched his finger to shoot the enemy each time person A thought about shooting them. According to person B, the first time this happened he didn't even realise his hand had moved. Similar techniques have helped give paralysed people the ability to control their limbs by triggering robotic actuators that respond to their thoughts, but being able to control someone's movements remotely by thought alone, without their conscious knowledge, is as troubling as it is amazing.
People are also increasingly implanting microchips into their bodies, for beneficial reasons such as access control. In an era when cybersecurity is such a profound problem, this is a logical solution as biometrics are commonly seen as the most secure form of identity verification currently available to us. Of course, implanted microchips could also be used to track a person's whereabouts, with or without their knowledge; to say most people would not be very comfortable with this is an understatement.
One company in the US has given its employees the option of having themselves implanted with RFID chips to control their access to secure areas, photocopiers, office computers etc., and to share business cards, store medical/health information, and be used as payment at RFID-enabled terminals. A Swedish outfit called BioHax has been hired to implant the rice grain-sized devices into the webbing between the thumb and forefinger of consenting employees, but DIY kits have also begun popping up for sale on the Internet for brave souls who trust their own surgical skills enough.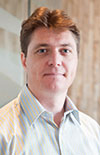 Breakthroughs in cybernetics like these are just the tip of the iceberg, and their true potential is only just being explored. The cyborg revolution is undoubtedly coming – hopefully it will be for the betterment of mankind and not lead to its destruction as often portrayed in movies like The Terminator.
Brett van den Bosch
Editor