Jointly hosted by RS Components and Entelect Software on Saturday, 16 September, 40 people attended the first South African Raspberry Pi Jam, an event bringing together enthusiasts of the credit card sized computer board.
The event was keynoted via video conference by none other than the inventor of the Raspberry Pi, Eben Upton, and nine innovative projects were celebrated.

Eben Upton, founder of Raspberry Pi, addresses via Skype from the UK.
Willie Strydom was awarded the prize for the most innovative build. His home automation project – designed to consolidate various home automation applications into a single user interface that can be accessed from an app on an iPhone or Apple watch – was selected as the winning entry based on its relevance, usefulness and future potential. He won a limited edit-ion Raspberry Pi of which only 1000 have been produced globally, and a voucher to spend at RS Components for his next project.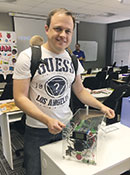 Second place, Gareth Stephenson (Pi Cluster project).
The 'Raspberry Pi' can run the same basic functions as a PC but costs a fraction of the price – it has been used in numerous applications from setting up computer labs to home automation, and from atmospheric monitoring to robot cars. A Raspberry Pi Jam is an organised community event where people get together and share knowledge, learn new things and meet other Raspberry Pi enthusiasts. This particular event was structured as a show and tell, meaning that participants were given the opportunity to demonstrate their projects and discuss them with other like-minded enthusiasts.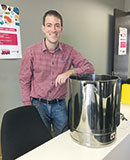 Third place, Schalk van Heerden (Cherry Pie Brewery system).
Upton's address provided the guests with an insight into the initial concept of the Pi and the startup phase of the Raspberry Pi Foundation. He explained that the idea of the Raspberry Pi came about in trying to solve a particular problem which was to boost an interest in computer programming and STEM learning in young learners. The concept was to create an affordable computer at $35, which needed to be both functional and simple enough for a child to learn coding. The team initially envisioned selling 1000 Raspberry Pi boards, but demand peaked quite rapidly to 10 000 boards and 5 years later they have sold over 15 million units around the world.

Attendees at the first Raspberry Pi Jam in South Africa.
During the event, RS Components and Entelect Software representatives shared their expert knowledge with the participants to provide some insight on where to next with each of the projects presented. Projects were judged by a panel according to predetermined criteria, such as novelty, creativity, technology choices, user experience, simplicity and future potential.
Second place went to Gareth Stephenson, who presented his 'Pi Cluster' project which tested the concept of cluster computing using Raspberry Pis. Third place went to Schalk van Heerden with his 'Cherry Pi Brewery' project which is a prototype concept for a fully automated micro-brewery. Other notable projects were Philip Booysen's self-driving car, and an offline library developed for underprivileged students and designed by Yoshiaki Nagasawa, a Japanese student currently living in Cape Town.
Explaining where the idea came from to host the first Raspberry Jam in South Africa, Brian Andrew, general manager of RS Components South Africa, said: "Since the day the Raspberry Pi was launched in South Africa in 2012, it was an instant hit with design engineers, makers and anyone who loves tech gadgets because of its cost and the fact that it functions as a mini computer. Although it was initially designed to promote STEM learning and coding, it has successfully been used in both business and home applications. We realised that as a global distributor of the Pi computer board, we needed to initiate a platform in South Africa for Pi fanatics to get together and share their knowledge and ideas."
Mark Beets, general manager at Entelect Software, agreed: "We're passionate about the future of technology and, for us, this means doing whatever we can to help the tech community grow, and creating environments where people can share their innovations with like-minded people. The Raspberry Pi is an awesome tool that enables tech enthusiasts to create some really cool innovations, which is exactly what we saw today."
Andrew and Beets are both keen to stage another such event, but no dates have yet been set. Readers who would like to be informed about future Raspberry Pi Jams can register at http://bit.ly/RPiJamSA.
For more information contact RS Components, +27 (0)11 691 9300, sales.za@rs-components.com, www.za.rs-online.com