Sigma Communication Systems is a wholly South African owned and managed specialist in communications and RF technologies. It was founded in 2003 with the objective of designing and building communication systems for tunnels and mines.
The company was started by Dr Gary Hoile and Ron Piper, both engineers with extensive experience in the design and manufacture of military communication systems. Piper had previously founded PR Electronics, and in 2010 he bought out Hoile's share in the business and merged PR Electronics into Sigma.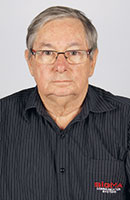 Ron Piper.
Sigma not only manufactures its own in-house designs for mining and tunnelling, but also offers consulting and contracting services for companies that require assistance in design and production of mainly RF products. "We provide a high level of RF expertise to industry as well as utilising specialist RF equipment in order to create professionally engineered RF products," states Piper. "This equipment requires specialist skills and is expensive to purchase, thus the barrier to entry for a lot of businesses is very high."
Some of the services the company offers include on-site RF test equipment rental, embedded antenna design, circuit capture and PCB layout on CAD, component procurement, surface-mount and through-hole technology assembly, enclosure design and manufacture using 3D techniques, product testing including RF tests from DC to 1 GHz, conformal coating, and prototype, small and medium production runs.
Sigma boasts having its communication systems installed in the three longest tunnels in South Africa, namely the 14 km Hex tunnel and two Cedara tunnels stretching 6 km each. It also has underground leaky feeder solutions represented globally in 14 countries, including gas detection and monitoring applications. The company is a forerunner in RF underground communications and has expanded its range to include remote diagnostics.
Piper wants the companies that do business with Sigma to remember it by its unique designs, its quality of manufacture and its ethical business practice. "Sigma Communications is involved in RF engineering due to the passion our engineers have in this field of electronic engineering," he says. "Our engineers are extremely dedicated to RF engineering and have studied this field extensively. We want to impact the market with our enthusiasm for solving RF based problems and designing solutions that we can be proud of. Our aim is to continue to be a market leader in our field, both locally and internationally."
For more information contact Ron Piper, Sigma Communication Systems, +27 (0)31 709 6255, ron@sigmacs.co.za, www.sigmacs.co.za