Gwakwani, a small rural village in Limpopo province with about 70 to 100 inhabitants, has gained access to basic services through sustainable interventions, thanks to a collaboration between the University of Johannesburg's (UJ) department of electrical and electronic engineering science (which forms part of its faculty of engineering and the built environment) and Schneider Electric South Africa.
Over the past three years, this partnership has empowered the community through its eco-friendly sustainable contributions to an area that is devoid of basic services or roads. The intervention began with an access to energy project through the installation of solar lighting solutions to the homes and a solar streetlight followed soon thereafter.
This collaboration between private industry, academia and the community, has created a legacy for many years to come, according to Professor Johan Meyer, head of the school of electrical and electronic engineering at UJ. "The success of community outreach projects not only depends on the technical solution provided but also on the social and cultural acceptability of the solution and of the solution provider," he said.
"Initially, we trained entrepreneurs from the village to sell and maintain our solar powered portable LED lamps, with its mobile phone charger, the Mobiya TS 120S," added Zanelle Dalglish, head of sustainable development for Schneider Electric Anglophone Africa. "The units are especially suited for the demanding rural environment of Gwakwani, as it is an energy efficient, eco-friendly and robust portable lamp producing 120 lumen light output."
Dalglish said working in collaboration with UJ is in line with Schneider Electric's sustainable development strategy, which focuses on partnering with academic institutions, NGOs, NPOs and funders to establish an electrification model for off-grid communities. Equally passionate about creating sustainable, long-term solutions, UJ engineering students were provided with an opportunity for community engagement and on-the-job experience, ensuring they learned practically and not just academically.
A future re-imagined through access to energy and education
Community members in Gwakwani would need to travel some distance to fetch water from the river each day, where there was also significant malaria risk. UJ students identified that a high-quality water system was a core need for the village, as water supplied from a diesel-powered borehole was insufficient for daily use.
"Schneider Electric South Africa assisted with the installation of a second borehole pump, donating its 'Water of the Sun' solution, which consists of variable speed drives to power the water pump, and a 4 kW solar panel solution provided by UJ. Now the community has access to a reliable water supply for everyday use and a newly installed drip irrigation system, which allows them to plant and grow vegetables to support themselves and sell their produce to surrounding villages," continued Dalglish.
UJ suggested containerised solutions were needed for a solar powered bakery and the village's first crèche. Schneider Electric supported the setup of the solar powered containers, ensuring community members' access to education for their children and economic opportunities for many years to come. The bakery, which had to be designed and installed in a very remote location, is now fully operational and delivers between 120 to 140 loaves of bread per day, which generates income for the community.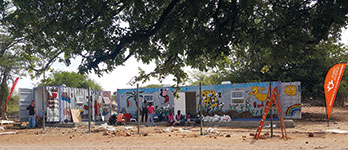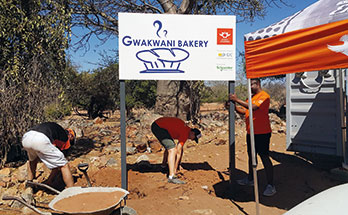 Gwakwani crèche (top) and bakery (bottom) donated by UJ and Schneider Electric South Africa.
The University of Johannesburg Electrical Engineering Department, with the support from Schneider Electric South Africa, continues to monitor the performance and optimisation of the solar system.
"Project Connect at Gwakwani village has provided students with an opportunity, not only to learn, but to give back to the community. Here we have seen private business working together with engineers, students and academics in an effort to connect people to their surroundings, to the economy and just as important, to the outside world. The importance of this project cannot be measured, both as a learning tool and a means to make meaningful social change in this country," said Prof Meyer.
He went on further to add, "Through this initiative 35 households were supplied with lights, enabling the children of the village, who walk 6 km to the nearest primary school and 18 km to the nearest high school to complete their homework at night. In a containerised crèche, with the first television set in the history of the village, the youngest in the community are exposed to educational channels on television and the wider world has now been brought to Gwakwani. The bakery also employs nine people, we've upskilled villagers, and their income is supplemented."
The people of Gwakwani have expressed their heartfelt gratitude for access to running water, electricity, education and skills transfers. Not only does the community no longer rely on candles as their primary source of lighting, but one of the Mobiya entrepreneurs was also able to build a house with the money that he had raised through Mobiya sales.
For more information visit www.schneider-electric.co.za, www.uj.ac.za/faculties/febe