South Africa
• Würth Elektronik eiSos announced the appointment of NuVision Electronics (pictured) as a new South African distribution partner. "In our joint vision to build strong, service-focused relationships with South African customers, we are certain that NuVison will do the Würth Elektronik brand proud. Another exciting opportunity to deliver on our brand promise, "More than you expect!" stated Jason Page, field sales engineer at Würth Elektronik eiSos.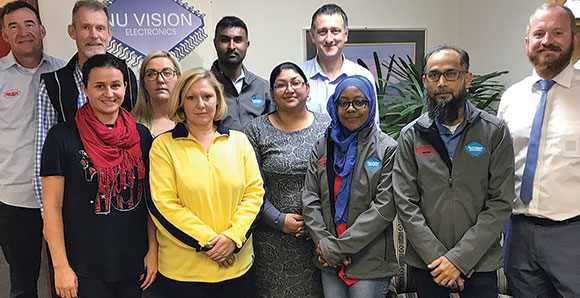 Overseas
Companies
• Arm announced the acquisition of Stream Technologies, which will be integrated with the Mbed IoT Device Management platform to enable connectivity management of every IoT device regardless of location or network. Stream supports the physical connectivity across all major wireless protocols – such as cellular, LoRa, satellite, etc. – that can be managed through a single user interface.
• Toshiba has retained ownership of a 40% stake in its chip unit, and sold a majority stake to a consortium led by US private equity firm Bain Capital, for $18 billion. After being held up pending approval from Chinese antitrust regulators, the deal marks the end of a harrowing saga in Toshiba's history that nearly saw the company delisted from the Tokyo stock exchange.
Industry
• According to the Semiconductor Industry Association (SIA), the latest figures from the World Semiconductor Trade Statistics (WSTS) organisation show that worldwide sales of semiconductors reached $38,7 billion for the month of May 2018, an increase of 21,0% compared to the May 2017 total. Global sales in May were 3% higher than the April 2018 total of $37,6 billion. Year-to-year sales increased solidly across all regions: the Americas (31,6%), China (28,5%), Europe (18,7%), Japan (14,7%) and Asia Pacific/All Other (8,7%).
• As illustrated in the graph below, IC Insights forecasts that China-headquartered companies will spend $11,0 billion in semiconductor industry capex in 2018, which would represent 10,6% of the expected worldwide outlays of $103,5 billion. Not only would this amount be five times what the Chinese companies spent only three years earlier in 2015, but it would also exceed the combined semiconductor industry capital spending of Japan- and Europe-headquartered companies this year.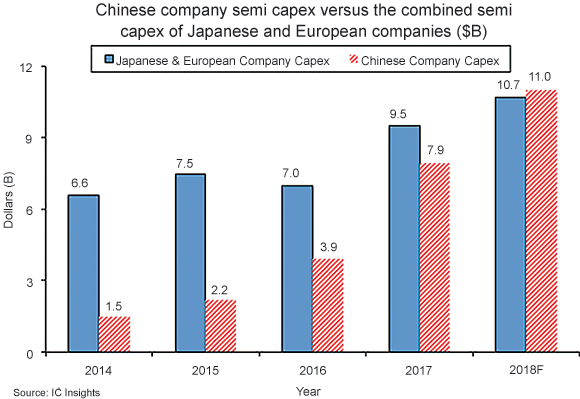 • Worldwide industrial semiconductor revenues grew by 11,8% year over year, reaching $49,1 billion in 2017, according to IHS Markit, and are expected to grow at a compound annual growth rate (CAGR) of 7,1% through 2022. Texas Instruments maintained its position as the largest industrial semiconductor supplier in 2017, while Analog Devices' acquisition of Linear Technology catapulted it into second position.
• Cellular and non-cellular LPWA (low power wide-area) network connections will grow globally at a 53% CAGR until 2023, driven by market growth in smart meters and asset trackers, according to a new report from ABI Research. In 2017, smart meters and asset trackers contributed to almost three quarters of all LPWA network connections, dominated by non-cellular LPWA network technologies. However, by 2023, non-cellular LPWA will cede its market share dominance to NB-IoT and LTE-M, as cellular LPWA moves to capture over 55% of LPWA connections. Regionally, although Western Europe and North America witnessed early deployments of public LPWA networks, the Asia-Pacific, especially China, has been a pivotal market for driving large-scale adoption of NB-IoT and LoRa.
Technology
• The USA ascended to the top of the global supercomputer rankings for the first time in five years, with a machine dubbed Summit which is capable of 200 petaflops, or 20 quadrillion calculations per second. Summit was built at a cost of $200 million by IBM and Nvidia for the US Department of Energy's Oak Ridge National Laboratory. The machine boasts 4608 servers, 9216 central processing chips, 27 648 graphics processors, and weighs 340 tons.