printer friendly version
New African AI initiative at Wits University
25 September 2019
News
The Molecular Sciences Institute (MSI) at the University of the Witwatersrand (Wits) in Johannesburg, in partnership with the Cirrus Initiative, recently announced plans for a new artificial intelligence (AI) research operation in Africa.
Announcing the Cirrus Initiative during the 2019 AI Expo Africa in Cape Town, Professor Zeblon Vilakazi, deputy vice-chancellor: Research and Postgraduate Affairs, said Wits is one of the leading institutions in machine learning and data science research in Africa, and that this collaboration will boost the University's efforts as it envisions a step change in the research and application of AI in the region.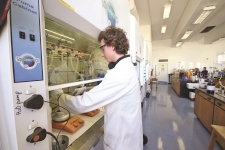 Researchers in the laboratory working on novel syntheses and characterisation of various types of semiconductor nanostructures and their application in solar cells, gas sensors and as bio-labels for early diagnostics of diseases.
Hosted by the MSI in the Wits School of Chemistry, the newly formed Cirrus Initiative will focus on the analysis of research data in chemistry, with a view to collaborate with physics, technology and engineering projects using machine learning.
Advances in AI and its application in addressing the challenges facing Africa have the potential to drive innovation in academia and industry and shape future societies. There is a growing need for talent, infrastructure and funding to support such innovation and to fully realise the opportunities presented in our technology and data-driven world.
"To become competitive in this new wave of innovation fuelled by AI and the Fourth Industrial Revolution, and with the substantial accumulation of resources and investments in new technologies in North America, Europe and Asia, requires efforts in southern Africa on a magnitude far greater than any previous endeavour spanning academia and industry," says Vilakazi.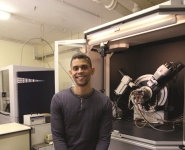 PhD candidates work on electrochemistry-related research interests spanning renewable energy, materials science and engineering. There are three research areas: energy storage, fuel cells and electrolysers.
Cirrus aims to create a collaborative university and industry platform supporting an ecosystem that fosters innovation and entrepreneurialism. As the host university, Wits will lead the Cirrus Initiative's cooperation efforts with universities, institutes, Centres of Excellence and research groups in Africa.
While Cirrus will initially focus on the research and application of AI in chemical, physical and biological systems, its capability will be extended to the benefit of other fields to foster the growth of a strong scientific ecosystem on the continent. Numerous direct and indirect employment opportunities for scientists and engineers will also be created.
"Combining Africa's vibrant talent with the building of a globally competitive platform for leading scientific research and application will drive innovation and undoubtedly foster economic development in the region. In our pursuit of knowledge creation, it is also critical that Africans are the contributors, shapers and owners of the coming advances in artificial intelligence and machine learning," says Vilakazi.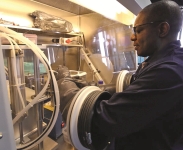 Dr Roy Forbes, a researcher within the MSI who uses X-ray diffraction amongst other techniques to develop new energy storage materials and provides high-level characterisation to industrial partners.
As part of the effort to foster collaboration, Cortex Group has entered into a cooperation agreement with the Cirrus Initiative to lead the establishment of Cirrus Foundry Cape, an operation focused on developing startups and helping them move from ideation to commercial operation. Their team has been at the forefront of collaborative AI efforts in Africa and, by working with Wits and Cirrus, will be able to unlock even more opportunities.
Further reading:
Quectel masterclass: IoT device application development
iCorp Technologies News
Quectel has announced the latest masterclass in a series of technical webinars titled "Accelerate wireless IoT device application development with Azure RTOS on STM32 MCUs".
Read more...
---
ST announces status of common share repurchase programme
News
The repurchase programme took place over the period from 11 to 15 July 2022 and saw ST repurchasing 210 462 ordinary shares.
Read more...
---
Actum Group leads in the interconnect industry
Actum Electronics News
Actum Group is a specialist importer and distributor of industrial and electronic products in Southern Africa and a leader in the interconnect industry.
Read more...
---
From the editor's desk: Do we have the power?
Technews Publishing News
On a recent trip to Grahamstown in the Eastern Cape I was reminded, quite rudely and abruptly to be honest, of the load shedding that has plagued South Africa for the last few years. Living in KZN, we 
...
Read more...
---
Top five MPU suppliers strengthen market dominance
Editor's Choice News
The new ranking shows that long-time leader in microprocessor units, Intel, has moved downwards closer to half the total worldwide sales in microprocessors.
Read more...
---
New meta-lens revolutionises vacuum UV optics
News
A research team co-led by City University of Hong Kong have successfully developed a novel vacuum ultra-violet (VUV) meta-lens which can generate and focus the UV light.
Read more...
---
Electronics news digest
Technews Publishing Electronic News Digest News
The Semiconductor Industry Association (SIA) has announced global semiconductor industry sales were $51,8 billion in the month of May 2022, an increase of 18,0% over the May 2021 total of $43,9 billion 
...
Read more...
---
EVENTS
Events News
IFA Berlin
2-6 September Berlin, Germany This event aims to present the latest products and innovations in the commercial electronics industry. It will offer a comprehensive overview of the international 
...
Read more...
---
Going beyond with HONOR
MyKay Tronics Editor's Choice News
The tempo of business in China is lightning fast. But if you are responsive and go a step beyond, the rewards can be great. In just 15 days, Mycronic delivered 30 dispensing systems to HONOR.
Read more...
---
Global cellular IoT connections increase 22%
News
A new report says that the global number of cellular IoT subscribers increased by 22% during 2021 and that the number of cellular IoT devices will reach 4,3 billion by 2026.
Read more...
---