South Africa
• Overall revenue from the Reunert Group's continuing operations increased by 3% to R8,5 billion for the year ended 28 September 2016. This was underpinned by significant growth of 39% in the Applied Electronics segment, mainly due to the successful completion of the export fuze order. On the back of sales mix changes in the cable operations and the delay in certain large infrastructure projects, revenue from the Electrical Engineering segment remained static at R4,1 billion. Revenue in the ICT segment was down 3% as the economic conditions resulted in weaker unit sales offset by an increase in average selling prices, in part due to a weaker Rand and a change in sales mix towards more expensive units.
• Zetech has moved to a new location to accommodate the growth it enjoyed in 2016, and says the new premises will allow it to offer a larger range of products and services for electronics manufacturing. The company's new address is 53 Plantation Road, Eastleigh, Edenvale, and its new telephone number is +27 (0)11 609 1244. Zetech has also converted its management structure from a closed corporation into a (Pty) Ltd.
Overseas
Business
• Cypress Semiconductor reported revenues of $1,92 billion for 2016. This is well above the $1,61 billion in 2015 revenues, but the 2016 figures include results from the IoT business acquired from Broadcom in July. Net loss for 2016 was $0,69 million resulting in diluted earnings per share (EPS) of -$2,15. The firm said it expects to grow faster than the overall semiconductor market in 2017, driven by automotive, connectivity and USB-C markets.
• On the back of its acquisition of Freescale Semiconductor, NXP Semiconductors achieved a 55,7% increase in annual revenues for 2016, reaching a total of $9,5 billion. NXP is imminently scheduled to be merged into Qualcomm, to create a technology leader in the high growth markets of automotive, IoT, security and networking. For its part, Qualcomm reported 2016 revenues of $23,5 billion and net income of $1.9 billion.
• Qorvo announced results for the third quarter of its 2017 fiscal year, with revenue increasing 33,1% year-over-year but decreasing 4,4% sequentially to $826,3 million. Net loss was $78,6 million, or a loss of $0,62 per share. The company is forecasting a greater than historical sequential decline as two of its leading customers in China and a tier-one customer in Korea delay flagship smartphone launches, but expects to achieve double-digit revenue growth for fiscal year 2018.
• Net revenues for STMicroelectronics' full year 2016 increased 1,1% to $6,97 billion from $6,90 billion in 2015. Net revenues, excluding businesses undergoing a phase-out (mobile legacy products, camera modules and set-top box), increased 2,4% with strong growth in specialised image sensors and solid growth in automotive and microcontrollers partially offset by market softness earlier in the year in both analog and power discrete sales for the computer peripheral market, and in MEMS sales for the smartphone market. Full year 2016 net income increased 58% to $165 million, equivalent to $0,19 per share, compared to net income of $104 million, or $0,12 per share for the full year 2015.
• The world's largest semiconductor foundry, Taiwan's TSMC, announced consolidated revenue of NT$262,23 billion, net income of NT$100,20 billion, and diluted earnings per share of NT$3,86 for the fourth quarter ended 31 December 2016. Shipments of 16/20 nanometre accounted for 33% of wafer revenues, and 28 nanometre process technology accounted for 24% of total wafer revenues. Advanced technologies, defined as 28 nanometre and more advanced technologies, accounted for 57% of total wafer revenues.
• Analog Devices announced that its annual revenues were stable year-over-year, totalling $3,4 billion for the financial year ended 29 October 2016. Diluted earnings per share increased in the most recent year, from $2,20 to $2,76. The company also paid out a cash dividend of $0,42 per outstanding share of common stock.
Companies
• u-blox has acquired the cellular modem product line of SimTech Group Company (known as SIMCom Wireless), including its patents and know-how, R&D and sales staff, and customer base. Listed on the Hong Kong stock exchange, SimTech will sell the assets included in the deal to u-blox for US$52,5 million in cash. The Swiss company's biggest acquisition to date should increase revenues by about US$75 million for the remaining three quarters of 2017, taking total revenues to the half-billion US dollar mark.
• Qualcomm and TDK announced the completion of their previously announced joint venture under the name RF360 Holdings. The joint venture will deliver RF front-end modules and RF filters into fully integrated systems for mobile devices and fast-growing business segments, such as Internet of Things (IoT), automotive applications, connected computing and more. The business being transferred constitutes a part of the TDK SAW business group's activities.
• MACOM Technology Solutions announced the acquisition of Applied Micro Circuits Corporation, a global leader in connectivity and computing solutions for next-generation cloud infrastructure and data centres, for approximately $8,36 per share, or $770 million in total. However, MACOM's target was purely the connectivity side of the business, as it stated its intention to divest the well positioned but non-strategic computer business within the first 100 days of closing.
Industry
• Vigorous merger and acquisition activity in 2015 and 2016 has reshaped the landscape of the semiconductor industry, with the top companies now controlling a much greater percentage of market share. Not including foundries, IC Insights recently forecast that the top five semiconductor suppliers – Intel, Samsung, Qualcomm, Broadcom and SK Hynix – accounted for 41% market share in 2016 (Figure 1). This represents a nine-point increase from the 32% market share held by the top five suppliers ten years ago. Furthermore, the top 10 semiconductor suppliers were forecast to account for 56% market share in 2016, an 11-point swing from 45% in 2006, and the top 25 companies were forecast to account for more than three-quarters of all 2016 semiconductor sales.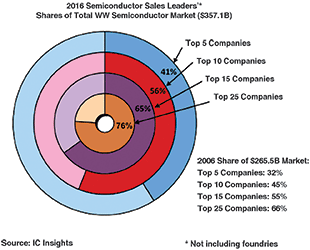 • The Semiconductor Industry Association announced the global semiconductor industry posted sales totalling $338,9 billion in 2016, the industry's highest ever annual sales and a modest increase of 1,1% compared to the 2015 total. Regionally, annual sales increased 9,2% in China, leading all regional markets, and in Japan (3,8%). All other regional markets – Asia Pacific/All Other (-1,7%), Europe (-4,5%), and the Americas (-4,7%) – saw decreased sales compared to 2015.
• Global sales for the month of December 2016 reached $31,0 billion, equalling the previous month's total and bettering sales from December 2015 by 12,3%. Fourth quarter sales of $93.0 billion were 12.3 percent higher than the total from the fourth quarter of 2015 and 5.4 percent more than the third quarter of 2016. All monthly sales numbers are compiled by the World Semiconductor Trade Statistics (WSTS) organisation and represent a three-month moving average.
Technology
• Two scientists from Harvard University believe they have reported producing a metallic form of hydrogen, something which has been theorised but has eluded physicists for more than 80 years. This would mark an important breakthrough in physics, not only because it demonstrates a fundamental new property of the most abundant element in the universe, but because the metallic form is predicted to remain a superconductor at room temperature. The feat was achieved by compressing hydrogen gas in a diamond anvil and exerting more pressure than that at the centre of the earth.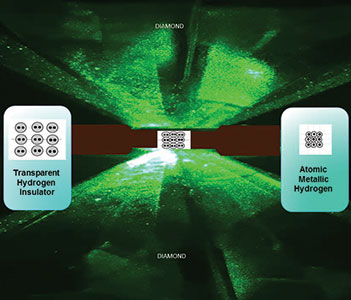 Image of a diamond anvil cell compressing molecular hydrogen. At 4,95 million atmospheres, the sample converts to metallic hydrogen, as shown on the right.
• Researchers at the University of California San Diego have demonstrated the world's first laser based on an unconventional wave physics phenomenon called bound states in the continuum (BIC). Predicted to exist since 1929, BICs are waves that remain perfectly confined, or bound, in an open system. Conventional waves in an open system escape, but BICs defy this norm – they stay localised and do not escape despite having open pathways to do so. BIC lasers can be made to emit beams with specially engineered shapes (spiral, doughnut or bell curve) – called vector beams – which could enable increasingly powerful computers and optical communication systems that can carry up to 10 times more information than existing ones. They can also be tuned to emit beams of different wavelengths, a useful feature for medical lasers made to precisely target cancer cells without damaging normal tissue.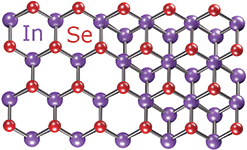 InSe crystals have better semiconductor properties than graphene, and can be made only a few atoms thick.
• A new semiconductor, indium selenide (InSe), has shown potential to rival graphene as the basis for super-fast electronics. For all its superlative properties graphene has no energy gap. It behaves more like a metal rather than a normal semiconductor, frustrating its potential for transistor-type applications. The new research, from researchers at the University of Manchester and their colleagues at The University of Nottingham, shows that InSe crystals can be made only a few atoms thick, nearly as thin as graphene. Importantly, unlike graphene but similar to silicon, ultra-thin InSe has a large energy gap allowing transistors to be easily switched on and off.