Just Batteries was recently contracted by one of its military customers to design and manufacture a battery charger and analyser system to be used in various field operations.
The company's national sales manager, Gary Chapman, provided insight into the challenges that the project presented. "Initially, we were obviously very excited by the challenge of designing the system. It was only after a few days that the design team started to fully understand the magnitude of the system's requirements. It was then that we were able to fully appreciate both the complexity and magnitude of the circuitry that would need to be both designed and manufactured."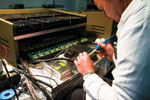 The customer's requirements included charging of three different chemistries (Li-ION, Ni-MH and lead acid batteries) as well as the ability to fully analyse the health of any one of these batteries. The charger analyser system needed to accommodate no less than 10 different battery models currently used by the military.
Each battery type had to have its own bay designed. The bays were made using two methods, namely laser cut plastic sheets and vacuum formed plastic. These bays were then built into sheet metal boxes in which the electronics were housed.
"Once we had completed the charger circuitry, the next challenge was to interface the battery charger with the analyser unit," Chapman explained. "This was achieved through close collaboration with our customer who was also heading up the software side of the system. It was during this phase that our design team had to iron out a few niggles, mainly involving electromagnetic interference caused by the charging circuitry."
With the delivery date approaching fast, the design team at Just Batteries gathered around for the first powering on of the completed units. "It was really an awesome feeling seeing all the little LED lights lighting up for the first time," reported Chapman. "We are really satisfied with the end result and, most importantly, so is our customer."