South Africa
• Nordic Semiconductor has added Avnet South Africa to its existing Avnet EMEA (Europe, Middle East and Africa) distributor network, and will be launching its first ever Nordic Tech Tour in South Africa later this year. Nordic Tech Tours are designed to help customers get up to speed very quickly with Nordic's latest nRF52 series products and key developments in Bluetooth low energy, proprietary 2,4 GHz, IEEE 802.15.4 and ANT wireless technologies. During these events, Nordic takes some of its top technical R&D and FAE engineers on the road so customers can meet individuals that are truly expert in every aspect of its wireless products and technologies.
Overseas
Business
• Net revenues for the first quarter of STMicroelectronics' fiscal 2017 were $1,82 billion, up 12,9% year-over-year thanks to growth across all product groups (automotive and discretes, analog and MEMS, microcontrollers and digital ICs, and others). By region of shipment, Asia Pacific, EMEA and the Americas grew on a year-over-year basis 17,4%, 8,0% and 5,7%, respectively. Net income of $108 compares with net income of $112 for the preceding quarter, and net loss of $41 million for the first quarter of 2016.
• Cypress Semiconductor delivered record revenue in the first quarter of 2017, at $531,9 million. The company enjoyed above seasonal growth in its microcontroller and connectivity division while its memory products exceeded expectations. Wireless connectivity grew 30% from the fourth quarter of 2016 and automotive revenue hit a new quarterly record. The company emphasised that these results support its strategy to target markets growing faster than the overall semiconductor industry.
• Texas Instruments reported first-quarter revenue of $3,40 billion, net income of $997 million and earnings per share of 97 cents. Earnings per share included an 8-cent discrete tax benefit not in the company's original guidance. These figures represent a 13% year-on-year increase in revenue, a 40% increase in net income, and a 41% increase in earnings per share. The company's second-quarter outlook is for revenue in the range of $3,40 billion to $3,70 billion and earnings per share between $0,89 and $1,01, which includes an estimated $30 million discrete tax benefit.
Companies
• Analog Devices announced the acquisition of OneTree Microdevices, a privately held company based in California. With the acquisition of this GaAs and GaN amplifier portfolio, which offers best-in-class linearity, output power and efficiency, Analog Devices now supports the complete signal chain for next-generation cable access networks. Financial terms of the transaction were not disclosed.
• Avnet has launched a worldwide rebranding campaign, incorporating a new logo that replaces red with green 'to symbolise growth and possibility,' in addition to a new 'A-frame' graphic element. Launched under the banner 'Reach Further,' the global campaign reflects the largest investment that Avnet has made in a marketing campaign during its 96-year history. It includes a focused mix of B2B print and digital advertising, paid and organic social media, digital display and video, and search engine marketing, as well as a new website and engagement programme for its 15 000 employees around the world. Supporting activities will include trade shows and events, and corporate social responsibility programmes to extend and build awareness.
Industry
• The Semiconductor Industry Association (SIA) announced worldwide sales of semiconductors reached $30,9 billion for the month of March 2017, an increase of 18,1% compared to the March 2016 total and 1,6% more than the February 2017 total. Sales from the first quarter of 2017 were $92,6 billion, up 18,1% compared to the first quarter of 2016 but down 0,4% compared to the last quarter of 2016. Year-to-year sales increased across all regions: China (26,7%), the Americas (21,9%), Asia Pacific/All Other (11,9%), Europe (11,1%), and Japan (10,7%).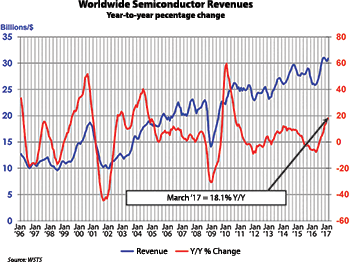 • Gartner has increased its forecast for 2017 worldwide semiconductor revenue to 12,3% from 2016, up from the 7,2% increase it predicted just three months earlier. The research firm says that favourable market conditions that gained momentum in the second half of 2016, particularly for commodity memory, have accelerated and raised the outlook for the market in 2017 and 2018. However, it warns that the memory market is fickle, and additional capacity in both DRAM and NAND Flash is expected to result in a correction in 2019.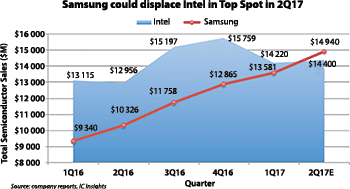 • IPC's worldwide membership has climbed to an all-time high in 2017 with more than 4000 member sites in 79 countries as companies in the electronics manufacturing industry continue to acknowledge the strong value of its product and service offerings. Fuelled by double digit percentage growth across Asia, IPC Asia Pacific has nearly 1000 members and buoyed by IPC's new office in Brussels, its member count in Europe has reached 600. Additionally, the Enterprise membership category, launched in 2015, has grown significantly as companies recognise it as a cost-effective way for companies with multiple locations to increase their overall engagement in and access to IPC's core activities, especially standards.
• After nearly a quarter of a century, the semiconductor industry could see a new #1 supplier in 2Q17. If memory market prices continue to hold or increase through 2Q17 and the balance of this year, IC Insights predicts that Samsung could charge into the top spot and displace Intel, which has held the #1 ranking since 1993. If achieved, this would mark a milestone achievement not least for the fact that in 1Q16, Intel's sales were 40% greater than Samsung's, but in just over a year's time, that lead may be erased and Intel may find itself trailing in quarterly sales.
• According to a new research report from IoT analyst firm Berg Insight, global shipments of cellular IoT devices will grow at a compound annual growth rate (CAGR) of 22,7% from 155,6 million units in 2016 to reach 530,1 million units in 2022. Strong growth is fuelled by fast-growing demand in China and the global adoption of connected car technology in the automotive industry. Berg Insight estimates that annual shipments of non-cellular LPWA devices for IoT reached 13,5 million units in 2016. 802.15.4 WAN accounted for 8,0 million units, while shipments of LoRa and Sigfox were around 4,0 million and 1,5 million units respectively. Looking ahead, it believes that LoRa and Sigfox will outgrow 802.15.4 WAN and achieve annual shipments in the range of 50–100 million units each by 2022.
Technology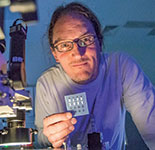 AMBER researchers made a breakthrough in smart printed electronics.
• Researchers at AMBER, the Science Foundation Ireland-funded materials science research centre, have fabricated printed transistors consisting entirely of 2-dimensional nanomaterials for the first time. These 2D materials combine exciting electronic properties with the potential for low-cost production. This breakthrough could unlock the potential for applications such as food packaging that displays a digital countdown to warn consumers of spoiling, wine labels that alert you when white wine is at its optimum temperature, or even a window pane that shows the day's forecast. This discovery opens the path for industry, such as ICT and pharmaceutical, to cheaply print a host of electronic devices from solar cells to LEDs with applications from interactive smart food and drug labels to next-generation banknote security and e-passports.
Amorphous silicon core inside a 1,7 micron inner-diameter glass capillary.
• A new method to improve semiconductor fibre-optics may lead to a material structure that might one day revolutionise the global transmission of data, according to an interdisciplinary team of researchers. The researchers, among them a professor from Penn State University, demonstrated a new methodology to eliminate imperfections in a fibre core that can be made of various materials. Resulting semiconductor fibres would be able to transmit both light and electronic data and might also be able to complete the conversion from electrical to optical data on the fly during transmission.