South Africa
• Altron announced its annual results for the year ended 28 February 2017, with revenue declining by 26% to R19,7 billion and earnings before interest, tax, depreciation and amortisation (EBITDA) increasing by 123% to R840 million. Basic earnings per share (EPS) reduced to a loss of 54 cents from the loss of 259 cents reported in the prior year. Headline earnings per share (HEPS) improved to a profit of 71 cents from the loss of 145 cents posted in the prior year. The group announced that it expects to complete the divestiture of a number of loss-making operations in the current financial year, with particular focus on Powertech Transformers and Altech Multimedia.
Overseas
Business
• Net sales for Microsemi's second quarter of fiscal year 2017 were $442,9 million, up 1,7% from $435,5 million in the first quarter of 2017. Operating income and net income for the second quarter of 2017 were $69,1 million and $41,2 million, respectively, and included restructuring, severance and other charges of $6,3 million. Net income per diluted share was $0,35 for the second quarter of 2017, compared to a net loss of $1,93 per diluted share for the second quarter of 2016 and net income of $0,17 per diluted share for the first quarter of 2017.
• Qorvo announced financial results for its fiscal 2017 fourth quarter, ended 1 April 2017. On a GAAP basis, fiscal 2017 fourth quarter revenue increased 5,7% year-over-year to $643,0 million. Gross margin was 36,0%, operating loss was $24,5 million, and diluted earnings per share (EPS) were $0,43.
• Revenue for the first quarter of Sierra Wireless' fiscal 2017 was $161,8 million, an increase of 13,3% compared to $142,8 million in the first quarter of 2016. Revenue from all of its operating divisions – OEM solutions, enterprise solutions, and cloud and connectivity services – increased on a year-on-year basis. However, it made a net loss of $0,2 million, or $0,01 per share, in the first quarter of 2017, compared to net earnings of $0,7 million, or $0,02 per share, in the first quarter of 2016.
Companies
Industry
• After several years of low and inconsistent growth rates primarily because of intense pricing pressure, the market for semiconductor sensors and actuators finally caught fire in 2016 with several of its largest product categories – acceleration/yaw and magnetic-field sensors and actuator devices – recording strong double-digit sales increases in the year, according to IC Insights. In addition to the easing of price erosion, substantial unit-shipment growth in sensors and actuators continues to be fed by the spread of intelligent embedded control, new wearable systems, and the expansion of applications connected to the Internet of Things.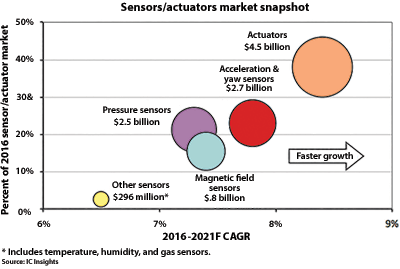 • Worldwide semiconductor revenue totalled $343,5 billion in 2016, a 2,6% increase from 2015 revenue of $334,9 billion, according to final results by Gartner. The top 25 semiconductor vendors' combined revenue increased 10,5%, a significantly better performance than the overall industry's growth; however, most of this growth resulted from merger and acquisition (M&A) activity. Intel retained its No. 1 position as the largest semiconductor manufacturer and grew its semiconductor revenue 4,6% in 2016 (see accompanying table). Samsung Electronics continued to maintain the No. 2 spot with 11,7% market share.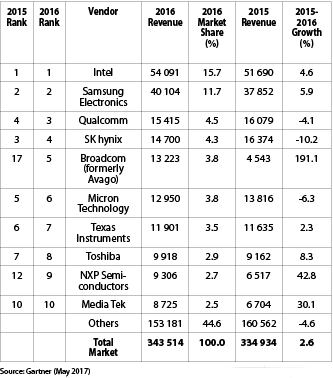 Table 1. Top 10 Semiconductor vendors by revenue, worldwide, 2016 (millions of dollars)
• Short-range wireless technologies, like Bluetooth, Wi-Fi and 802.15.4, increasingly target nascent IoT markets beyond the consumer space. ABI Research finds that these technologies will face a greater competitive risk from emerging M2M cellular and LPWAN technologies, particularly in specific IoT market segments. The new competition will target transportation and logistics, utilities and energy management, smart cities and smart buildings, industrial automation and smart agriculture markets, among others. The research firm finds that cellular and LPWAN technologies, often perceived as more reliable than short-range connectivity solutions, require less intermediary gateways, can support greater distances between end nodes, and scale from the very smallest to the largest number of end devices, while providing a battery life that exceeds 10 years.
Technology
• Researchers from France and the University of Arkansas have created an artificial synapse capable of autonomous learning, a component of artificial intelligence. A team of French scientists designed and built an artificial synapse, called a memristor, made of an ultrathin ferroelectric tunnel junction that can be tuned for conductivity by voltage pulses. The material is sandwiched between electrodes, and the variability in its conductivity determines whether a strong or weak connection is made between the electrodes. Memristors are not new, but until now their working principles have not been well understood. The study provided a clear explanation of the physical mechanism underlying the artificial synapse. The University of Arkansas researchers conducted computer simulations that clarified the switching mechanism in the ferroelectric tunnel junctions, backing up the measurements conducted by the French scientists.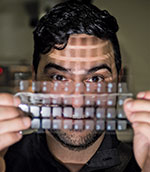 Michigan State University researchers created a film-like device that harvests energy from human motion.
• Michigan State University engineering researchers have created a new way to harvest energy from human motion, using a film-like device that can be folded to create more power. With the low-cost device, known as a biocompatible ferroelectret nanogenerator or FENG, the scientists successfully operated an LCD touch screen, a bank of 20 LED lights and a flexible keyboard, all with a simple touching or pressing motion and without the aid of a battery. The device is as thin as a sheet of paper and can be adapted to many applications and sizes. The device used to power the LED lights was palm-sized, for example, while the device used to power the touch screen was as small as a finger.
• ARM has revealed the first processor cores based on its new DynamIQ technology, which aims to boost artificial intelligence (AI) performance by more than fifty times over the next 3 to 5 years. The high-end Cortex-A75 and mid-range Cortex-A55 are suitable for a broad range of markets, but ARM is placing a particular emphasis on machine learning applications. A key improvement achieved by DynamIQ is a more flexible implementation of big.LITTLE, ARM's multicore technology that uses a powerful core only when necessary and a smaller, more power-efficient core for less taxing tasks.