South Africa
• Weighing just 2,5 kg, South Africa's first privately owned nanosatellite, nSight1, has been successfully launched into orbit from the International Space Station (ISS). Deployed on 24 May, nSight1 will orbit Earth and capture images with a remote sensing camera, as part of the European Commission's QB50 project, which is aimed at designing and deploying a network of satellites to study the largely unexplored lower thermosphere. Locally designed and built by SCS Space, a member of the SCS Aerospace Group, nSight1 was constructed over a period of six months using all the available space infrastructure in South Africa.
• The council tasked with the country's scientific development says it wants to produce more PhD graduates so it can expand its research capability and output. Dr Thulani Dlamini, the CEO of the Council for Scientific and Industrial Research (CSIR), said in a statement the council attracts the right skills, and it should use this to strengthen its image as a training ground for PhD graduates. The CSIR has a staff complement of just under 3800, and roughly 70% of the staff consists of scientists and technicians. About 350 of them are PhD graduates. According to Dlamini, the CSIR has a budget of just over R170 million, which goes towards supporting programmes within capital development. Its turnover is about R2,7 billion, and just under R2 billion is raised through research for both public and private sectors.
• The newly appointed board of the Technology Innovation Agency (TIA) was recently inaugurated by the minster of science and technology, Naledi Pandor. The board comprises Mr Edward Keswetter (chairperson), Prof Roy Marcus, Mr Thabiso Ramasike, Ms Fuzlin Levy-Hassen, Dr Jan van de Loosdrecht, Dr Judy Coates, Dr Steven Lennon, Mr Mzwandile Madikizela, Ms Sebenzile Matsebula and Ms Patience Mlengana.
• The Denel Group has given three young female engineers an opportunity to sharpen their leadership skills, build networks and get armed with practical tools to thrive in the Science, Technology, Engineering and Mathematics (STEM) field by attending a week-long programme for women in innovation in Kigali, Rwanda. The three, 26-year-old Robin Nxele, a young scientist who holds a Master of Science degree in chemistry, 24-year-old Amy Dove, a mechanical engineer and 29-year-old Mahlatsi Machete, a junior systems engineer, were selected to attend this programme as part of the Denel Group's national youth month celebrations in June.
• Team South Africa has taken second prize in the prestigious International Student Cluster Competition held at the International Supercomputing Conference in Frankfurt, Germany. The results were announced on 21 June 2017, following three days of hard work by 12 international teams. South Africa is always represented by a new team of six undergraduate students who travel to Germany to build a small cluster of their own design on the International Supercomputing Conference exhibition floor and race to demonstrate the greatest performance across a series of benchmarks and applications. China's Tsinghua University took the overall prize-based on its Linpack score and performance in the 'mystery challenge'.
• Newly appointed minister of communications, Ms Ayanda Dlodlo, has welcomed the constitutional court judgement ruling that the government did not behave unconstitutionally when it decided to implement a policy of unencrypted digital terrestrial television (DTT). Dlodlo said in a statement that she is pleased the department can now proceed with the implementation of the DTT programme, bringing South Africa a step closer to meeting a December 2018 switch-off deadline.
• Vodacom has teamed up with Huawei to launch a live NB-IoT (narrowband IoT) test site on the roof of the data centre at its campus in Midrand, Johannesburg. Vodacom's NB-IoT network will run over its existing 900 MHz licensed spectrum and be fully compliant with the recent updates made by 3GPP to the NB-IoT specification during February 2017. The test site implementation was done by way of a software upgrade to an existing 4G base station, implying that rollouts will be quickly deployable to areas where there is demand. Commercial deployment of the network is expected to begin later this year, starting with major metropolitan areas.
Overseas
Business
• For the first quarter since its acquisition of Linear Technology, Analog Devices reported revenue of $1,1 billion, with a contribution of $147,5 million from Linear Technology. The company expects revenue in the next quarter, which will be the first full quarter since the acquisition, to be in the range of $1,34 billion to $1,42 billion. The $1,1 billion compared with $984 million in the immediately prior quarter, and $779 million year-on-year. The company also reported a net income of $93 million, for diluted earnings per share (EPS) of $0,27.
Companies
• While Toshiba's sale of its memory chip spinoff, Toshiba Memory Corp., is still under negotiation, the company announced that it has selected a preferred bid from a consortium comprising the Development Bank of Japan, Innovation Network Corporation of Japan (INCJ) and Bain Capital. The value of the bid was not disclosed, but is believed to be in excess of the $18 billion minimum set by Toshiba. Meanwhile, Western Digital sued to halt the sale, pending the results of an arbitration hearing between the two companies, following which Toshiba filed a complaint seeking an injunction against Western Digital's interference, in addition to $1,1 billion in damages.
• Osram has agreed to acquire US-based LED Engin Inc., a company with approximately 30 employees and annual sales of around $10 million. LED Engin specialises in ultra-bright, ultra-compact solid state lighting solutions for a variety of specialty markets including entertainment lighting, ultraviolet, horticulture, tuneable white and medical lighting applications. Its products mainly incorporate LED chips from Osram Opto Semiconductors.
Industry
• The Semiconductor Industry Association (SIA) announced worldwide sales of semiconductors reached $31,9 billion for the month of May 2017, an increase of 22,6% compared to the May 2016 total and 1,9% more than the April 2017 total. Year-to-year growth in May was the global market's largest since September 2010. All major regional markets notched year-to-year increases of more than 15% in May, and the Americas led the way with growth of 30,5%.
• IC Insights forecasts that the number of semiconductor companies with $1 billion or more in capital expenditure will swell to 15 in 2017. The accompanying table shows the 'Billion-Dollar Club' list from 2007 through IC Insights' forecast in 2017. Infineon and Renesas are expected to move into the major spending ranking this year as each company is aggressively targeting the fast-rising automotive semiconductor market. Other companies expected to be added to the ranking this year include Nanya and STMicroelectronics. Moreover, IC Insights believes that a few Chinese companies are likely to break into the 'major spenders' ranking over the next couple of years as they ramp up their new fabs. The 15 companies listed, which include four pure-play foundries, are forecast to represent 83% of total worldwide semiconductor industry capital spending in 2017, the highest percentage over the time period shown.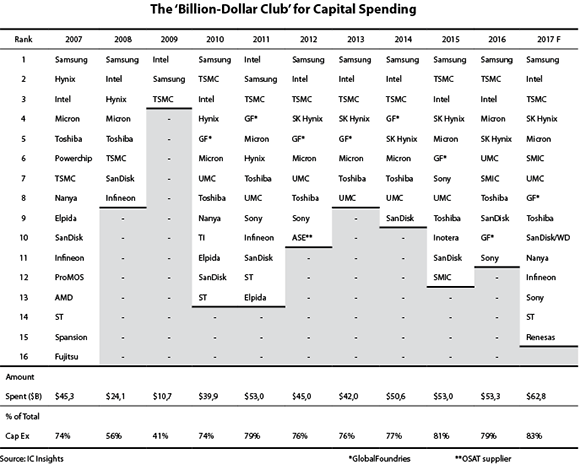 • According to DMASS, the European semiconductor distribution market racked up a record 2,13 billion Euros in sales for the first quarter of 2017, 10,5% higher than the previous record quarter a year prior. Product-wise, the quarter showed a general uptick in distribution-friendly products like memories, analog, MOS micro and logic, followed by power. On the negative side, programmable logic shrank, discrete and standard logic grew very moderately, and sensors and opto experienced below-average growth.
Technology
• IBM and the US Air Force Research Laboratory (AFRL) are collaborating on a first-of-its-kind, brain-inspired supercomputing system powered by a 64-chip array of the IBM TrueNorth neurosynaptic system. The system can efficiently convert data (such as images, video, audio and text) from multiple, distributed sensors into symbols in real time. AFRL will combine this 'right-brain' perception capability of the system with the 'left-brain' symbol processing capabilities of conventional computer systems. The system's advanced pattern recognition and sensory processing power will be the equivalent of 64 million neurons and 16 billion synapses, while the processor component will consume the energy equivalent of a dim light bulb – a mere 10 Watts.
• Imec announced the world's first demonstration of a vertically stacked, ferroelectric aluminium doped HfO2 device for NAND applications. Using a new material and a novel architecture, imec has created a non-volatile memory concept with attractive characteristics for power consumption, switching speed, scalability and retention. The achievement shows that ferro-electric memory is a highly promising technology at various points in the memory hierarchy, and as a new technology for storage class memory.