printer friendly version
A giant leap for high-speed design
23 March 2016
News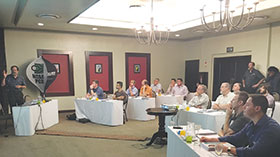 For someone who played a part in sending the first men to land on the moon, Lee Ritchey is remarkably down to earth, as I discovered during a casual but very interesting interview with him.
Ritchey's résumé spans more than four decades designing high-speed PCBs for supercomputers and high-performance Internet products. His schedule nowadays sees him trekking the globe providing training and consulting on signal integrity, PDS design and EMI control. He has also written two high-speed design books ('Right the first time,' volumes 1 and 2) as well as articles on high-performance PCB laminates.

Lee Ritchey
But what made this interview truly unique and exciting was the opportunity to shoot the breeze with one of the few people alive who worked on Apollo 11, the NASA project that landed Neil Armstrong and Buzz Aldrin on the moon on 20 July 1969. The company Ritchey worked for at the time developed the radios that communicated between the Kennedy Space Centre in Houston, Texas, and the equipment (called the Early Apollo Scientific Experiment Package, or EASEP) the astronauts unloaded to gather data from the lunar surface.
As an engineer speaking to another engineer, and conscious of the fact that I would be writing this report for Dataweek, I felt obliged to ask technical questions. As you'd expect from a man who's been around since the dawn of the IC era, he has remarkable insights on technologies that span the electronics spectrum.
Among the topics we discussed were the astounding evolution of IC integration and miniaturisation, their manufacturing techniques and yields; the leaps in processing and communication speeds; and the fact that we take it all for granted. As Ritchey pointed out, today's average pocket-sized smartphone packs more sophisticated wireless technology than the considerably larger and heavier radios that were carried by the Apollo spacecraft.
However, I must admit to being guilty of asking a disproportionate number of questions that betrayed my personal interest in the historical and scientific significance of the Apollo project.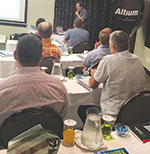 On 12 April 1961, Soviet cosmonaut Yuri Gagarin became the first person to fly in space, and in so doing landed a hammer blow to the USA's national psyche by taking the lead in the so-called 'Space Race' between the cold-warring nations. This so displeased US president John F. Kennedy that just six weeks later, in a speech to Congress, he made a now famous proclamation of his country's intent to stage a reverse in the galactic grudge match. "I believe that this nation should commit itself to achieving the goal, before this decade is out, of landing a man on the moon and returning him safely to the earth," he stated. In a later speech at the Manned Spacecraft Centre, he went on to say: "No nation which expects to be the leader of other nations can expect to stay behind in this race for space. ... We choose to go to the moon in this decade and do the other things, not because they are easy, but because they are hard."
With characteristic humility, Ritchey related to me the patriotic determination shared by everyone working on the project – even down to the scientists and engineers, who are often stereotyped as being cold and clinical by nature. By golly, they could not – would not – let down the Man in the White House, and they were going to show those Russians a thing or two. Which they did, with only a few months to spare before the 1960s were relegated to the pages of history.
I wish I could tell you that Ritchey flew out here just to spend some time chatting with me, but the real reason for his visit was to present seminars on high-speed design, and the man who deserves the credit for luring him to SA is Nechan Naicker, the managing director of EDA Technologies. The four-day courses, which incorporated an optional one-day Altium ­Designer 16 high-speed application session, were held in Pretoria and Cape Town during the first two weeks of March.
According to Naicker, attendance at the seminars was impressive in terms of not only numbers but also engineering talent. This was the latest in EDA Technologies' long-term commitment to providing training courses for the local electronic engineering sector, presented by domestic experts as well as overseas ­specialists.
South Africa may not hold the distinction of having won, or even participated in, the Space Race, but we can be proud of the fact that Ritchey, in his debrief, went so far as to say that ours was the best group of engineers he has ever trained.
Credit(s)
Further reading:
Africa Online Safety Fund announces grant winners
News
The Africa Online Safety Fund (AOSF) has announced the winners of this year's grants, among them five organisations operating in South Africa.
Read more...
---
RF antenna solutions for IoT devices
News
Mouser Electronics and Amphenol RF have teamed up for a brand-new webinar titled 'RF antenna solutions for IoT devices and smart technology'.
Read more...
---
Wideband GNSS testing system
RF Design News
The LabSat 3 Wideband Solution is a GNSS testing system with support for recording and replay in the upper
L-Band (1559-1610 MHz)
and lower
L-Band (1164-1300 MHz).
It has three RF channels, a recording 
...
Read more...
---
New generation of 5G modules
Quectel Wireless Solutions News
Quectel Wireless Solutions announced the launch of its latest generation 5G New Radio (NR) module series, the RG650E and RG650V, both of which follow the 3GPP Release 17 standard. These industrial-grade 
...
Read more...
---
Microcontroller with Bluetooth LE 5.3
Altron Arrow News
The STM32WBA 32-bit Wireless series from STMicroelectronics brings designers the performance, efficiency, and security required for Bluetooth Low Energy 5.3-enabled applications. The STM32WBA offers essential 
...
Read more...
---
Configurable industrial AI computing
Brandwagon Distribution News
The Tensor-I22 IS from Brandwagon is the second generation in the company's innovative industrial computer line, Tensor. The fanless industrial PC can be customised with a choice of CPU, memory, storage 
...
Read more...
---
Comprehensive AI computing solution
Altron Arrow News
Powered by the NVIDIA Jetson AGX Orin, the BOXER-8640AI fanless Box PC from AAEON Technology brings AI capabilities to the edge. The NVIDIA Jetson AGX Orin's Ampere architecture boasts 1792 CUDA and 56 
...
Read more...
---
Pure carbide GaN-on-SiC power amplifier
RFiber Solutions News
MACOM announced an expansion to its power amplifier product portfolio with the MAPC-A1605 7,0 kW power amplifier. This device is suitable for high-power and high-voltage aerospace and defence applications, 
...
Read more...
---
Connectors with extreme density and performance
Spectrum Concepts News
Samtec's family of board-to-board and cable assemblies feature extreme density with up to 1000 total I/Os on a 0,635 mm pitch, while still providing incredible 112 Gbps PAM4 performance. The AcceleRate 
...
Read more...
---
Power efficient mid-range FPGA
ASIC Design Services News
The new imperatives of the intelligent edge – power efficiency, security and reliability – are forcing system architects and design engineers to find new solutions. For the growing number of system designers 
...
Read more...
---