printer friendly version
Africa's fastest computer built at CSIR
13 July 2016
News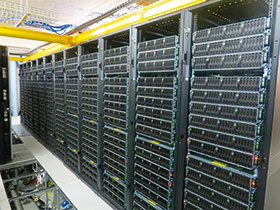 The Centre for High Performance Computing (CHPC) of the Council for Scientific and Industrial Research (CSIR) has created the fastest supercomputer on the continent, with processing speed capable of a thousand trillion floating point operations per second.
Floating point operations (flops) are used in computing to calculate extremely long numbers. With over 40 000 cores, the new machine is the fastest computer in Africa owing to its speed of roughly 1 petaflop (1000 teraflops). That is 15 times faster than the system it succeeds, which was named Tsessebe (Setswana for antelope). Aptly, the new beast is called Lengau, which is the Setswana word for cheetah.
Dr Thomas Auf der Heyde, Deputy Director-General: Research Development and Support at the Department of Science and Technology (DST), outlined the role high-performance computing plays in growing the economy. "For our country to grow at the required rate, as set out in the National Development Plan, it needs to change gear by building capacity in the production and dissemination of knowledge," he explained.
"The CHPC represents a deliberate move by this country to invest in modernising our research and development. High-performance computing and advanced data technologies are powerful tools in enhancing the competiveness of regions and nations."
Dr Happy Sithole, the director of CHPC, detailed the journey leading to the unveiling of the new PFLOPs machine: "When we started in 2007, we took inspiration from the fastest animals in the land and named our first high-performance computing system iQudu (Xhosa for kudu) which boasted 2,5 teraflops).
"In 2009 there was increased demand for computational resources, and a new high-performance computing system dubbed the Tsessebe was launched. It boasted 24,9 teraflops and became number 311 on the TOP500 supercomputers, and ranked number one in the African continent. The system was later upgraded to 64,44 teraflops," he said.
The technology powering Lengau means that it is also smaller in footprint than the previous system. The Dell HPC system is comprised of 1039 Dell PowerEdge servers based on Intel Xeon processors, totalling 19 racks of compute nodes and storage. It has a total Dell Storage capacity of 5 petabytes, and uses Dell Networking Ethernet switches and Mellanox EDR InfiniBand with a maximum interconnect speed of 56 GBps.
More than simply securing continental bragging rights, Lengau will provide increased access to computer resources for users who previously had limited or no access owing to capacity constraints. It will also ensure improved performance of large-scale simulations that were impossible in the past, opening completely new avenues of research, and provide greater capacity to build the private sector/non-academic user base of the CHPC for improved national economic benefit.
For more information contact Tendani Tsedu, CSIR, +27 (0)12 841 3417, mtsedu@csir.co.za, www.csir.co.za
Further reading:
ExecuGroup launches ExecuWeb, sponsors engineering talent
ExecuKit News
Not content just to roll out a new platform for sourcing redundant and obsolete components, the company is also providing financial aid to an NWU student.
Read more...
---
EBV Elektronik wins top distributor award
EBV Electrolink News
EBV Elektronik has been recognised by onsemi as its top distribution partner in the EMEA region during 2021.
Read more...
---
Mouser to empower design engineers at Embedded World 2022
News
Mouser Electronics to exhibit at Embedded World 2022 in Nuremberg, Germany from 21 to 23 June.
Read more...
---
Google announces Africa developer scholarship
News
Google has announced an additional 30 000 Android and Google Cloud training scholarships for aspiring and professional developers
Read more...
---
RS to showcase IoT and Food Safe products at NAMPO Harvest Day
RS Components (SA) News
Following a two-year hiatus, this year's event will take place over five days as opposed to four, to accommodate Covid-19 restrictions.
Read more...
---
Mouser and Wevolver team up to expose university innovation
News
The programme aims to empower people to create and innovate by providing access to engineering knowledge through a variety of media, including blogs and podcasts.
Read more...
---
Arrow Electronics unveils new CEO
Altron Arrow News
Sean Kerins has been picked to succeed Michael Long as president and chief executive officer effective 1 June 2022.
Read more...
---
Joburg Business School launches PHD in digital transformation
News
The Fourth Industrial Revolution is no longer an abstract concept – it is happening. Leaders will do well to incorporate its emerging technologies into their organisations.
Read more...
---
Record number of national standards published in 2021
News
The SABS sees the information contained in SANS as fundamental to optimising the country's economic and industrial potential.
Read more...
---
Online dashboard for global semiconductor sales data
News
The Semiconductor Industry Association (SIA) launched a new Semiconductor Unit Sales Dashboard to provide regularly updated, publicly available sales data for a range of semiconductor products. Amid the 
...
Read more...
---