printer friendly version
Africa's fastest computer built at CSIR
13 July 2016
News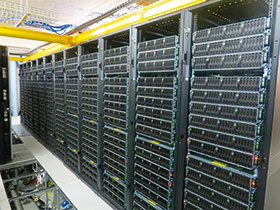 The Centre for High Performance Computing (CHPC) of the Council for Scientific and Industrial Research (CSIR) has created the fastest supercomputer on the continent, with processing speed capable of a thousand trillion floating point operations per second.
Floating point operations (flops) are used in computing to calculate extremely long numbers. With over 40 000 cores, the new machine is the fastest computer in Africa owing to its speed of roughly 1 petaflop (1000 teraflops). That is 15 times faster than the system it succeeds, which was named Tsessebe (Setswana for antelope). Aptly, the new beast is called Lengau, which is the Setswana word for cheetah.
Dr Thomas Auf der Heyde, Deputy Director-General: Research Development and Support at the Department of Science and Technology (DST), outlined the role high-performance computing plays in growing the economy. "For our country to grow at the required rate, as set out in the National Development Plan, it needs to change gear by building capacity in the production and dissemination of knowledge," he explained.
"The CHPC represents a deliberate move by this country to invest in modernising our research and development. High-performance computing and advanced data technologies are powerful tools in enhancing the competiveness of regions and nations."
Dr Happy Sithole, the director of CHPC, detailed the journey leading to the unveiling of the new PFLOPs machine: "When we started in 2007, we took inspiration from the fastest animals in the land and named our first high-performance computing system iQudu (Xhosa for kudu) which boasted 2,5 teraflops).
"In 2009 there was increased demand for computational resources, and a new high-performance computing system dubbed the Tsessebe was launched. It boasted 24,9 teraflops and became number 311 on the TOP500 supercomputers, and ranked number one in the African continent. The system was later upgraded to 64,44 teraflops," he said.
The technology powering Lengau means that it is also smaller in footprint than the previous system. The Dell HPC system is comprised of 1039 Dell PowerEdge servers based on Intel Xeon processors, totalling 19 racks of compute nodes and storage. It has a total Dell Storage capacity of 5 petabytes, and uses Dell Networking Ethernet switches and Mellanox EDR InfiniBand with a maximum interconnect speed of 56 GBps.
More than simply securing continental bragging rights, Lengau will provide increased access to computer resources for users who previously had limited or no access owing to capacity constraints. It will also ensure improved performance of large-scale simulations that were impossible in the past, opening completely new avenues of research, and provide greater capacity to build the private sector/non-academic user base of the CHPC for improved national economic benefit.
For more information contact Tendani Tsedu, CSIR, +27 (0)12 841 3417, mtsedu@csir.co.za, www.csir.co.za
Further reading:
Innovation Summit 2021 showcases SA's top tech entrepreneurs
27 October 2021 , News
The bar for tech innovation was set high when investors, industry experts and entrepreneurs from all corners of the globe joined the Innovation Summit's first ever three-day hybrid event, held at the 
...
Read more...
---
PICMG ratifies IoT.1 firmware specification
27 October 2021 , News
PICMG, a leading consortium for the development of open embedded computing specifications, announced the ratification of the IoT.1 specification defining a communication standard between sensors/effecters 
...
Read more...
---
STEM programme takes African students closer to space
27 October 2021 , News
Intelsat, operator of the world's largest integrated satellite and terrestrial network, is expanding its partnership with MaxIQ Space (formerly Xinabox) in delivering its Xinabox Space STEM (science, 
...
Read more...
---
Company profile: ChipOnBoard
27 October 2021, ChipOnBoard , News
From a tweezer to automatic pick-and-place machines ChipOnBoard sprang into existence in 2007 in the suburb of Phoenix, 25 km northwest of Durban Central in KwaZulu-Natal.
Read more...
---
From the editor's desk: China's growing hunger for chips
27 October 2021, Technews Publishing , News
No, this column is not about the chips you eat, I'm talking about the chips we in the electronics industry know and love best – those of the semiconductor variety. In light of China's escalating aggression 
...
Read more...
---
Renesas/Dialog synergy delivers winning combinations
29 September 2021, Hi-Q Electronics , News
Renesas Electronics and Dialog Semiconductor have officially joined forces, resulting in an immediate benefit to customers as Renesas announces 39 new 'Winning Combinations'. These expert designs showcase 
...
Read more...
---
Prototype chip decodes any type of data sent across a network
29 September 2021 , Editor's Choice, News
The silicon chip can decode any error-correcting code through the use of a novel algorithm known as Guessing Random Additive Noise Decoding (GRAND).
Read more...
---
Bumper sales quarter restores Samsung's lead over Intel
25 August 2021 , News
IC Insights has released its August update to the 2021 McClean Report, which includes a review of the top 25 semiconductor sales leaders for the second quarter of calendar year 2021 (2Q21). ICs and optoelectronics, 
...
Read more...
---
RFiber adds high-reliability supplier to its stable
25 August 2021, RFiber Solutions , News
RFiber Solutions has expanded its portfolio by establishing a distribution channel for X-REL Semiconductor's offering into the South African market. RFiber says it is optimistic about the solutions 
...
Read more...
---
ON Semiconductor shortens its name to onsemi
25 August 2021 , News
ON Semiconductor, a well-known name in the IC vendor landscape over many years, has changed its trading name to onsemi and says it has refreshed its brand as a next step in the company's evolution to 
...
Read more...
---