The Eskom Expo for Young Scientists International Science Fair (ISF) 2017 recognised some of the exceptional projects on display at an awards ceremony held at the Birchwood Hotel and Conference Centre in Johannesburg.
Eskom dedicated the start of the second day to acknowledging its partners and ISF sponsors through an exclusive breakfast. Chairman of the Eskom Expo board of directors, Pieter Pretorius, said, "For several years the Eskom Expo has hosted learners from several other African countries and this year we have learners from seven other countries participating. None of this would be possible without our sponsors, whose support enables us to run the competition and offer prizes to the value of R4 million, which are a powerful motivator to our participants."
The special awards ceremony was hosted by popular MC and recording artist, Proverb, and in attendance was the deputy minister of public enterprises, Dikobe Martins, who said, "The projects I saw today were erudite and mind-blowing. The quality of the work by the young learners reminded me of my school days when such work was done only at tertiary level but nowadays it's at school level. It's a great sign of the times and the level of development we are having. These youngsters are not only concerned about their own interests but also the future of their country."
Over and above the numerous sponsor awards given out, four special awards, sponsored by Eskom, were awarded to some of the most outstanding participants in South Africa's largest school-level science fair. The winners were presented with cash prizes, tablet and laptop computers amongst others. Apart from South Africa, participants at this year's ISF also came from Ghana, Nigeria, Tanzania, Zimbabwe, Mozambique, Lesotho and Brazil.
This ISF not only exposes learners to the exciting fields of science, technology, engineering, mathematics and innovation (STEMI), but learners also get a chance to gain some important life skills including critical thinking, problem solving and discipline, presentation skills, the importance of team work as well as learning to interact with people from a variety of backgrounds.
The four special award winners were:
Best Energy Project: Waheed Amanjee, Grade 10, Creston College (KZN)
Best Energy Efficiency Project: Daniel Holmes, Grade 7, Grey Boys Junior School (EC)
Best Female Project: Khilona Piyarlall, Grade 9, Scottburgh High School (KZN)
Best Development Project: Kamogelo Rakgetse, Grade 11, Abraham Serote Secondary (LIM)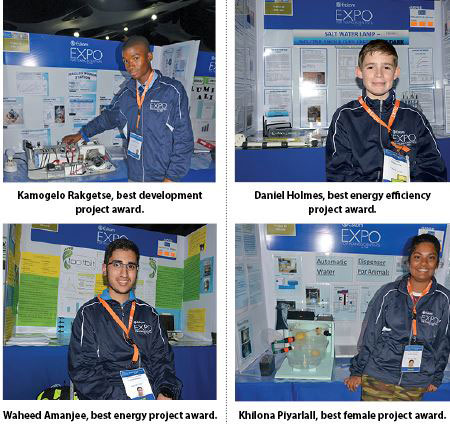 For more information contact Krishnie Naidoo, Eskom Expo for Young Scientists, +27 (0)11 894 1365, krishnie@exposcience.co.za