printer friendly version
Active RFID is showing innovation and very rapid growth
6 April 2006
News
Active RFID is little reported, but its use is growing rapidly. New research on RFID has determined that the value of sales of active systems, including the tags, will grow from $0,55 bn in 2006 to $6,78 bn by 2016. In this article, Dr Peter Harrop, chairman of the research group, IDTechEx, analyses some of the findings.
Radio frequency identification, where there is a power source in the tag, is called active RFID. It was something of a backwater, with frequent million dollar sales only being achieved with tags that act as car clicker immobilisers and with $30 tags and their sophisticated systems for tracking key military vehicles and assets. No longer. Several applications have been above $100 million and it is currently responsible for over 20% of all spend on RFID.
New IDTechEx (www.idtechex.com) research has determined that the value of sales of active systems including the tags will now grow very rapidly from $0,55 bn in 2006 to $6,78 bn 2016. We have constructed forecasts usefully segmented by frequency, application and many other parameters.
Technologies facilitating growth
The three primary technologies creating this growth will be realtime location systems RTLS, disposable RFID sensor systems, including ones in the form of smart active labels (SALs) and finally, sophisticated multifunctional devices. These will serve the burgeoning market demand for tracking, locating and monitoring people and things, driven by security, safety, cost and other factors. Active RFID will create competitive advantage in consumer goods, combat the new terrorism, other crime and threatened epidemics of disease and serve consumers and governments demanding better service, more information, food traceability and condition monitoring. The safety of constructions and risk of natural disasters will be monitored by Ubiquitous Sensor Networks USN, usually as a form of active RFID, and they will assist and monitor the increasing numbers of elderly and disabled.
These needs have been building for some time, but two new facilitators combine to make active RFID a much more practicable solution. They are:
* Reduction in cost and size of active tags and systems. With lower power circuits, even printed batteries are gaining a place. In future, miniature fuel cells, printed photovoltaics (including the new power storage photocapacitors), better batteries and printed transistor circuits will also be used. This will overcome constraints of tag lifetime, cost, performance and size.
* Availability of open standards: notably the new ISO 18000 EPC Types 3 and 4 and IEEE 802.15.4. There is now considerable activity leveraging many newly-popular forms of short range wireless communication, particularly WiFi, ZigBee and Near Field Communications as in the popular new RFID-enabled mobile phones.
We can now see three phases in the evolution of active RFID.
* 1990 to 2000: Large tags, standalone systems always generating their own transmission.
* 2000 to 2010: Matchbox-sized tags with button batteries increasingly using new networks and protocols and multipurpose. Many are RTLS.
* 2010 to 2020: RFID Smart Active Labels in high volume use, later including disposable self-adjusting sell-by and use-by dates.
Shown in Figure 1 are systems, devices and interfaces that are now - or soon will be - used by active RFID, or combined with it, in small portable devices. Other combinations and alternatives are also now becoming available, including Ultra-Wideband UWB active RFID and Near Field Electromagnetic Ranging NFER.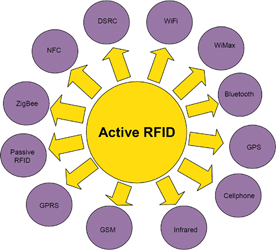 Figure 1: Systems, devices and interfaces that are now (or soon will be) used by active RFID
Frequencies are varied
Frequencies in the range 315 to 433 MHz and 2,45 GHz are the most popular for active RFID at present. 2,45 GHz will be increasingly important because of its suitability for RTLS and because of the increased leveraging of ZigBee, WiFi and Bluetooth technology in active RFID. However, 13,56 MHz is the frequency for near field communication (NFC) and semi-passive RFID sensor devices.
Dramatic growth
IDTechEx forecasts that the global RFID active tag market (including semi-active and semi-passive) will be very different from the past. Sales will now rise rapidly, driven by the many technical advances and the further doubling and trebling of the number of companies and users active in the field. In the next decade, most of the active RFID market will be in the automotive, transportation, logistics, healthcare and military sectors. Systems will be responsible for a much larger part of the whole spend than tags, in continuing contrast to the situation with passive tags.
In 2016, the relative importance of the sectors by value in billions of dollars will be as shown in the Figure 2, the total market being $6,78 bn.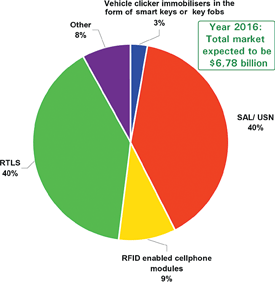 Figure 2: The expected relative importance of the sectors by value in year 2016
Some substantial opportunities for active RFID systems including tags in the next ten years are shown in Table 1. These are quantified in the new IDTechEx report 'Active RFID 2006-2016'.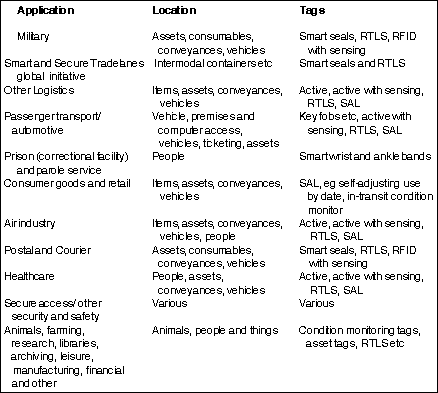 Table 1. Opportunities for active RFID systems and tags
With all this potential it is little wonder that the number of users and suppliers of active RFID has doubled in the last year. Many of these companies have not been associated with RFID in the past. The Table 2 gives some examples, with the location and tracking of conveyances, packages and assets, receiving the most attention.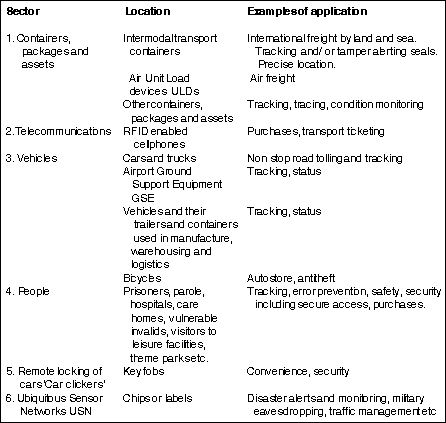 Table 2. Examples of current active RFID applications
For more information contact Dr Peter Harrop, IDTechEx, 0944 1256 862163, [email protected]
Further reading:
Mouser stocks wide product selection from Renesas companies
TRX Electronics News
The products on offer include embedded solutions, semiconductors, optoelectronics, sensors and passive components.
Read more...
---
TUKS campus taken over by robots!
News
Students are required to build autonomous robotic vehicles with a sensor system to detect specific colours on a multi-coloured track.
Read more...
---
Altron Arrow FAE earns STMicroelectronics award
News
Renaldo Fibiger was one of only two people from the whole of the EMEA region who scored 30 out of 31 in the certification course.
Read more...
---
Infineon to exhibit at Embedded World 2022
News
This Infineon will be showcasing various focus areas dealing with embedded systems and the internet of things.
Read more...
---
Avnet Abacus congratulates Bourns on 75 years of innovation
Avnet Abacus News
This year also marks a milestone with the 21st anniversary of the distribution alliance between these two companies.
Read more...
---
New product marketing manager for Yamaha's SMT section
News
Yamaha appoints Kamil Stasiak, a 10-year veteran of the industry, as product marketing manager for its surface-mount technology section.
Read more...
---
Partnership between mLab and MICT SETA announced
News
The MOU between the two parties will seek to upskill South Africans, allowing them to keep up with a rapidly changing employment market.
Read more...
---
Infineon's easy-to-use replacement for legacy barrel jacks
Altron Arrow News
It is estimated that over 10 billion power tools are still using the old barrel jacks for their power needs, which will need to change.
Read more...
---
Worldwide silicon wafer shipments edge higher to new record
News
SMG reports that worldwide silicon wafer shipments in the first quarter of 2022 surpassed the previous record high set in the third quarter of 2021.
Read more...
---
Arrow Electronics announces alliance with Senseye
Altron Arrow News
The agreement will see Arrow Electronics together with Senseye bringing to market AI-based predictive maintenance solutions for industrial sectors.
Read more...
---