printer friendly version
Stellenbosch student presents paper on SA satellite at conference
4 October 2006
Telecoms, Datacoms, Wireless, IoT
A post-graduate student at the University of Stellenbosch represented South Africa at the Utah Small Satellite Conference that was held in the USA in August.
Kgabo Mathapo presented a paper on South Africa's second satellite, recently named 'Sumbandila' - a Venda word that means 'showing the way' or 'Pathfinder'. Mathapo's paper deals with the software defined radio automatic identification receiver (AIS), one of the several experimental payloads on the satellite.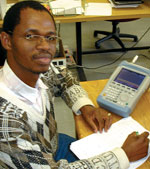 Kgabo Mathapo presented a paper on Sumbandila, SA's second satellite
The satellite is being built by SunSpace, a company that has its origins from the Sunsat satellite programme of the University. Sunsat was developed completely by a local team of engineers and launched in 1999 by NASA. This team forms the core of SunSpace today.
The Small Satellite Conference's theme this year was: The first 20 years, where we have been - where we are going. Sunspace considered it important for South Africa to be presenting a paper and supported Mathapo's participation.
Software defined radio (SDR) is a technology that is currently being researched at the University of Stellenbosch because of its potential to realise reconfigurable radio systems and networks that use the same hardware for different applications. The primary purpose of the SDR AIS experimental payload on Sumbandila is to demonstrate the monitoring of marine traffic along the SA coast. The secondary purpose is to carry out scientific experiments that will demonstrate the possibility of reconfiguring radio systems on a satellite through software updates and to serve as proof of concept of SDR for satellite communication systems.
Sumbandila (ZA002) is South Africa's second satellite that will be launched in a low earth orbit and has in addition to experimental payloads, an on-board multisensor imager will be used to take high resolution images of the earth. The satellite will be launched into a 500 km sun-synchronous orbit with a local time (at the equator) of 10 am and 10 pm.
The SDR project will use a space-qualified VHF/UHF transponder and on-board processing unit, developed for small satellites by SunSpace. The SDR architecture itself allows for the development of a library of components that are used to build a radio system.
Mathapo is studying in the Department of Signal Processing and Telecommunications Research Group and is working on the SDR project as his thesis for his Masters Degree in Electronic Engineering which he expects to complete this year. His paper goes into detail about GMSK modulation, demodulation and filtering techniques.
Further reading:
Wi-Fi 6/6E module for industrial applications
RF Design Telecoms, Datacoms, Wireless, IoT
The u-blox MAYA-W3 brings the benefits of Wi-Fi 6 and the 6 GHz band to industrial applications, preventing network congestion and ensuring power efficiency.
Read more...
---
Toolkit for services with differentiated 5G connectivity
Telecoms, Datacoms, Wireless, IoT
Ericsson has launched a new software toolkit to strengthen 5G Standalone network capabilities, and enable premium services with differentiated connectivity.
Read more...
---
Device identification's critical role in IoT protection
Avnet Silica Telecoms, Datacoms, Wireless, IoT
Each IoT device must have a unique identifier assigned during manufacturing or provisioning which serves as the anchor for device identification, authentication, and communication.
Read more...
---
Programmable BLE 5.3 SoC
Altron Arrow Telecoms, Datacoms, Wireless, IoT
The BlueNRG-LPS is an ultra-low power programmable Bluetooth Low Energy wireless SoC solution from STMicroelectronics that embeds the company's state-of-the-art 2.4 GHz radio IP.
Read more...
---
RF switch modules
RFiber Solutions Telecoms, Datacoms, Wireless, IoT
New switch modules from Withwave are available in various configurations including SP4T, SP10T, and as a 4-port matrix switch.
Read more...
---
Improved cellular access in remote areas
Telecoms, Datacoms, Wireless, IoT
Nextivity has released its CEL-FI ROAM R41 plug-and-play cellular coverage solution that ensures cellular access for people in remote areas.
Read more...
---
Making Matter provisioning secure and easy
EBV Electrolink Telecoms, Datacoms, Wireless, IoT
Integrated solution of CommScope's PKIWorks platform with STMicroelectronics' STM32WB wireless microcontroller enables IoT security for Matter device development.
Read more...
---
Bringing performance and security to BLE applications
Future Electronics Telecoms, Datacoms, Wireless, IoT
STMicroelectronics' STM32WBA 32-bit wireless series brings designers the performance, efficiency, and security required for Bluetooth Low Energy 5.3-enabled applications.
Read more...
---
WLAN tester supports Wi-Fi 7
Tamashi Technology Investments Telecoms, Datacoms, Wireless, IoT
To meet the need for Wi-Fi 7 testing, Anritsu Corporation has introduced a new Network Mode option for its MT8862A Wireless Connectivity Test Set, allowing the instrument to evaluate the Wi-Fi 7 signal quality of devices under test.
Read more...
---
A new security level against GNSS spoofing
RF Design Telecoms, Datacoms, Wireless, IoT
GNSS spoofing and jamming attacks are on the rise. In recent years, growing availability of inexpensive signal simulators has led to spoofing episodes, which in turn have resulted in disruptions of GPS and Galileo signals reported by high-precision GNSS equipment manufacturers.
Read more...
---