printer friendly version
Stellenbosch student presents paper on SA satellite at conference
4 October 2006
Telecoms, Datacoms, Wireless, IoT
A post-graduate student at the University of Stellenbosch represented South Africa at the Utah Small Satellite Conference that was held in the USA in August.
Kgabo Mathapo presented a paper on South Africa's second satellite, recently named 'Sumbandila' - a Venda word that means 'showing the way' or 'Pathfinder'. Mathapo's paper deals with the software defined radio automatic identification receiver (AIS), one of the several experimental payloads on the satellite.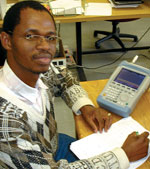 Kgabo Mathapo presented a paper on Sumbandila, SA's second satellite
The satellite is being built by SunSpace, a company that has its origins from the Sunsat satellite programme of the University. Sunsat was developed completely by a local team of engineers and launched in 1999 by NASA. This team forms the core of SunSpace today.
The Small Satellite Conference's theme this year was: The first 20 years, where we have been - where we are going. Sunspace considered it important for South Africa to be presenting a paper and supported Mathapo's participation.
Software defined radio (SDR) is a technology that is currently being researched at the University of Stellenbosch because of its potential to realise reconfigurable radio systems and networks that use the same hardware for different applications. The primary purpose of the SDR AIS experimental payload on Sumbandila is to demonstrate the monitoring of marine traffic along the SA coast. The secondary purpose is to carry out scientific experiments that will demonstrate the possibility of reconfiguring radio systems on a satellite through software updates and to serve as proof of concept of SDR for satellite communication systems.
Sumbandila (ZA002) is South Africa's second satellite that will be launched in a low earth orbit and has in addition to experimental payloads, an on-board multisensor imager will be used to take high resolution images of the earth. The satellite will be launched into a 500 km sun-synchronous orbit with a local time (at the equator) of 10 am and 10 pm.
The SDR project will use a space-qualified VHF/UHF transponder and on-board processing unit, developed for small satellites by SunSpace. The SDR architecture itself allows for the development of a library of components that are used to build a radio system.
Mathapo is studying in the Department of Signal Processing and Telecommunications Research Group and is working on the SDR project as his thesis for his Masters Degree in Electronic Engineering which he expects to complete this year. His paper goes into detail about GMSK modulation, demodulation and filtering techniques.
Further reading:
Multi-protocol IoT prototyping platform
RF Design Telecoms, Datacoms, Wireless, IoT
The Nordic Thingy:53 brings dual-core Arm Cortex-M33 processing power and embedded machine learning to rapid IoT product prototyping.
Read more...
---
Quectel launches a high-performance single-band GNSS module
iCorp Technologies Telecoms, Datacoms, Wireless, IoT
The LC76G GNSS positioning module features fast and accurate position location performance as well as ultra-low power consumption.
Read more...
---
Directional coupler has a frequency range from 0,6 to 40 GHz
RF Design Telecoms, Datacoms, Wireless, IoT
The CE10-0R640 coupler from Marki Microwave is a 10 dB broadband directional coupler with directivity of 22 dB and insertion loss less than 2,3 dB.
Read more...
---
RF amplifier with low phase noise
RF Design Telecoms, Datacoms, Wireless, IoT
The APM-7516 is available in a connectorised module that measures 2,85 x 1,5 x 1 cm, with 2,92 mm connectors.
Read more...
---
'World's smallest' LTE Cat 4 module with global coverage and 2G/3G fallback
RF Design Telecoms, Datacoms, Wireless, IoT
LARA-L6 is ideal for size-constrained applications such as video surveillance, dashcams, telematics, gateways, routers and connected health devices.
Read more...
---
Eight-way bandpass filter bank
RFiber Solutions Telecoms, Datacoms, Wireless, IoT
The AM3215 from Atlanta Micro is a broadband, eight-way bandpass filter bank offering low loss and high rejection from 2 GHz to 18 GHz. Each band delivers 2 GHz of bandwidth. With internal 50 Ω matching 
...
Read more...
---
Front-end module for Wi-Fi 6/6E
RF Design Telecoms, Datacoms, Wireless, IoT
Qorvo's QPF4632 is a Wi-Fi 6/6E (802.11 ax) integrated front-end module that operates from 5,945 to 7,125 GHz. It consists of a power amplifier (PA), DC logarithmic power detector, single-pole double-throw 
...
Read more...
---
Development kit for Bluetooth LE Audio
RF Design Telecoms, Datacoms, Wireless, IoT
The highly configurable kit can function as a USB dongle to send and receive high-quality audio data from a PC, a business headset or a TWS earbud
Read more...
---
RF cavity filters for 5G
Electrocomp Telecoms, Datacoms, Wireless, IoT
Temwell has established a one-stop service for 5G RF cavity filters, featuring high specifications across a wide range of power requirements.
Read more...
---
Tri-radio module for a multitude of applications
RF Design Telecoms, Datacoms, Wireless, IoT
MAYA-W2 is among the first host-based modules to extend the benefits of highly efficient Wi-Fi 6 to industrial applications.
Read more...
---