printer friendly version
Tackling e-waste in Africa
1 April 2009
News
HP, together with the Global Digital Solidarity Fund (DSF) and the Swiss Federal Laboratories for Materials Testing and Research (Empa), have unveiled the first results of a pilot
project, based in Cape Town, to tackle the problem of electronic waste (e-waste) in Africa.
"The results have been encouraging. Approximately 60 tonnes of electronic equipment was processed at the facility, generating an income of around R126 000 from February to November 2008, and created direct employment for 19 people," says Dr Kirstie McIntyre, Environmental Compliance, Environmental Business Management Organisation, HP EMEA.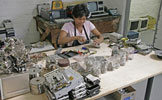 This e-waste will be used to make clocks
This initiative was carried out in South Africa, Morocco and Kenya and has gathered vital information on how African governments, organisations and society are dealing with the rising problem of e-waste management, as well as to test solutions on the way forward. These results will support the launch of the second phase, which aims at engaging corporate and government partners to further extend e-waste management programmes to other countries and tackle the problem of e-waste on the entire continent.
Dr McIntyre adds, "The second phase of the project also seeks to incorporate informal processing activities that can prove highly effective in dealing with waste, by transforming them into sustainable and environmentally sound operations."
"The research has shown that a solution is at hand and demonstrated some of the incredible entrepreneurial skills we can tap into in the informal sector in Africa," said project manager and Empa researcher Mathias Schluep. "By providing tools and training, we have removed potential environmental and health problems that can be caused by handling e-waste incorrectly. What is more, we have created a channel to full employment for creative minds in the informal sector."
The assessment studies conducted in Morocco and Kenya provided a clear picture of the e-waste management landscape in those countries, particularly on the legislation in place, local awareness and behaviour, infrastructural needs and total amount of waste generated. For example, the study in Kenya has demonstrated that although the country is producing 3000 tonnes of e-waste per year, with an increase of 200% per year, there is a clear lack of legislative framework and practical e-waste management systems. To address this, the study recommends that a mechanism to raise funds for the expensive processing of e-waste is established, and measures to raise public awareness are taken.
"Information technology represents a real opportunity to boost the African economy, but the question that must be addressed is what we do with outdated equipment," said Cisse Kane from DSF. "This project has helped us close the loop by providing a model for safe and efficient treatment and disposal of e-waste."
The findings and recommendations that resulted from these studies will now be considered in the second phase, which aims to assess sustainable business models in electronic waste recycling and deploy medium to large infrastructure pilots in these and other countries.
Further reading:
RF antenna solutions for IoT devices
News
Mouser Electronics and Amphenol RF have teamed up for a brand-new webinar titled 'RF antenna solutions for IoT devices and smart technology'.
Read more...
---
Wideband GNSS testing system
RF Design News
The LabSat 3 Wideband Solution is a GNSS testing system with support for recording and replay in the upper
L-Band (1559-1610 MHz)
and lower
L-Band (1164-1300 MHz).
It has three RF channels, a recording 
...
Read more...
---
New generation of 5G modules
Quectel Wireless Solutions News
Quectel Wireless Solutions announced the launch of its latest generation 5G New Radio (NR) module series, the RG650E and RG650V, both of which follow the 3GPP Release 17 standard. These industrial-grade 
...
Read more...
---
Microcontroller with Bluetooth LE 5.3
Altron Arrow News
The STM32WBA 32-bit Wireless series from STMicroelectronics brings designers the performance, efficiency, and security required for Bluetooth Low Energy 5.3-enabled applications. The STM32WBA offers essential 
...
Read more...
---
Configurable industrial AI computing
Brandwagon Distribution News
The Tensor-I22 IS from Brandwagon is the second generation in the company's innovative industrial computer line, Tensor. The fanless industrial PC can be customised with a choice of CPU, memory, storage 
...
Read more...
---
Comprehensive AI computing solution
Altron Arrow News
Powered by the NVIDIA Jetson AGX Orin, the BOXER-8640AI fanless Box PC from AAEON Technology brings AI capabilities to the edge. The NVIDIA Jetson AGX Orin's Ampere architecture boasts 1792 CUDA and 56 
...
Read more...
---
Pure carbide GaN-on-SiC power amplifier
RFiber Solutions News
MACOM announced an expansion to its power amplifier product portfolio with the MAPC-A1605 7,0 kW power amplifier. This device is suitable for high-power and high-voltage aerospace and defence applications, 
...
Read more...
---
Connectors with extreme density and performance
Spectrum Concepts News
Samtec's family of board-to-board and cable assemblies feature extreme density with up to 1000 total I/Os on a 0,635 mm pitch, while still providing incredible 112 Gbps PAM4 performance. The AcceleRate 
...
Read more...
---
Power efficient mid-range FPGA
ASIC Design Services News
The new imperatives of the intelligent edge – power efficiency, security and reliability – are forcing system architects and design engineers to find new solutions. For the growing number of system designers 
...
Read more...
---
Edge-AI embedded computing
Rugged Interconnect Technologies News
The EMP-510 series from ADLINK is an 11th Gen Intel Core i5-based fanless computer. The system features an 11th Gen BGA SoC processor which is paired with up to 32 GB of DDR4 RAM. Up to four independent 
...
Read more...
---