printer friendly version
Geometric data display invention now market ready
16 May 2007
Test & Measurement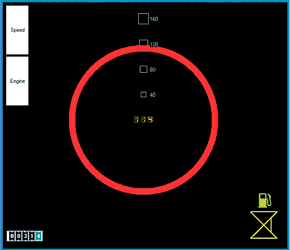 A South-African inventor has invented what he refers to as a 'third-generation shape-based display technology' where information is displayed as geometric shapes. This innovative concept, said to be a world first in display technology, is unique in that it does not require any reading.
The inventor, Sarel P. Wagner, says that in the last 560 years, virtually no improvements have been made on the basic display of information. The traditional concept of the steam gauge is still largely unchanged from the original invention. Mechanics may have given way to electronics, but the basic bargraph and steam gauge displays still require information to be read and interpreted.
The human brain is programmed for shape recognition. As a result, the new Geometrica shape-based technology is an ideal interface between man and machine. There is no longer any need to read or interpret information, making Geometrica-based displays fast and accurate. Just as we are able to recognise a face in a room full of others, our brain can instantly recognise a shape, and we only need to see it in peripheral vision. A person can remain focused on a primary task like driving, and at the same time perceive changes in a geometric figures shape, size and colour, without taking his or her eyes off the road.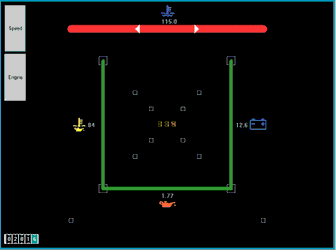 So how does this work?
Take a circular shape and have its radius represent speed. A small radius represents a low speed. As the speed increases, the radius expands and the circle gets bigger.
To represent multiple variables as a single status, take a triangle. The length of each leg represents a temperature or some other value. As the value increases the triangle leg extends in length. We now select the scale for each leg so that the desired nominal value, or range of values, results in a specific leg length. This value may be different for each leg. When all the values for the three legs are within the nominal range, the legs form an unbroken triangle and the sides (three legs) are coloured green. As soon as a value is out-side its nominal range, the corresponding leg changes length and colour.
It is now possible to convert data to status information using this technology and have a single point to monitor very complex systems, anything from factories to nuclear submarines. This technology has applications in the automotive, military, aircraft, industrial, medical, instrumentation and many other sectors.
A video showing a working device can be seen at www.microafrica.co.za/geometrica.avi and there is also a Word file explaining it at www.microafrica.co.za/geometrica.doc.
For more information contact Sarel P. Wagner, +27 (0)82 440 0191, sarel.wagner@gmail.com
Further reading:
Double pulse test software for Tektronix AFG
29 January 2020, Comtest , Test & Measurement
Comtest announced the availability of Tektronix' new software plugin for its AFG31000 arbitrary function generator (AFG), making it possible to perform crucial double pulse testing in less than a minute, 
...
Read more...
---
Battery charge/discharge test system
29 January 2020, Conical Technologies , Test & Measurement
The ITS5300 battery charge and discharge test system from ITECH is designed for a variety of power batteries including lead acid, nickel hydrogen, lithium batteries, supercapacitors, hydrogen fuel cells 
...
Read more...
---
DIN-rail programmable transmitter
23 October 2019, Instrotech , Test & Measurement
Calog Instrument's versatile DPM9000 series – a miniature DIN-rail mount programmable isolated transmitter range – boasts high reliability and a versatile, wide range of programmable inputs. With dimensions 
...
Read more...
---
Hands-on learning module
23 October 2019, Altron Arrow , Test & Measurement
The ADALM2000 (M2K) active learning module is an affordable, USB-powered, software-defined instrument that exceeds the capabilities of its predecessor ADALM1000 (M1K). With 12-bit ADCs (analog-to-digital 
...
Read more...
---
Digital multimeter with thermal imager
23 October 2019, RS Components (SA) , Test & Measurement
A digital multimeter (DMM) with a built-in thermal imager has been added to RS Components' RS PRO product range. The RS-9889 allows engineers to identify thermal overload issues in electrical equipment 
...
Read more...
---
Project-based learning for the modern engineer
23 October 2019 , Test & Measurement
Projects that inherently challenge students to use innovative design thinking often involve interacting with an unknown process or device. Students are encouraged to understand the unknown through theory, 
...
Read more...
---
Automotive Ethernet testing software
25 September 2019, Comtest , Test & Measurement
Tektronix has released two new software packages that greatly simplify Automotive Ethernet testing, debug and protocol decode for use with its 5 and 6 Series mixed-signal oscilloscopes (MSO). Using 
...
Read more...
---
4-channel PC-based oscilloscope
28 August 2019, Vepac Electronics , Test & Measurement
The newly developed Model 1330 from Peaktech is a 4-channel PC oscilloscope with 100 MHz bandwidth and 1 GSps sample rate, which is suitable for mobile use on a laptop, and permanent installation in control 
...
Read more...
---
Handheld PoE tester
26 June 2019, Coral-i Solutions , Test & Measurement
Ideal Networks has launched a new handheld tester that eliminates guesswork when installing, maintaining and troubleshooting PoE devices and data cabling. PoE Pro measures and reports PoE class, voltage/voltage 
...
Read more...
---
Debugging probe for STM32 MCUs
31 July 2019, Altron Arrow , Test & Measurement
The STLINK-V3MINI probe, new from STMicroelectronics, combines the features of the STLINK-V3SET with standalone simplicity for faster programming and ease of use. The compact, portable probe can be 
...
Read more...
---