printer friendly version
Geometric data display invention now market ready
16 May 2007
Test & Measurement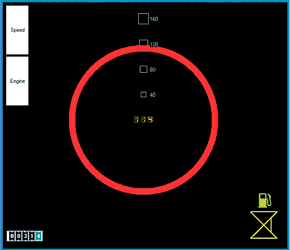 A South-African inventor has invented what he refers to as a 'third-generation shape-based display technology' where information is displayed as geometric shapes. This innovative concept, said to be a world first in display technology, is unique in that it does not require any reading.
The inventor, Sarel P. Wagner, says that in the last 560 years, virtually no improvements have been made on the basic display of information. The traditional concept of the steam gauge is still largely unchanged from the original invention. Mechanics may have given way to electronics, but the basic bargraph and steam gauge displays still require information to be read and interpreted.
The human brain is programmed for shape recognition. As a result, the new Geometrica shape-based technology is an ideal interface between man and machine. There is no longer any need to read or interpret information, making Geometrica-based displays fast and accurate. Just as we are able to recognise a face in a room full of others, our brain can instantly recognise a shape, and we only need to see it in peripheral vision. A person can remain focused on a primary task like driving, and at the same time perceive changes in a geometric figures shape, size and colour, without taking his or her eyes off the road.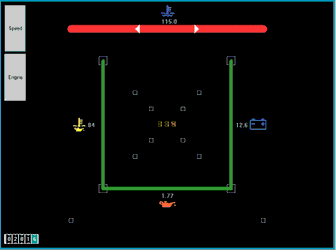 So how does this work?
Take a circular shape and have its radius represent speed. A small radius represents a low speed. As the speed increases, the radius expands and the circle gets bigger.
To represent multiple variables as a single status, take a triangle. The length of each leg represents a temperature or some other value. As the value increases the triangle leg extends in length. We now select the scale for each leg so that the desired nominal value, or range of values, results in a specific leg length. This value may be different for each leg. When all the values for the three legs are within the nominal range, the legs form an unbroken triangle and the sides (three legs) are coloured green. As soon as a value is out-side its nominal range, the corresponding leg changes length and colour.
It is now possible to convert data to status information using this technology and have a single point to monitor very complex systems, anything from factories to nuclear submarines. This technology has applications in the automotive, military, aircraft, industrial, medical, instrumentation and many other sectors.
A video showing a working device can be seen at www.microafrica.co.za/geometrica.avi and there is also a Word file explaining it at www.microafrica.co.za/geometrica.doc.
For more information contact Sarel P. Wagner, +27 (0)82 440 0191, sarel.wagner@gmail.com
Further reading:
First verified OTDOA positioning test for 5G NR
29 September 2021, Coral-i Solutions , Test & Measurement
The industry's first OTDOA (observed time difference of arrival) protocol conformance test for 5G New Radio (NR) has been verified with a device containing the MediaTek M70 5G modem and the Anritsu ME7834NR 
...
Read more...
---
Mixed-signal oscilloscopes for general-purpose debugging
29 September 2021, Concilium Technologies , Test & Measurement
Powerful, intuitive to use and easy to own, the Infiniium EXR-Series extends the power of Keysight Technologies' Infiniium MXR oscilloscope family to customers that want to buy through the company's global 
...
Read more...
---
Tektronix releases results of global engineer survey
29 September 2021, RS Components (SA) , Test & Measurement
To keep pace with rapid advancements in technology, today's test and measurement engineers seek longer-lasting products and more technical support, according to a global survey of nearly 1300 professional 
...
Read more...
---
Clamp meters for 1500 V solar power tests
29 September 2021, Comtest , Test & Measurement
Fluke has announced the launch of a new clamp meter designed to measure solar installation voltages at the new standard of 1500 V, while offering high safety specifications and being easy to use in congested 
...
Read more...
---
Mixed-signal oscilloscopes with up to 20 channels
29 September 2021, Vepac Electronics , Test & Measurement
Offering up to 200 MHz bandwidth and 1 GSps sample rate, the MSO/DPO2000B mixed-signal oscilloscope (MSO) series from Tektronix delivers advanced debug features at an entry-level price. Users can 
...
Read more...
---
Mixed-signal oscilloscopes with flexible resolutions
29 September 2021, Comtest , Test & Measurement
Pico Technology released the PicoScope 6000E Series FlexRes oscilloscopes, featuring eight channels with 500 MHz bandwidth, 16 digital channels and resolution of 8, 10 or 12 bits. The products work with 
...
Read more...
---
Critical airborne system testing from a single device
29 September 2021, Measuretest , Test & Measurement
New from Viavi Solutions is the AVX-10K flight line test set, enabling comprehensive performance verification testing of critical airborne systems from a simple-to-use device. The instrument helps avionics 
...
Read more...
---
Power supplies and electronic loads for testing fuel cells
25 August 2021, Vepac Electronics , Test & Measurement
In response to demand for growing hydrogen fuel cell development and testing, EA Elektro-Automatik offers a series of powerful bidirectional DC power supplies and regenerative DC loads ideal for fuel 
...
Read more...
---
Lead-acid battery tester provides audio guidance
25 August 2021, Measuretest , Test & Measurement
Nowadays, adoption of renewable energy has surged as businesses work to realise a sustainable society and demand for lead-acid batteries for use in energy storage applications is expected to continue 
...
Read more...
---
Battery simulation test solution
25 August 2021, Conical Technologies , Test & Measurement
With the development of battery technology, battery weight and energy density are being further improved while their cost is reducing, making batteries widely used in new energy vehicles, photovoltaic 
...
Read more...
---