Lead-free solder is a subject that must be addressed today because it will be a requirement soon. The process parameters required for high reliability solder joints put new and tougher demands on reflow and rework equipment. The hot air rework systems that are currently used for BGA rework will have a difficult time trying to achieve a proper lead free profile. However, Ersa's IR technology is perfectly suited to meet these lead-free demands.
Forced convection
Forced convection reflow systems are the standard in the industry for production. Quality lead-free BGA reflow can be achieved in the enclosed environment of a reflow oven. Rework, however, cannot be done in a completely enclosed environment. The heating conditions required for lead free BGA reflow are difficult to achieve when blowing hot air through a nozzle (Figures 1 and 2).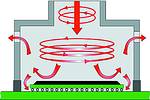 Figure 1. The air flow dynamics in a hot air rework nozzle are difficult to control and, depending on the nozzle construction, can lead to hot and cold spots on the package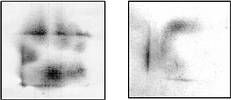 Figure 2. Two separate hot air rework nozzles were lowered down to a heat sensitive surface and the reflow program was started. The burn patterns shown here indicate how the heated air molecules move in the nozzle and transfer heat to the component. Dark areas are hotter
The process
The process window for lead-free solder paste reflow is much tighter than for eutectic or low melt alloys (Graphs 1 and 2). The activation time is sacrificed in order to reduce the oxidation which takes place much faster in the absence of lead. The reflow or rework heating system must be able to achieve the optimal soak from 150 to 220°C in 50 seconds also on heavy thermal mass PCBs. Slow heat rework systems, like hot air, can take too long in this critical phase, causing oxidation to form during soak.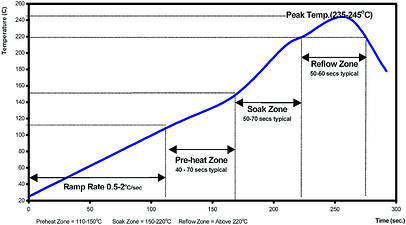 Graph 1. Kester reflow profile for lead-free alloy (SnAgCu)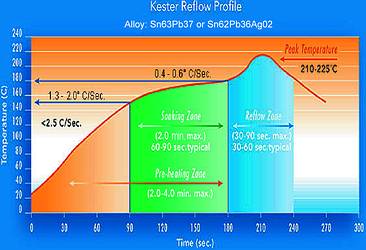 Graph 2. Typical eutectic paste profile
Due to the increase in temperature range and the tight process window, controlling the DT across the entire PCB in reflow and across the complete area array package in rework will be the ultimate challenge. Most hot air rework systems are poorly suited to meet these tougher demands. Ersa's 2nd generation proprietary IR technology was specifically designed for lead-free BGA rework.
By using the closed-loop reflow technology (Figure 5) of Ersa's 1600 W IR 550 A a perfect process window can be guaranteed, with uniform heat distribution with minimum DT, and proper peak temperature for high reliability lead-free solder joints.

Figure 3. The dark areas are hotter, revealing nonuniform heat distribution across the package. This DT is unacceptable for lead-free solders and will cause oxidation to form in the lighter areas

Figure 4. The ERSA IR technology guarantees minimum DT across the entire BGA package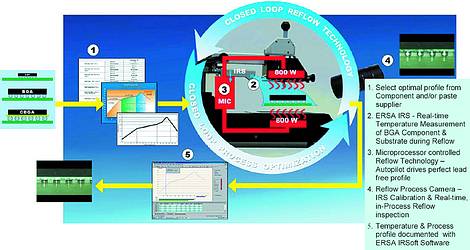 Figure 5