printer friendly version
IEC, IPC highlights inadequacies of traditional test methods for ensuring reliability of lead-free electronic assemblies
23 August 2006
Test & Measurement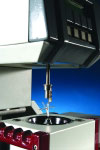 Gen3 Systems' managing director Graham Naisbitt, a member of both the IEC and IPC test standards committees, says lead-free implementation has exacerbated the need for manufacturers to draw a distinction between 'solderability' and 'soldering ability' tests, to avoid undermining the integrity of electronic assemblies used in critical applications
Solderability' is a quantitative measurement of how well molten solder wets component joints and PCB pads indicating the robustness of the surface finish, while 'soldering ability' is a term used to describe how well a specific combination of flux and solder work together to solder a component to a PCB.
While this is not a new problem, he says it has become more critical as lead-free solder becomes the norm after the EU's Restriction of Hazardous Substances (RoHS) deadline and the release of updated International Electrotechnical Commission (IEC) and Association Connecting Electronics Industries (IPC) soldering standards.
Previously, manufacturers using tin/lead alloys could compensate for poor solderability by tuning the soldering process - thus improving the soldering ability of the assembly. However, this is no longer an option for lead-free solder because it is a much less forgiving process. Consequently, it is now critically important for manufacturers of high reliability electronics to determine the solderability of components and PCBs prior to assembly.
"Solderability testing now needs a much higher level of precision, repeatability and reproducibility to take account of the unforgiving nature of the high tin content alloys that have been recommended by IEC and IPC," explains Naisbitt. "While tweaking the soldering process might have been acceptable to overcome poor solderability and improve soldering ability for some assemblies using familiar lead alloys, it just will not work with lead-free solder alloys - particularly in no-clean processes. Unreliable solder joints would be almost inevitable.
"Assemblers need to know for sure that they are using boards and components of known acceptable solderability that will always solder satisfactorily in their established and optimised process without any form of tweaking or adjustment," Naisbitt continues. "The higher soldering temperatures and thermal issues of lead-free allied with unproven on-board electrochemical and contamination reactions between various other process chemistries are just too complex and poorly understood to let the soldering process be changed at will."
After extensive soldering analysis involving 30 000 individual tests, imminent new IPC standards recognise that wetting balance force measurement and globule testing is better than traditional 'dip-and-look' manual judgements for quantitatively determining solderability to the precision required so that adjustment to the soldering process becomes unnecessary.
The main problem with the traditional, and popular, dip-and-look technique, is its lack of adequate gauge repeatability and reproducibility (or gauge R&R). This is a measure of how repeatable and reproducible tests are when performed by different people at different times.
According to the IPC: "Users who believe that the 'dip-and-look' methodology has a respectable Gauge R&R would be in for an extreme shock. The IPC committees have also voted that no new solderability test methods will be introduced into the standards without a demonstrated, industry acceptable gauge R&R value."
Defining new test methods is critical because the reliability of electronics hinges on the performance of the solder. Gen3 Systems manufactures the Must System Solderability Tester for wetting balance force measurement and globule testing (pictured). The equipment is ideal for both tin/lead and lead-free alloy testing and has been used by the industry for many years. The company has also produced a lead-free bath and globule set and lead-free accessories kit for existing Must Solderability Tester owners.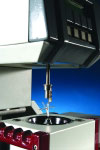 The Must System Solderability Tester measures wetting balance force measurement and globule testing of both tin/lead and lead-free alloys
For more information contact Graham Naisbitt, +44 (0)12 5252 1500, graham.naisbitt@gen3systems.com
Further reading:
Webinar: The key to smart occupancy
Test & Measurement
This one-hour session will allow the attendee to discover the company's latest infrared sensor with high-sensitivity presence and motion detection capabilities.
Read more...
---
Portable 100 MHz digital oscilloscope
Vepac Electronics Test & Measurement
The PeakTech P1331 is a powerful 100 MHz four-channel portable digital oscilloscope that is ideal for mobile use on a laptop, or for permanent installation in control cabinets.
Read more...
---
OTDR evaluates 20 000 km of submarine cables
Coral-i Solutions Test & Measurement
The MW90010B from Anritsu can evaluate up to 20 000 km of submarine cable, and has an easily selectable wavelength that covers the full C-band.
Read more...
---
Laser shaft alignment tool
Comtest Test & Measurement
The Fluke 831 lets technicians and engineers easily verify shaft alignment, with an intuitive guided user interface that enables quick and complete shaft alignment without advanced training or complicated programs.
Read more...
---
Colour and contrast sensors
Test & Measurement
Detection of colours by a sensor is performed using different approaches, with various types of vision systems and sensors that detect colour and contrast being used, depending on what the outcome needs to be.
Read more...
---
Graphical source measure unit
Conical Technologies Test & Measurement
The IT2800 Series from ITECH are compact and cost-effective bench-top source measure units with the capability to source and measure both voltage and current.
Read more...
---
Sensor board with Doppler shift technology
Dizzy Enterprises Test & Measurement
MIKROE has introduced a new motion sensor Click board, to support the development of intrusion alarms, automatic door openers, and other presence-sensing applications.
Read more...
---
Indoor air-quality monitor
RS South Africa Test & Measurement
Manufactured by ebm-papst, the new indoor air-quality (IAQ) monitor constantly assesses five key factors that can affect people's health, including particulate matter (PM2.5), carbon dioxide (CO
2
), volatile organic compounds (TVOC), temperature, and humidity.
Read more...
---
Temperature monitoring in the metal casting process
Instrotech Test & Measurement
Due to the spectral range and continuous temperature measuring range from 900 to 2450°C, the Optris PI 05M is especially suitable for the temperature measurement of molten metals.
Read more...
---
The importance of interference hunting in 5G network deployment and operation
Lambda Test Editor's Choice Test & Measurement
Identifying the source of interference signals within mobile network deployments and operations, and then mitigating or completely removing them, is an expensive and time-consuming task.
Read more...
---