printer friendly version
Lead-acid battery capacity analysers
11 July 2007
Test & Measurement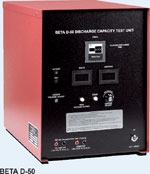 Today, most UPS, aircraft, telecoms and other critical application batteries are of the lead-acid chemistry. The unfortunate truth about most of these batteries is that you will never know their true capacity until you actually perform a full capacity test.
In order to correctly determine the capacity of a given lead-acid battery, the battery must first be fully recharged before being allowed to 'cool down' for several hours. Once cool, the battery must be discharged at the manufacturer's determined rate, down to a set end voltage. For example, a 12 V 100 Ah battery could be discharged at 10 A for 10 hours down to 1,85 V per cell. If the battery is able to sustain the 10 A discharge for 10 hours then it has 100 A hours of capacity at the C/10 rate, where C is the capacity of the battery. However, if the same battery can only sustain the 10 A discharge for say 5 hours, then the battery only has approximately 50% capacity left.
One of the most advantageous features of lead-acid batteries with pure lead-tin alloy (from suppliers such as NorthStar and Hawker SBS) as opposed to the cheaper and lower performance lead-calcium is that their state of charge (SOC) can be estimated simply by measuring their open-circuit voltage, since the open-circuit voltage is a direct function of the concentration of electrolyte within the battery - even though the battery might be dry. As the concentration of electrolyte decreases so too does the % SOC. For NorthStar batteries, the relationship can be linearly approximated by the following equation: % SOC @ C/20 = OCV x 62,5-712,5 where C is the capacity of the battery in question.
Aztec Electronics stocks a wide range of lead-acid (and NiCad) battery analysers/dischargers. Aztec's Beta D-50 analyser is suitable for 12 V and 24 V batteries and can be adjusted for constant current discharges between 0 and 50 A. The end-point voltage and test time can be set prior to discharging. Once complete, the digital display will show elapsed time, voltage and current and a green lamp will illuminate when the battery capacity is above the preset requirement. Alternatively, a red lamp will illuminate if the battery fails to meet preset limits.
Further reading:
Miniature SMT noise sources
31 August 2020, RF Design , Test & Measurement
Pasternack has released a new series of miniature SMT packaged noise sources that are ideal for built-in test equipment, dithering for increased dynamic range of A/D converters and as a source for bit 
...
Read more...
---
New digital storage oscilloscope
31 August 2020, RS Components (SA) , Test & Measurement
RS Components is now stocking the Tektronix TBS1000C digital storage oscilloscope. Affordable, compact and easy-to-use, the TBS1000C comes with enhanced user interface and courseware, proving a great 
...
Read more...
---
High-spec, low-cost oscilloscope for industry and education
31 August 2020, RS Components (SA) , Test & Measurement
RS Components has introduced the Tektronix TBS2000B digital storage oscilloscope, aimed at industrial design and maintenance engineers and the educational sector. A higher-specification but low-cost drop-in 
...
Read more...
---
Rigol extends RF portfolio
30 September 2020, Coral-i Solutions , Test & Measurement
Rigol Technologies has announced the new RSA3000N and RSA5000N Spectrum Analysers, which extend the flexibility and capability of the UltraReal platform with a new Vector Network Analyser measurement 
...
Read more...
---
RS PRO queue management system
31 August 2020, RS Components (SA) , Test & Measurement
The RS PRO SMART-Q queue management system is a high-quality and robust configurable beacon tower that manages the flow of customers and staff, by helping them to move around safely and efficiently in 
...
Read more...
---
Network metrology training kit coupled with Microwave Office
29 July 2020, Comtest , Test & Measurement
Pico Technology has added significant functionality and value to its low-cost, high-performance vector network analyser, by joining the NI/AWR Connected Partner community. The PicoVNA interface wizard 
...
Read more...
---
Smart oscilloscope for faster debug
30 June 2020, Comtest , Test & Measurement
PicoTechnology announced the PicoScope 6000E Series FlexRes oscilloscopes, featuring 8 channels with 500 MHz bandwidth, 16 digital channels, and resolution of 8, 10 or 12 bits. The products work with 
...
Read more...
---
New range of Tektronix DSOs
30 June 2020, Comtest , Test & Measurement
Comtest has released Tektronix's new TBS2000B series of digital storage oscilloscopes (DSOs) that was developed to meet the performance, usability and affordability needs of both engineers and educators. 
...
Read more...
---
Contactless ESD testing and access control unit
30 June 2020, Actum Group , Test & Measurement
In the electronics manufacturing industry, an electrostatic discharge (ESD) can cause irreparable damage to electronic components. This micro-lightning bolt can burn holes through insulating layers and 
...
Read more...
---
How are IR cameras calibrated and how does ambient temperature affect readings?
30 June 2020, Instrotech , Test & Measurement
Infrared thermometers are calibrated with the help of reference radiation sources, so-called 'black bodies'. These radiant sources are able to produce different temperatures with a high stability.  
...
Read more...
---