printer friendly version
Lead-acid battery capacity analysers
11 July 2007
Test & Measurement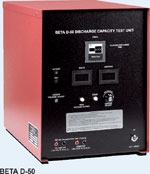 Today, most UPS, aircraft, telecoms and other critical application batteries are of the lead-acid chemistry. The unfortunate truth about most of these batteries is that you will never know their true capacity until you actually perform a full capacity test.
In order to correctly determine the capacity of a given lead-acid battery, the battery must first be fully recharged before being allowed to 'cool down' for several hours. Once cool, the battery must be discharged at the manufacturer's determined rate, down to a set end voltage. For example, a 12 V 100 Ah battery could be discharged at 10 A for 10 hours down to 1,85 V per cell. If the battery is able to sustain the 10 A discharge for 10 hours then it has 100 A hours of capacity at the C/10 rate, where C is the capacity of the battery. However, if the same battery can only sustain the 10 A discharge for say 5 hours, then the battery only has approximately 50% capacity left.
One of the most advantageous features of lead-acid batteries with pure lead-tin alloy (from suppliers such as NorthStar and Hawker SBS) as opposed to the cheaper and lower performance lead-calcium is that their state of charge (SOC) can be estimated simply by measuring their open-circuit voltage, since the open-circuit voltage is a direct function of the concentration of electrolyte within the battery - even though the battery might be dry. As the concentration of electrolyte decreases so too does the % SOC. For NorthStar batteries, the relationship can be linearly approximated by the following equation: % SOC @ C/20 = OCV x 62,5-712,5 where C is the capacity of the battery in question.
Aztec Electronics stocks a wide range of lead-acid (and NiCad) battery analysers/dischargers. Aztec's Beta D-50 analyser is suitable for 12 V and 24 V batteries and can be adjusted for constant current discharges between 0 and 50 A. The end-point voltage and test time can be set prior to discharging. Once complete, the digital display will show elapsed time, voltage and current and a green lamp will illuminate when the battery capacity is above the preset requirement. Alternatively, a red lamp will illuminate if the battery fails to meet preset limits.
Further reading:
First verified OTDOA positioning test for 5G NR
29 September 2021, Coral-i Solutions , Test & Measurement
The industry's first OTDOA (observed time difference of arrival) protocol conformance test for 5G New Radio (NR) has been verified with a device containing the MediaTek M70 5G modem and the Anritsu ME7834NR 
...
Read more...
---
Mixed-signal oscilloscopes for general-purpose debugging
29 September 2021, Concilium Technologies , Test & Measurement
Powerful, intuitive to use and easy to own, the Infiniium EXR-Series extends the power of Keysight Technologies' Infiniium MXR oscilloscope family to customers that want to buy through the company's global 
...
Read more...
---
Tektronix releases results of global engineer survey
29 September 2021, RS Components (SA) , Test & Measurement
To keep pace with rapid advancements in technology, today's test and measurement engineers seek longer-lasting products and more technical support, according to a global survey of nearly 1300 professional 
...
Read more...
---
Clamp meters for 1500 V solar power tests
29 September 2021, Comtest , Test & Measurement
Fluke has announced the launch of a new clamp meter designed to measure solar installation voltages at the new standard of 1500 V, while offering high safety specifications and being easy to use in congested 
...
Read more...
---
Mixed-signal oscilloscopes with up to 20 channels
29 September 2021, Vepac Electronics , Test & Measurement
Offering up to 200 MHz bandwidth and 1 GSps sample rate, the MSO/DPO2000B mixed-signal oscilloscope (MSO) series from Tektronix delivers advanced debug features at an entry-level price. Users can 
...
Read more...
---
Mixed-signal oscilloscopes with flexible resolutions
29 September 2021, Comtest , Test & Measurement
Pico Technology released the PicoScope 6000E Series FlexRes oscilloscopes, featuring eight channels with 500 MHz bandwidth, 16 digital channels and resolution of 8, 10 or 12 bits. The products work with 
...
Read more...
---
Critical airborne system testing from a single device
29 September 2021, Measuretest , Test & Measurement
New from Viavi Solutions is the AVX-10K flight line test set, enabling comprehensive performance verification testing of critical airborne systems from a simple-to-use device. The instrument helps avionics 
...
Read more...
---
Power supplies and electronic loads for testing fuel cells
25 August 2021, Vepac Electronics , Test & Measurement
In response to demand for growing hydrogen fuel cell development and testing, EA Elektro-Automatik offers a series of powerful bidirectional DC power supplies and regenerative DC loads ideal for fuel 
...
Read more...
---
Lead-acid battery tester provides audio guidance
25 August 2021, Measuretest , Test & Measurement
Nowadays, adoption of renewable energy has surged as businesses work to realise a sustainable society and demand for lead-acid batteries for use in energy storage applications is expected to continue 
...
Read more...
---
Battery simulation test solution
25 August 2021, Conical Technologies , Test & Measurement
With the development of battery technology, battery weight and energy density are being further improved while their cost is reducing, making batteries widely used in new energy vehicles, photovoltaic 
...
Read more...
---