Take a pressure sensor, manufactured in millions of pieces each year for automotive applications, add a special 4/20 mA interface for industrial applications and you have a new pressure sensor that, despite its high quality and superb technical data, is most cost effective. This 'recipe' summarises EBV Elektronik's procedure in defining and developing its latest product, Titan, as part of its 'EBVchips' initiative.
Having received many, repeated requests from customers through EBV's FAEs for cost efficient but very precise, high-quality pressure sensors, the company's internal search for a solution started. In the Dutch-American company Sensata Technologies, EBV finally found the perfect partner to accomplish the Titan project.
Sensata produces 75 million pressure sensors in this capacitive ceramic technology per year for the automotive industry. Although these sensors fulfil the stringent automotive quality criteria, they all have a ratiometric 0/5 V output. However, since a 4/20 mA output is the industry's usual standard, the sensors without the current interface were only suited for very dedicated industrial applications.
Ceramic as a base
Since 1985 Sensata has manufactured pressure sensors based on its ceramic technology. In an automobile these sensors are used in many different places – a pressure sensor for the air conditioning's compressor loop being the first application. Sensata holds a market share of over 80% in this application. Enhanced versions of this ceramic-based pressure sensor are present in automatic gear boxes, fuel applications for low-pressure systems (diesel) or for measuring oil pressure. Based on this technology Sensata manufactures pressure sensors that work from low pressure up to 80 bar.

Titan's ceramic sensing element
The sensor's basis element comprises a ceramic substrate with about 3 mm thickness and a thin, flexible ceramic membrane with thickness of about 0,6 to 1,2 mm. The ceramic membrane is attached to the ceramic substrate in a highly defined distance using a glass bonding process. Regarding their assembly, sensors with different pressure ranges differ through membranes with different thickness as well as electronic calibration. On both ceramic parts there is a thin gold layer that is connected to the electronics via contact leads. Both gold layers form a capacitor with its capacity changing as a function of pressure applied to the membrane; the capacitor's value is in the 15 pF range.
Using a proprietary charging/discharging process, Sensata evaluates the change of capacity relative to a reference capacitor to generate an output voltage between 0 and 5 V. This system has been developed over many product generations to improve calibration and temperature stability while maintaining the same basic process.

Signal conditioning module
Each single sensor is calibrated at room temperature. As part of the production process they are validated at 23°C and 135°C. In the upper and lower pressure ranges, a calibration is also conducted. All these measures are purely analog without using digital electronics. In manufacturing as well as in the field this process has proven to be extremely stable: within a core range the sensor elements show rather linear characteristics. Only at the lower and upper end of the scale are there larger non-linearities.
EBVchip Titan provides 4/20 mA output
So that the sensors can be used in industrial applications they need a 4/20 mA output. On the initiative of EBV Elektronik the Titan pressure sensors equipped with an industrial output interface were created. EBV together with Sensata defined a backend electronic circuit for converting the 0/5 V signal into a 4/20 mA output current. EBV was responsible for the entire definition of the industrial interface. As a result the sensors can also be used in process automation systems and other applications.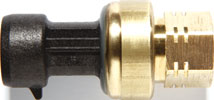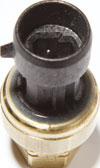 The Titan pressure sensor
Many options
Currently the EBVchips pressure sensors are available in brass versions for the three pressure ranges 0–10 bar, 0–20 bar and 0–35 bar. Also available are variants in stainless steel for the 0–45 bar range. If required and the appropriate volume is needed, EBV and Sensata are able to produce other variants equipped with different connectors, different mechanical connection or packaging. At present the sensors are classified according to IP65, IP67 and IP6K9 (all with cable).
Because the sensor is powered via the signal line, the Titan sensors only use two connection lines according to SAE specifications having the relevant length for usage in harsh industrial environments where EMC is an issue. The industrial pressure sensors are immune to electrical interferences of up to 30 V/m.
Across the temperature range of -20°C – +100°C the measurement error is less than 2%. At 25°C the measurement error across the entire pressure range is only 0,75%; this applies for more than 10 million specified pressure measuring cycles. Therefore the sensors are among the most accurate parts on the market. The reverse polarity protected sensor's operating voltage can be 6-30 V d.c. They can also handle voltages up to 39 V d.c. without damage.
Vibrations up to 10 G with a frequency of 25–2000 Hz do not harm the pressure sensors. They can withstand shocks of 100 G coming from various directions with 6 Hz (half sine). In all cases the UL and RoHS-compliant, CE certified sensors make their measurement result reliably available after a response time of <10 ms via the cost-efficient but IP6K9 protected Delphi-Packard connector on the output. As sealing material for the internal O-ring, Sensata uses neoprene, hydrated nitrile rubber (HNBR) and fluorosilicone. The bursting pressure corresponds to the five-fold measurement pressure.
Using a hexagonal screw terminal (1/8" male, ¼" female) the pressure sensors are not only suited for industrial process automation applications but also for applications like pumps and compressors as well as HVAC (heating, ventilation and air conditioning) plus fridges and freezers. In the area of process automation for example there are important applications in the fields of hydraulic systems, pneumatics, lifts, liquids and gases.
Some of the most important pump and compressor applications are industrial cleaning systems, (car) washing systems, water-based high-pressure cleaners, water and auxiliary pumps as well as pneumatic systems. The HVAC and fridges and freezers sector not only includes industrial freezing technology but also building automation, heat pumps as well as fridges and freezers for food and retail.
From cars to consumer and industrial
Since the end of 2011 new cars sold in the EU must be equipped with an ESP system for driving stability. Core elements of each ESP are two sensors – an angular rate sensor and an acceleration sensor. In the mid-1990s the first ESP systems were put on the market, but only in premium cars. The reason was that at the time the sensors were difficult to produce and very expensive.
Shortly after the legendary moose test in 1997 all of a sudden ESP systems were available down to the compact class. ESP's commercial success started with using high-quality and relatively cheap to produce silicon-based angular rate sensors and acceleration sensors. Today, inexpensive angular rate sensors and acceleration sensors (MEMS-based) can be found in virtually every new smartphone and in most of the game consoles, with prices for those sensor types falling dramatically due to mass production for cars. At the same time there were no significant quality problems with those consumer sensors because the automotive suppliers had already assured a very high base quality in manufacturing.
Similarly, as part of its EBVchips initiative, EBV has taken an automotive pressure sensor, adapted it to the industry's requirements and equipped it with the suited 4/20 mA interface. Because those pressure sensors have enjoyed mass deployment in vehicles for many years, the pressure sensor vendor has quality under control. Industrial customers can look forward to double digit price advantages due to high-volume production.
For more information contact EBV Electrolink, +27 (0)21 402 1940, capetown@ebv.com, www.ebv.com