printer friendly version
Bluetooth LE programmable robot for sensor-based applications
25 March 2020
Computer/Embedded Technology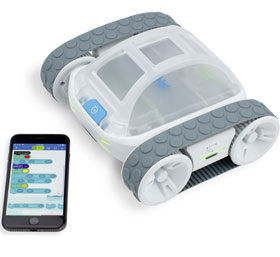 Nordic Semiconductor announced that Sphero, a Colorado, USA-based consumer robotics and toy company, has selected Nordic's nRF52832 Bluetooth Low Energy (Bluetooth LE) system-on-chip (SoC) as the primary processor and low-power wireless connectivity solution for its 'Sphero RVR'. Sphero RVR is a programmable robot for beginners to advanced coders, STEAM (Science, Technology, Engineering, Arts and Mathematics) educators and students, as well as makers, hackers and hobbyists.
The robot is an all-terrain programmable and expandable product that can be driven right out of the box and customised for unique use cases and applications. For example, RVR could be used as a home security sentry, autonomous metal detector, or wirelessly controlled environmental sensor, among a broad range of user-coded applications. It features a diverse suite of sensors enabling the robot to interact with its environment, including ambient light, colour, infrared, accelerometer and gyroscope.
The Nordic SoC-enabled Bluetooth LE connectivity allows the user to wirelessly code RVR from the 'Sphero Edu' app on a Bluetooth 4.0 (or later) smartphone or tablet. The companion app is compatible with iOS and Android smartphones and tablets plus macOS, Windows, Chrome OS and Fire OS devices.
Coding options within the companion app are based on the user's skill level. Alternatively, RVR can be coded using a Raspberry Pi, Arduino, a Nordic-powered micro:bit, or the company's own 'littleBits' platform to customise the robot's capabilities further.
As well as providing the robot's Bluetooth LE connectivity, the Nordic nRF52832 multiprotocol SoC's 64 MHz, 32-bit Arm Cortex M4 processor with floating point unit (FPU) handles the device's power control, battery management, colour sensing, ambient light sensing and RGB LED animations.
The nRF52832 combines the Arm processor with a 2,4 GHz multiprotocol radio (supporting Bluetooth 5, ANT, and proprietary 2,4 GHz RF protocol software) featuring -96 dB Rx sensitivity, with 512 KB Flash memory in part for storage of RVR's factory data and 64 KB RAM.
RVR includes a rechargeable, high-capacity battery to both power the robot's motors, as well as cameras, robotic arms, air horns, or other external accessories that can be fitted to the robot. The nRF52832 SoC has been engineered to minimise power consumption with features such as the 2,4 GHz radio's 5,5 mA peak Rx/Tx currents and a fully automatic power management system that reduces power consumption by up to 80% compared with Nordic's nRF51 Series SoCs.
Further reading:
AI-powered computer for autonomous machines
Altron Arrow Computer/Embedded Technology
Nvidia recently premiered Jetson AGX Orin, the world's smallest, most powerful and energy-efficient AI supercomputer for robotics, autonomous machines, medical devices and other forms of embedded computing 
...
Read more...
---
AI voice development kit
iCorp Technologies Computer/Embedded Technology
Espressif Systems announced the launch of its AI voice development kit, ESP32-S3-BOX, which provides a platform for developing the control of smart devices with offline and online voice assistants. The 
...
Read more...
---
VITA 42.0 XMC updates: A refreshed standard and new optical XMC modules
Spectrum Concepts Computer/Embedded Technology
Open standards simplify system design while offering robust ecosystems of solutions providers. Even as open standards are adopted across industries and platforms, updates are needed from time to time. 
...
Read more...
---
VPX processor board with strong security
Rugged Interconnect Technologies Computer/Embedded Technology
Concurrent Technologies has developed a VPX processor board based on the Intel Xeon E-2200 processor family (previously known as Coffee Lake Refresh) launched by Intel for use in long-lifecycle embedded 
...
Read more...
---
Full AI/machine learning sensing solution
Computer/Embedded Technology
SensiML, a developer of AI tools for building intelligent Internet of Things (IoT) endpoints, has teamed up with onsemi to deliver a complete machine learning solution for autonomous sensor data processing 
...
Read more...
---
Frame grabber for up to four CoaXPress links
Rugged Interconnect Technologies Computer/Embedded Technology
Kaya Instruments' Komodo II CoaXPress 12G PCIe/104 is a high-spec frame grabber supporting the CoaXPress 2.0 standard. It can receive video streams from up to four CoaXPress links in single, dual or 
...
Read more...
---
Benchmarking tools for quantum computing released
Computer/Embedded Technology
Quantum computers are still a long way from being practical in real-world scenarios, but development is already underway on benchmarking tools to measure their performance. The Quantum Economic Development 
...
Read more...
---
Updates add video to ST's TouchGFX suite
Altron Arrow Computer/Embedded Technology
STMicroelectronics has released TouchGFX Version 4.18 for user-interface development with STM32 microcontrollers (MCUs), adding video playback, enhanced tools for multi-developer collaboration and support 
...
Read more...
---
SoM maker relies on ST MPU and open-source community
Altron Arrow Computer/Embedded Technology
"Open source is not only code sharing but a willingness to bring a certain know-how to a community and make a business around it."
Read more...
---
Analog microphone array board for advanced audio sensing
Altron Arrow Computer/Embedded Technology
The STEVAL-STWINMAV1 microphone array expansion board adds advanced audio sensing capabilities to STMicroelectronics' STEVAL-STWINKT1B (and STEVAL-STWINKT1) SensorTile Wireless Industrial Node (STWIN) 
...
Read more...
---