printer friendly version
2 mm connectors for board signal transfers
29 April 2020
Interconnection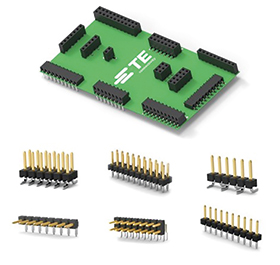 TE Connectivity is expanding its range of AMPMODU interconnection solutions with the introduction of 2 mm centreline board connectors. These new connectors occupy 38% less space than traditional 2,54 mm centreline products, while reliably and economically meeting the packaging and interconnection requirements of today's miniature, sophisticated electronics.
The products are designed for use across multiple industry segments where space constraints are of particular concern. Target applications include PLC and other I/O devices, servo drives, industrial automation and controls, industrial robotics, instrumentation and test equipment and building and home automation devices.
The new 2 mm offerings will include breakaway headers and board-to-board receptacles, both supporting automated surface-mount, through-hole reflow (pin-in-paste) and traditional through-hole mount processes for ease of manufacturing.
The 2 mm breakaway headers can be mounted onto boards with thicknesses of 1,6 mm and 2,4 mm, providing customers with a wide range of options for PCB assembly. Through-hole headers feature straight or right-angle posts with a mating post length of 4,0 mm and a lead length of 2,8 mm and several other lead lengths, depending on board thickness and soldering method. They are moulded in a flame retardant (UL94 V0) thermoplastic housing material that is resistant to reflow soldering temperatures and provides a high level of safety in harsh environments.
The product offering includes single- and double-row variants and is available in bulk, tube and tape-and-reel packaging offering flexibility in manufacturing. Shrouded headers are under development and will come to market in the near future.
The 2 mm board-to-board receptacles are housed in a high-temperature-resistant liquid crystal polymer (LCP) and utilise phosphor bronze contacts with dual cantilever beams that are available in three gold plating thicknesses. The dual-beam design provides for increased contact surface between the header pin and the receptacle contact to allow reliable signal transfers.
The complete portfolio includes various top- and dual-entry vertical and horizontal receptacles that offer multiple options for board-to-board stacking of header and receptacle combinations.
For more information contact TRX Electronics, +27 12 997 0509, info@trxe.com, www.trxe.com
Credit(s)
Further reading:
THT-configurable male connectors
30 June 2020, Würth Elektronik eiSos , Interconnection
WR-FAST Fast Connection is the name of a series of THT-configurable male connectors for accommodating single wires with blade receptacles – for example in household appliances. The new connectors are 
...
Read more...
---
Hybrid and pneumatic modules for modular connectors
30 June 2020, RF Design , Interconnection
Smiths Interconnect has extended its L modular connector series with the addition of two new module types that complete the company's wide offering of modular solutions. The L Series of modular connectors 
...
Read more...
---
High-speed backplane interconnect solutions
30 June 2020, IPD Electronics , Interconnection
TE Connectivity's high-speed backplane connectors offer the flexibility and performance needed for a range of datacom applications, including servers, switches, routers, and optical transport. The company's 
...
Read more...
---
High-density multicoax cable assemblies
30 June 2020, RFiber Solutions , Interconnection
Withwave's high-speed and high-density multicoax cable assemblies (WMX Series) provide a wide range of multiple coax connectors and flexible cable assemblies with a choice of 20, 40, 50 and 67 GHz configurations 
...
Read more...
---
Versatile micro switches
30 June 2020, TRX Electronics , Switches, Relays & Keypads
The V19, Honeywell's unsealed micro switch family, provides a cost-conscious switch solution to assist in hitting overall system-level cost and design goals in high-volume applications. Suitable applications 
...
Read more...
---
Circular connectors for power, signals and data
30 June 2020, TRX Electronics , Interconnection
Standardised circular connectors have become the industry standard across a wide range of applications. Customers can find the right option for their most innovative designs with Phoenix Contact's PLUSCON 
...
Read more...
---
Rugged fibre connectors
29 July 2020, TRX Electronics , Interconnection
TE Connectivity's ruggedised fibre optics bring the benefits of optical technology to challenging environments, providing more bandwidth, more distance and more performance. TE's offering includes 
...
Read more...
---
Broadband capacitors and their significance
30 June 2020, TRX Electronics , Passive Components
There are a number of circuits that require coupling RF signals or bypassing them to ground while blocking DC over extraordinarily large RF bandwidths. The applications for which they are intended typically 
...
Read more...
---
EMI/RFI shielding cable ties
29 May 2020, Actum Electronics , Interconnection
BAND-IT EMI cable ties have been designed and manufactured to excel in mission-critical applications, such as Mil/Aero EMI/RFI (electromagnetic interference/RF interference), for the past 30 years.  
...
Read more...
---
How are end-launch PCB connectors useful?
29 April 2020, RF Design , Interconnection
There has been an increasing use of RF coaxial connectors, especially microwave and millimetre-wave coaxial connectors, for high-speed digital and precision sensing applications, There is also a growing 
...
Read more...
---