printer friendly version
Nexia introduces new features, products to enhance connected comfort experience
30 April 2020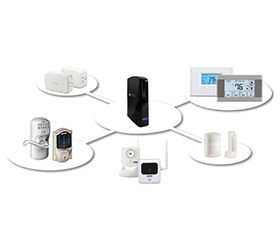 Smart home technology leader Nexia has announced breakthrough feature and product innovations – RoomIQ and Trane XL724. Nexia, the smart home system that gives those with active lifestyles a better way to do everyday tasks and spend more time enjoying life, showcased these innovations at the Z-Wave Experience House. RoomIQ, a feature for Trane and American Standard HVAC comfort systems, uses the Nexia-enabled thermostat and Nexia smart home triggers to customise the heating and cooling experience.
RoomIQ goes beyond scheduling and adapts the comfort control to occupied rooms. It customises comfort levels using cues from the Nexia system – motion detection, flip of light switches or any trigger the user chooses – to determine when a room is occupied and then ensures the comfort in those rooms takes priority over unoccupied rooms. RoomIQ will work simultaneously with Trane's new ZSENS930 wireless temperature sensor. Small enough to fit in the palm of a hand, this sensor reports the temperature and humidity data that lets RoomIQ determine what temperature set-point meets the needs at that moment. When used in conjunction with the RoomIQ feature, the HVAC system can average temperatures between selected rooms to help the system reach ideal comfort conditions. For example, during the day a home may be controlled based on comfort in the common areas downstairs, and at night control the comfort of the bedrooms upstairs. These low-cost wireless sensors are Z-Wave compatible and designed to be paired with Trane's existing line of thermostats and HVAC systems. Users can conveniently configure and control their ideal comfort conditions with their iOS or Android smartphone via the Nexia app.
The Trane XL724 is a programmable, touchscreen thermostat with Wi-Fi connectivity that can remotely control a home's temperature to help suit the user's lifestyle and reduce energy consumption. The thermostat can be easily controlled from a smartphone, tablet or computer and is fully compatible with Nexia Diagnostics for remote monitoring by licensed HVAC professionals. It also allows users basic control of their home's heating and cooling by creating up to four different schedules within a day and advanced control via the power of Nexia's geofencing feature.
For more information visit www.nexiahome.com
Further reading:
Tame the complexities of technology
29 May 2020
Automate and control the mood of lighting, adjust the interior climate, listen to music or power a home theatre, all at the touch of a button.
Read more...
---
Home integrated technology
29 May 2020
Take charge of mundane household tasks using nothing but a few verbal commands.
Read more...
---
Home automation in South Africa is the future
29 May 2020
New ways to increase comfort, safety and energy savings in the home or building.
Read more...
---
The time to understand the IoT for home automation is now
29 May 2020
The Internet of Things (IoT) is set to influence the nature of home automation in the future.
Read more...
---
A safe living environment
29 May 2020
VIVOTEK IP surveillance cameras are installed to ensure security in new 100-hectare residential development.
Read more...
---
10 tech safety tips when working from home
29 May 2020
With so many people working from home, targeted phishing scams, disinformation campaigns and disruptive cyberattacks have been common during lockdown.
Read more...
---
Securely working from home
29 May 2020, Kaspersky
Homeworkers wait for protection: 73% of employees have not received remote working cybersecurity guidance.
Read more...
---
Home invasions in the virtual world
29 May 2020
While most of the world is trying to deal with the COVID-19 pandemic, it seems hackers are not on lockdown.
Read more...
---
Electronic access from a mobile
29 May 2020, Salto Systems Africa
SALTO Danalock integrates with FIBARO to deliver residential smart lock & home solutions.
Read more...
---
Innovation in smart lighting solutions by Lutron
25 March 2020
Whether for work, play, or at-home comfort, automated lighting and blind control by Lutron is an all-inclusive solution.
Read more...
---