printer friendly version
Innovation in smart lighting solutions by Lutron
30 April 2020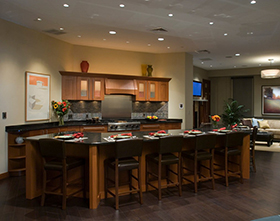 Lighting is something we all take for granted. Need light? Simply flip a switch. It was only in the 1950s that someone sought to better control at-home lighting. This is where the story of Lutron began.
Today, almost 60 years after its conception, Lutron light controls have permeated almost every market. Commercially, its products are seen in hotels, resorts, educational institutions, and public spaces. Residentially, Lutron solutions are seen everywhere from the White House and Windsor Castle to small apartments in cities across the world. Offices in several countries such as London, Paris, and even Sao Paulo, make this brand a global household name.
Products in Lutron's range include individual light dimmers, whole-home innovations for household needs, and smart building solutions for managing large spaces. Whether for work, play, or at-home comfort, automated lighting and blind control by Lutron is an all-inclusive solution that will save you time, money and energy.
If you are ready to for a more sustainable, environmentally friendly solution that intuitively understands your needs, then why not switch to Lutron? Homemation will gladly assist you when it comes to finding the perfect product.
For more information visit https://www.homemation.co.za/articles/light-up-your-world-with-smart-home-innovations-by-lutron
Further reading:
Tame the complexities of technology
29 May 2020
Automate and control the mood of lighting, adjust the interior climate, listen to music or power a home theatre, all at the touch of a button.
Read more...
---
Home integrated technology
29 May 2020
Take charge of mundane household tasks using nothing but a few verbal commands.
Read more...
---
Home automation in South Africa is the future
29 May 2020
New ways to increase comfort, safety and energy savings in the home or building.
Read more...
---
The time to understand the IoT for home automation is now
29 May 2020
The Internet of Things (IoT) is set to influence the nature of home automation in the future.
Read more...
---
A safe living environment
29 May 2020
VIVOTEK IP surveillance cameras are installed to ensure security in new 100-hectare residential development.
Read more...
---
10 tech safety tips when working from home
29 May 2020
With so many people working from home, targeted phishing scams, disinformation campaigns and disruptive cyberattacks have been common during lockdown.
Read more...
---
Securely working from home
29 May 2020, Kaspersky
Homeworkers wait for protection: 73% of employees have not received remote working cybersecurity guidance.
Read more...
---
Home invasions in the virtual world
29 May 2020
While most of the world is trying to deal with the COVID-19 pandemic, it seems hackers are not on lockdown.
Read more...
---
Electronic access from a mobile
29 May 2020, Salto Systems Africa
SALTO Danalock integrates with FIBARO to deliver residential smart lock & home solutions.
Read more...
---
Nexia introduces new features, products to enhance connected comfort experience
25 March 2020
Take charge of mundane household tasks using nothing but a few verbal commands.
Read more...
---