printer friendly version
Smart home is a growth market
30 April 2020
The Middle East, Turkey, and Africa (META) smart home devices market – which includes smart home appliances, home monitoring/security, lighting, smart speakers, thermostats, and video entertainment devices – saw strong growth in the final quarter of 2019. That's according to the latest insights from International Data Corporation (IDC), which shows that the market expanded 35,6% year on year in Q4 2019 to reach 5,3 million units.
IDC's research shows that the growth rates varied significantly across the different product categories that make up this market, with smart video entertainment continuing to be the main driver of both shipments and revenue in the region.
At the other end of the scale, shipments of smart speakers experienced a year-on-year decline in Q4 2019. "As things stand, smart speakers do not support Arabic for voice-enabled commands, which is obviously a key inhibitor of uptake within this region," says Isaac T. Ngatia, a senior research analyst at IDC.
The home monitoring and security category is a very robust category within the META region, with vendors addressing a wide variety of consumer needs, including smart cameras, doorbells, door locks, sensors, and smoke detectors. Amazon, TP-Link, and D-Link are the key players in this space by virtue of pushing devices to the market at attractive price points. However, the category is highly fragmented across the region, as different markets have different needs.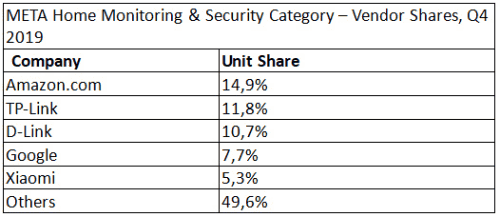 IDC believes that a general lack of awareness around availability is constraining uptake and growth in the META smart home devices market and preventing it from reaching its full potential. Educating consumers on the installation and use of smart home devices will go a long way to deepening the market for these devices. This approach will also help to mitigate concerns around security and privacy.
Overall, IDC expects the META smart home devices market to see continued growth over the coming years as vendors push their devices to the market. This push could either be through existing channels or new relationships. Some of these include collaboration with traditional retailers by seeking shelf space in retail outlets, and also through working closely with home automation specialists and installers of smart home devices.
For more information contact Sheila Manek, smanek@idc.com
Further reading:
Tame the complexities of technology
29 May 2020
Automate and control the mood of lighting, adjust the interior climate, listen to music or power a home theatre, all at the touch of a button.
Read more...
---
Home integrated technology
29 May 2020
Take charge of mundane household tasks using nothing but a few verbal commands.
Read more...
---
Home automation in South Africa is the future
29 May 2020
New ways to increase comfort, safety and energy savings in the home or building.
Read more...
---
The time to understand the IoT for home automation is now
29 May 2020
The Internet of Things (IoT) is set to influence the nature of home automation in the future.
Read more...
---
A safe living environment
29 May 2020
VIVOTEK IP surveillance cameras are installed to ensure security in new 100-hectare residential development.
Read more...
---
10 tech safety tips when working from home
29 May 2020
With so many people working from home, targeted phishing scams, disinformation campaigns and disruptive cyberattacks have been common during lockdown.
Read more...
---
Securely working from home
29 May 2020, Kaspersky
Homeworkers wait for protection: 73% of employees have not received remote working cybersecurity guidance.
Read more...
---
Home invasions in the virtual world
29 May 2020
While most of the world is trying to deal with the COVID-19 pandemic, it seems hackers are not on lockdown.
Read more...
---
Electronic access from a mobile
29 May 2020, Salto Systems Africa
SALTO Danalock integrates with FIBARO to deliver residential smart lock & home solutions.
Read more...
---
Nexia introduces new features, products to enhance connected comfort experience
25 March 2020
Take charge of mundane household tasks using nothing but a few verbal commands.
Read more...
---